An Eye For Design
Industrial design student Sean Coleman's eco-friendly car will be built from the ground up and displayed trackside at the 2010 Shell Eco-Marathon Americas event in Houston in March.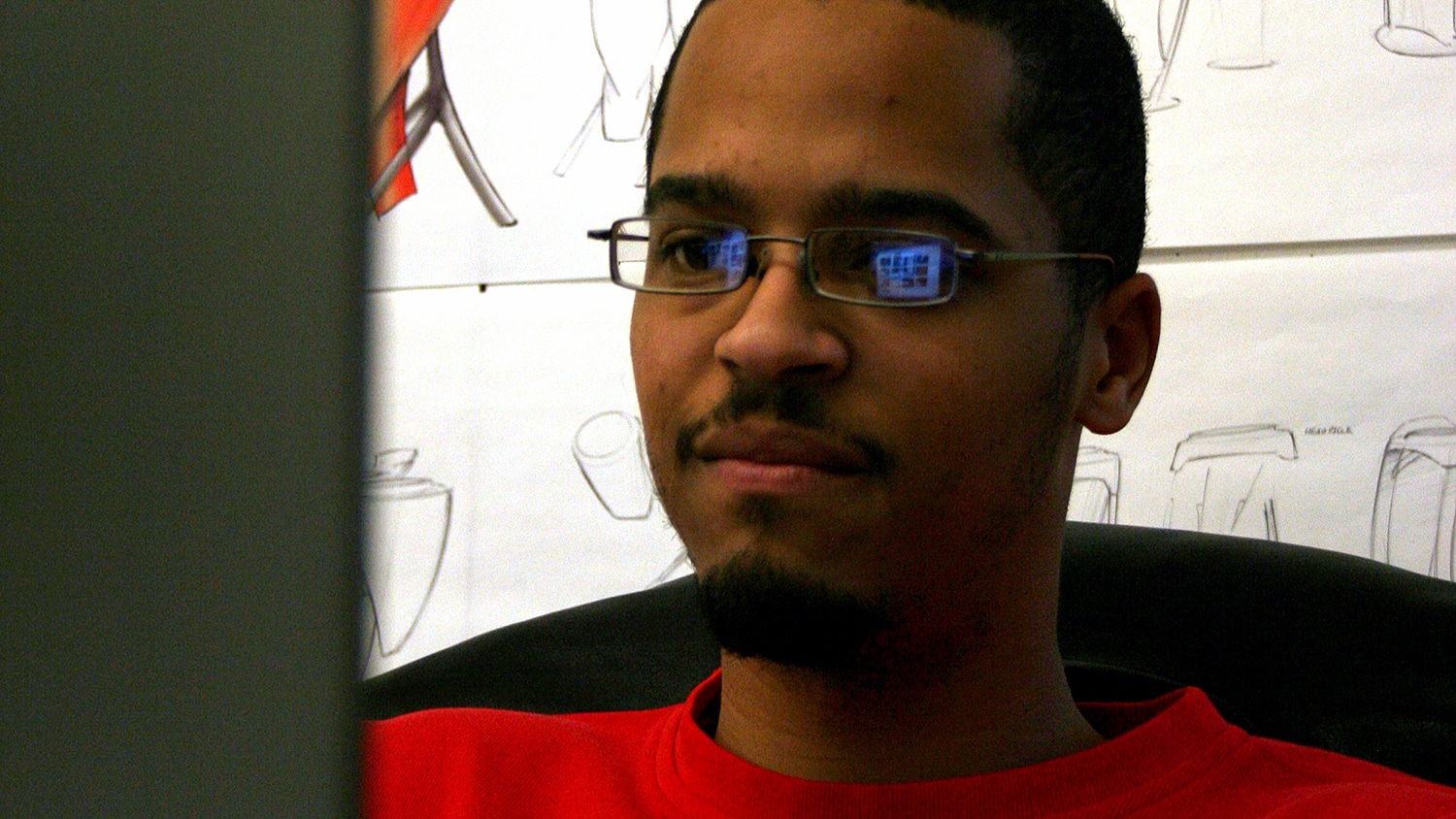 When NC State grad student Sean Coleman designed a concept car for a class project, little did he know his computer-generated sketches would roll off the screen and onto the track. The industrial design student's eco-friendly car will be built from the ground up and displayed trackside at the 2010 Shell Eco-Marathon Americas (SEMA) event in Houston in March.
Coleman, who won SEMA's Urban Concept Car Competition, will attend the annual event that showcases fuel-efficient futuristic vehicles designed by high school and college students from across the country.
"The design went through about 25 ideations," says Coleman, using the design vocabulary for rough drafts. "At first it looked like a snake or viper. I liked it but thought it might be a little much for some people, so I modified it."
The final design was built to precise specifications required by the contest rules. Not only did the car have to fit onto an existing and very small frame, it had to be designed using industry-standard digital design programs developed by software giant Autodesk, one of the contest sponsors.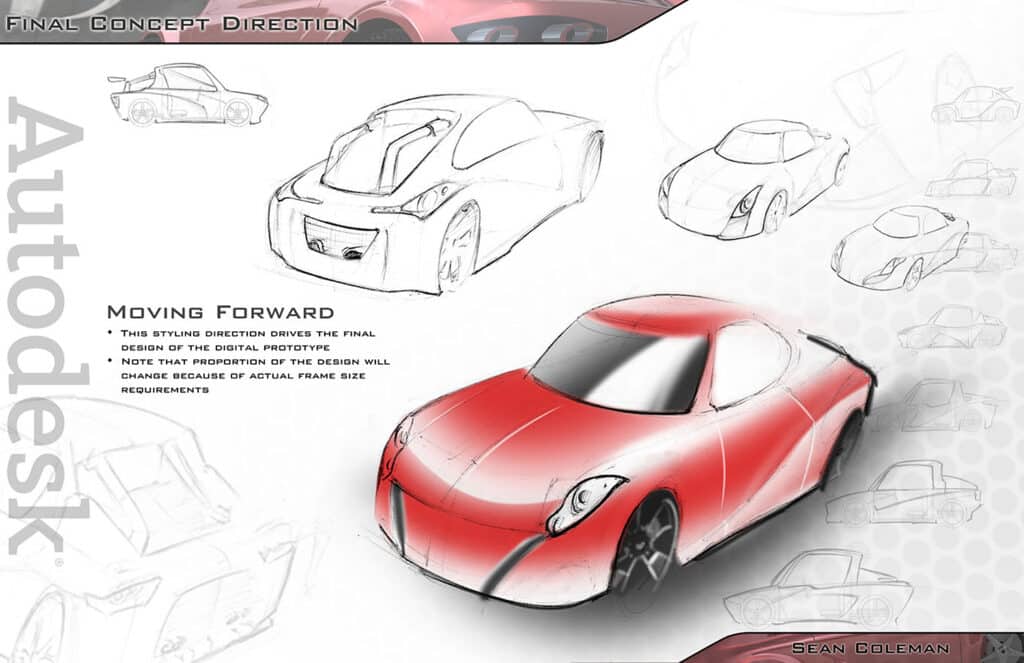 Fortunately for Coleman, NC State's College of Design offered the perfect combination of expertise and training to help him speed past the competition. Coleman was enrolled in a digital product modeling class last fall that included hands-on instruction in several Autodesk programs, including Autodesk Inventor, Autodesk AliasStudio and Alias Automotive. Adjunct Assistant Professor Spencer Barnes, who teaches the course, is passionate about helping students harness the power of the programs to solve complex design challenges.
"Modeling a car is the hardest project you're ever going to have, inside or outside of school," Barnes says. "There are multiple structures coming together – the frame, the hood, the roof – and you need to find a way to successfully blend them seamlessly."
That, says Barnes, requires a high degree of sophistication with software tools – and the ability to think like a designer. To help students blend those skills, Barnes emphasizes the importance of the design process, a step-by-step approach that helps them conceptualize, refine and perfect their creative work.
"Creativity can be taught," says Barnes, who is well versed in both the practical and theoretical aspects of higher education. He earned his undergraduate degree in graphic design and graduate degree in industrial design at NC State and is now pursuing a doctorate of education in technology education at the university. Barnes also taps industry professionals, like designers from BMW, to review student projects and provide insight on how design decisions are made in the corporate world.
"I want to teach students how to approach these kinds of designs like professionals," he says. "When they reach the workforce, they'll be thrown into challenging situations and have to pick up skills very quickly. They may have to learn about ergonomics or haptic feedback and work with engineers or biologists. So I help them foster problem-solving skills relative to technology and design. I teach them how to use their judgment to succeed in those types of situations."
Coleman had another resource on campus in the form of Professor Bong Il Jin, who spent a decade as an automotive designer in South Korea, including four years as chief designer at Daewoo Motor Co. When Coleman asked Jin to review his initial drafts, he knew the instructor would be a tough critic.
"He said it looked old, like something out of the 1980s," Coleman recalls. "He said to look for something modern as inspiration."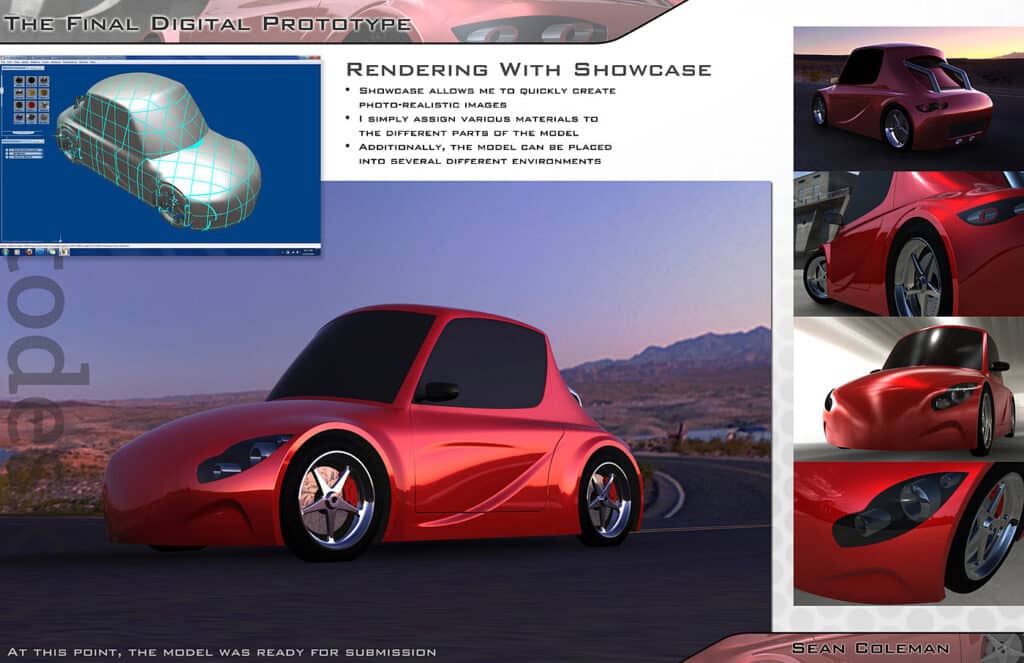 What caught Coleman's eye was the distinctive body styling of the BMW.
"It has character lines on the side," he says. "And the body has a smooth refined look to it."
In the later drafts, Coleman incorporated a stylish swoosh into the side panels and also opted to put a metal rack on the back of the small car, giving it an adventurous flair. The sophisticated design elements impressed the judges enough to help Coleman win the national contest.
"Maybe it was the fact that it was classy and modern yet practical," he suggests.
Jin says once Coleman completes his master's degree, he'll be on the fast track to landing a job as an industrial designer, one of the most challenging – and rewarding – careers to pursue.
"A designer is a cultural leader," he says. "One of the most important things we do is to create new culture through new products."
He notes that alumni of the program work for some of the top companies in the world, including IBM, Industrial Light and Magic, Volvo and Adidas. Barnes agrees that Coleman has an exciting career ahead of him."
Sean has put himself in a position to make a good living, especially by coming to graduate school," he explains. "He's refined his skill level and can function as a designer or as a teacher of design. Artists don't have to starve. If you take advantage of the opportunities available at NC State, you definitely won't starve."