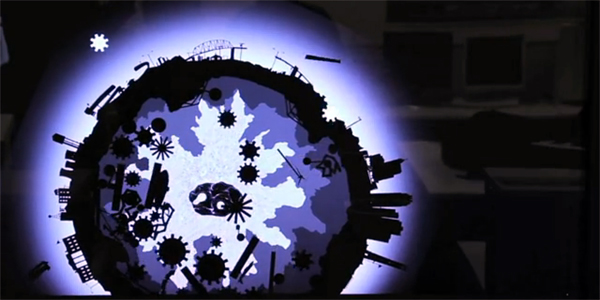 A gesture-based interactive installation developed in the College of Design will be featured at one of the world's top animation festivals this month.
The Long View, developed by art and design students under the guidance of Associate Professor Patrick FitzGerald, is one of just 14 projects to be featured in a gallery at SIGGRAPH 2013, an annual conference that explores advances in computer-generated animation and visual effects. The conference runs July 21-25 at the Anaheim Convention Center in Southern California.
The project allows viewers to rearrange animated elements on a screen projection of a planet. The artists hope the installation encourages participants to think about their impact on the environment. The Long View was created using Flash, a physics-based gaming engine, and Microsoft Kinect, a popular input device.
"The planet exhibits visual and behavioral changes over time and evolves as human technology and industrialization advance or increase," FitzGerald says. "Viewers can play with these ecosystems to change them in some way. The piece itself loops, and metaphorically creates a conundrum for the viewer as to man's long-term relationship to the earth."
FitzGerald's team includes undergraduate Jim Martin, grad students Dwayne Martin and Daniel Lunk, and Lee Cherry, manager of the Advanced Media Lab.