Gregg Hosts Joint Exhibit With Meredith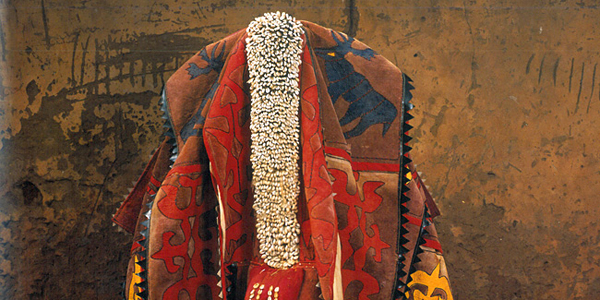 The Gregg Museum of Art and Design is collaborating with Meredith College to present a concurrent exhibition titled "Theater of Belief," featuring works by ethnographic photographer Phyllis Galembo.
The joint exhibit kicks off on Thursday, Jan. 23, with back-to-back opening receptions at the two schools.
The first reception, "Kings, Chiefs, and Women of Power," will run 4–6 p.m. at the Frankie G. Weems Art Gallery in the Gaddy-Hamrick Art Center at Meredith. The second reception, "Calling the Spirits: African Ritual and Masquerade," will run 6–8 p.m. at NC State's African American Cultural Center Gallery in the Witherspoon Student Center.
If you miss the receptions, you can still enjoy the photographs and learn about the artist. Galembo will speak at Meredith College at 7 p.m. Wednesday, Feb. 12, in Johnson Hall. NC State will present a panel of scholars and photographers discussing her work at 6 p.m. Thursday, Feb. 13, at the African American Cultural Center.
The exhibit at NC State will be on display through May 11, while the exhibit at Meredith comes down after March 23.
About the Artist
Galembo, professor of photography at the University at Albany-SUNY, brings highly developed technical skills and sensibilities to bear on ethnographic subject matter in a series of stunning portraits from West Africa.
Galembo's images, as noted by Roberta Smith in The New York Times, ". . . are both portraits and documents, but their combination of dignity, conviction and formal power . . . gives them a votive aspect similar to European paintings of saints or kings."
The costumes, masks and clothing worn by her subjects reveal an intense fascination with the creativity of masquerade that often surpasses the most elaborate examples of haute couture. This has led to an exhibition record that includes not only many European and American museums of anthropology, art and natural history, but also at venues like New York's Fashion Institute of Technology.
Galembo is the author of Divine Inspiration from Benin to Bahia; Vodou: Visions and Voices of Haiti; and Dressed for Thrills: 100 Years of Halloween and Masquerade Costumes. For the past 14 years she has photographed masking and costuming throughout Haiti, Louisiana, Brazil, Benin, Burkina Faso and Nigeria.