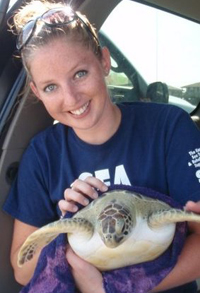 Editor's note: This post comes from Jennifer Dixon, who recently completed her Ph.D. in marine science at NC State. The post is part of an ongoing series that we hope will highlight the diversity of researchers in science, technology, engineering and mathematics. The series is inspired by the This Is What A Scientist Looks Like site.
I am from Morehead City, which is a small town on the coast of North Carolina. I have spent my entire life (until moving to Durham 5 years ago) living along the seashore, from the Gulf of Mexico to the Chesapeake Bay.
As a child my sister and I would snorkel all the time, trying to see how long we could hold our breath as we tried to take it all in. We used to walk the beaches at dawn trying to find nesting sea turtles and in the process collect as many seashells as possible. If you had asked me what I wanted to be when I grew up I probably would have told you a mermaid!
Entering college at the University of North Carolina at Wilmington I fell in love with environmental science, specifically environmental chemistry and how that applied to the health of aquatic systems. This discovery led me down the path of becoming a marine chemist. I continued my career at NC State where I just completed my Ph.D. in marine science. I now have the opportunity to do a postdoctoral fellowship at NC State with David McConnell to conduct research in science education.
When I describe what I do to my nieces and nephews I say that I am the person that takes care of the water. Essentially my work focuses on the biogeochemistry of dissolved organic matter (DOM) in estuarine, coastal and ocean waters. DOM can be made of components such as dissolved organic carbon, dissolved organic nitrogen and/or dissolved organic phosphorus.
Overall, my aim is to understand DOM sources and transformation in the larger context of carbon cycling. In order to do this I use carbon stable isotope measurements, organic geochemical biomarkers (e.g., lignin), and spectroscopic techniques (uv-visible absorption and fluorescence). From here, I am able to decipher the different sources of DOM within a system and what that means in terms of the overall fate of organic matter. In understanding DOM sources and transformations my research can be connected to various processes such as anthropogenic effects on coastal systems and global climate change.
Outside of this I am married to a chemist and we love to travel the world! In my spare time I am an avid runner and an art enthusiast. Specifically, I am a photography junkie, I love to paint and create mixed media pieces. Lastly, I am a volunteer at the Karen Beasley Sea Turtle hospital and try to get back there as often as possible to help care for sea turtles.