Campus Life
NC State Leads in Promoting Diversity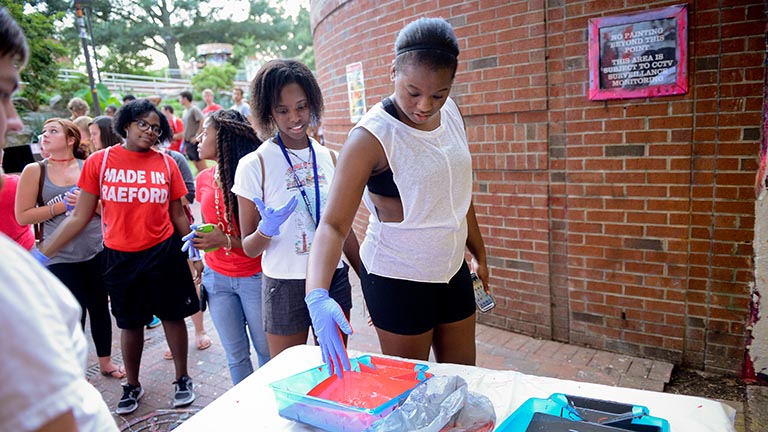 NC State has been named a national leader in promoting diversity and inclusion on campus.
NC State is one of 88 universities to receive a 2014 Higher Education Excellence in Diversity (HEED) award from INSIGHT Into Diversity magazine. INSIGHT is the oldest and largest diversity-focused publication in higher education.
The HEED award recognizes universities whose diversity and inclusion efforts show a broad understanding of diversity, including gender, race, ethnicity, military service, disabilities, membership in the LGBT community and more.
The award honors NC State for its commitment to help students from underrepresented groups succeed. That effort starts before enrollment, with admissions events targeting students from underrepresented groups. It continues the first week of freshman year, with community-specific orientation symposia sponsored by the Department of Multicultural Student Affairs, and carries on to graduation, with peer mentorship and other programs.
Students who participate in the African American, Native American and Hispanic symposia have higher first-year grade-point averages than those who don't, according to the Office for Institutional Equity and Diversity.
NC State's academic offerings also reflect a strong commitment to diversity, with degree programs in Africana studies and women's and gender studies, and a minor in Native American studies. All NC State students take at least one course focused on diversity within the United States and another with an international focus.
The HEED award also lauds the university's efforts to recruit and retain diverse faculty and staff members and to promote awareness of the value of diversity on campus.
Other recipients of the 2014 HEED award include Cornell University, the Georgia Institute of Technology, the University of Virginia and Virginia Tech.
"We hope the HEED award serves as a way to honor those institutions of higher education that recognize the importance of diversity and inclusion as part of their everyday campus culture," said Lenore Pearlstein, publisher of INSIGHT Into Diversity magazine.