Campus Life
Talley Turns Heads
If the commencement weekend traffic was any indication, the rebuilt Talley Student Union will become the hoped-for heart and soul of NC State's campus for students, staff, faculty and visitors.
After more than two years of renovation, the second phase of construction is finished and the union is open for all to see. That doesn't, of course, mean the $120 million project is complete, says Tim Hogan, director of NC State student centers.
The building won't likely be fully functional until students return in August, but the doors are open, the chancellor's seal is in place at the Cates Street entrance and the three-story tall wolf trellis is ready for photographers.
The union opened on Friday, in time for a chancellor's reception as part of commencement weekend.
"It was one of those jaw-dropping moments when they walked into the building for the first time and got to see how much different it was from the past," Hogan says. "But we still have a lot left to do."
Monday, members of various campus departments such as Office for Institutional Equity and Diversity and Division of Academic and Student Affairs and student organizations that have been housed in Harrelson Hall and other campus locations will begin moving into new offices in the five-story addition.
Other groups, such as Multicultural Student Affairs, Greek Life, the University Graduate Student Association and Student Government will also relocate to Talley.
Construction on the Starbucks Coffee location and Bistro 1887 at the corner of Cates Avenue and Morrill Drive will begin on Monday and will continue through the summer, with the goal of being open by July.
Wolfpack Outfitters, the primary location for NCSU Bookstores, is finishing its two-story retail space and will move its inventory of NC State-themed goods from its temporary location on the first floor of Harrelson Hall.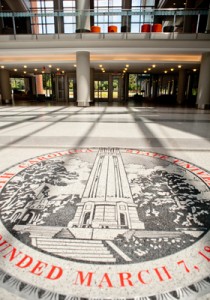 Stewart Theatre is still in its original location, but has new seats and staging. Arts NC State will begin reloading the sound system, curtains and other staging in coming weeks with the hope of being done this summer.
"We aim to be fully functional and operational by the time students return in August," Hogan says. "In the meantime, we have plenty of spaces where students, staff and faculty can explore. It gives people plenty of places to spread out and enjoy the new building."
The new building offers an open layout with multiple quiet spaces on every floor. There are conference rooms and meeting rooms galore, all filled with the same kind of funky furniture that has been popular in both the Hunt and D.H. Hill libraries.
Those spaces were designed to give students and campus visitors places to study, along with the opportunity for lunch or a fresh scoop of Howling Cow ice cream.
"What is interesting, from talking to folks who were here when the student union first opened in the 1970s, it never really caught on as a destination location because of the design," Hogan says. "It clearly received a lot of destination traffic from people who were going for food or to do business with a department or going to a meeting or event.
"All those things will still happen here, but in addition to that, the critical thing is that we have designed space that will entice students to make this their regular stop."
Hogan was pleased with the first-week reveal of the new building and optimistic about how it will be received as the punch list of final amenities is completed over the summer.
"I think it's a really exciting time because I think this is something we have lacked on the campus that we are finally getting," Hogan says. "If our brief interaction during commencement weekend was any indication, students are very excited to take ownership of their space."