Campus Life
Goodnight Scholars Program Reaches for Stars
NC State's unique merit- and need-based scholarship program continues to grow – and evolve.
Founded in 2008 by prominent NC State alumni Dr. Jim and Ann Goodnight, the Goodnight Scholars Program offers a $17,500 yearly scholarship, renewable for four years, to high-achieving, middle-income North Carolina residents majoring in science, technology, engineering or mathematics (STEM) disciplines or in STEM education.
Typically, Goodnight Scholars rank at or near the top of their high school class, attain much higher than average test scores and boast nearly spotless grade-point averages.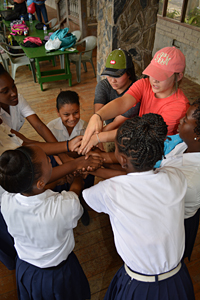 NC State selects 50 Goodnight Scholars from its first-year class; around 600 students are invited to apply for the scholarship in late fall and 96 are selected for campus interviews in February. Recipient selection occurs in March. Prospective students must apply for admission by Oct. 15 and can – for the first time – nominate themselves for consideration.
While notable for its unique middle-income requirement – family incomes should range between $30,000 and $99,000 and recipients must demonstrate financial need according to the Free Application for Federal Student Aid, or FAFSA – the program's service component and "pay it forward" mantra truly make it special, says Allison Medlin, director of the Goodnight Scholars Program.
"We want scholars who will contribute their passions and talents to NC State through outreach and volunteer opportunities, and then, after they graduate, use their skills and leadership abilities to improve the communities where they settle – in North Carolina or beyond," Medlin said.
Goodnight Scholars have myriad opportunities to pay it forward. Program coordinator Jason Perry highlights service-learning trips to Trinidad and Tobago and journeys throughout North Carolina promoting K-12 STEM education, house-building forays with Habitat for Humanity and involvement in major NC State service events, like this month's Shack-a-Thon.
In April, the program launched an emerging major NC State service event of its own – the Goodnight Scholars LEGO Brick Build – a competition promoting STEM training and career possibilities to Wake County elementary school students. The event is coordinated entirely by the program's student-run event planning team, the Goodnight Scholars Executive Committee.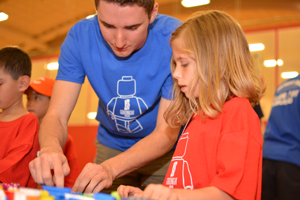 "The program's generosity extends to support for our students to travel, perform research, conduct internships and take part in entrepreneurial activities," Medlin said. "Last year, we provided more than $140,000 in enrichment grants to support these types of activities."
One of these new fully funded activities is a fall trip to Boston. Besides the cultural immersion in one of America's most historic cities, Goodnight Scholars also receive exposure to professional development opportunities, some with NC State alumni who live in the area.
From up-close views of transportation research and MIT's Center for Biomedical Innovation to learning about the day-to-day rigor of teaching STEM in Brookline, Massachusetts schools, Goodnight Scholars expand their awareness of the swath of career opportunities awaiting them after graduation.
Looking at the successes of previous Goodnight Scholars – who now attend prestigious graduate and professional programs and work in fields as varied as software engineering to applied mathematics to teaching middle school math and science – the experiences afforded by the program are having a tremendous effect.
As one current Goodnight Scholar majoring in biomedical engineering and biology puts it, "The Goodnight Scholars Program has truly opened my eyes to the great world of opportunity before me."