Faculty and Staff
Hinks Named Dean of NC State's College of Textiles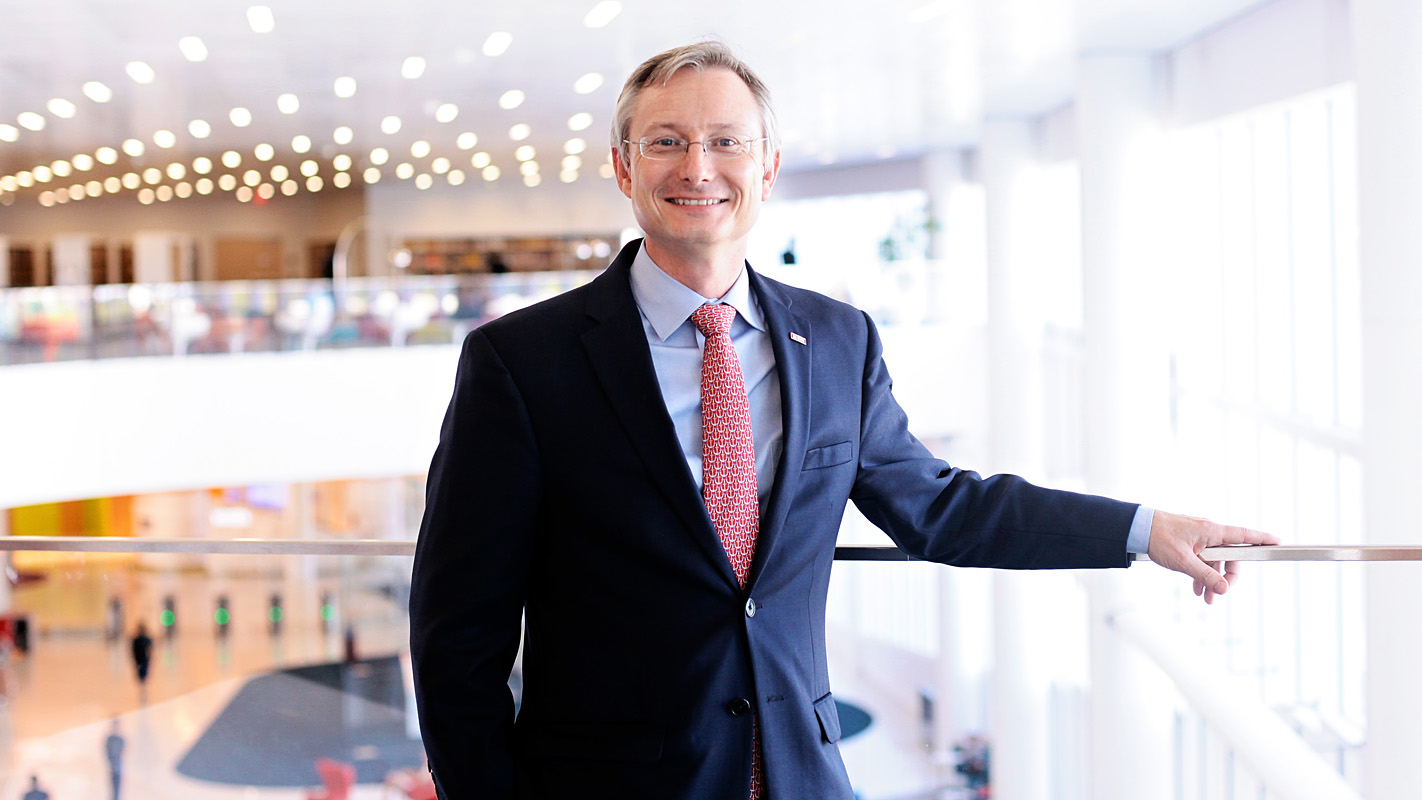 Dr. David Hinks has been named dean of North Carolina State University's College of Textiles after serving as its interim leader since July 2014. Provost Warwick Arden announced Hinks' permanent appointment, which is effective Jan. 1, 2016.
"Dr. Hinks has established a clear vision and strategic goals for the College of Textiles," Arden said. "We anticipate continued growth in textile research, innovation and public-private sector partnerships under his leadership."
An expert in color and dye chemistry, Hinks serves as the Cone Mills Professor of Textile Chemistry and director of NC State's emerging Forensic Sciences Institute. He leads more than 130 faculty and staff who mentor 1,000 undergraduates and more than 200 graduate students. The College of Textiles has more than 160 contracts with industry partners and eight government agencies totaling more than $14 million.
"For 17 years I have been a proud faculty member of the College of Textiles, which is recognized throughout the world as the leading academic textile institution. To be asked to serve as the dean is a remarkable privilege and honor," Hinks said. "Our students, staff, faculty, alumni and partners are unmatched when it comes to their talent, passion and creativity in advancing the resurgent textiles industry. I am humbled and excited to be entrusted to lead one of the foremost colleges in the great state of North Carolina."
Hinks has secured more than $8.5 million in research support over the course of his NC State career and has several patents and patent disclosures. He is a member of both NC State's Academy of Outstanding Teachers and Academy of Outstanding Faculty Engaged in Extension. He serves on the North Carolina Forensic Science Advisory Board and is a member of the North Carolina Economic Development Association.
Hinks has mentored dozens of graduate students and postdoctoral research associates, along with visiting scholars and undergraduate students. He has published more than 150 peer-reviewed and conference papers about color science, and forensic and environmental textile chemistry. Three of his graduate students have won the American Association of Textile Chemists and Colorists student paper competition; two others have won National Science Foundation graduate fellowships and one received a prestigious Goldwater Scholarship.
Born and raised in Derby, England, Hinks worked for Courtaulds Research for two years prior to attending the University of Leeds, where earned a B.S. and Ph.D. in Colour Chemistry. In 1993, he moved to NC State's College of Textiles as a postdoctoral research associate and later a visiting assistant professor investigating the genotoxicity of dyes and pigments. In 1996, he joined Milliken & Co. in Spartanburg, South Carolina, as a research and development chemist. He returned to NC State as an assistant professor in the College of Textiles in 1998. In 2003, he was promoted to associate professor and became the program director for a new polymer and color chemistry program. Hinks was promoted to full professor in 2009. He served as associate head and director of graduate programs in the Department of Textile Engineering, Chemistry and Science from 2012 to 2014.
The College of Textiles is recognized as the global leader in textile innovation: education, research and service. NC State produces more textile graduates per year than any other university in the country, fostering new technologies and leading the way in textile and fashion design, product development, brand marketing, basic and applied science, engineering, and technology transfer. These efforts fuel economic development in a wide range of areas related to the textile industry. With 200,000 square feet of research and teaching space and more than 60 labs, the College of Textiles offers extensive testing, analysis, research, design, fabrication and product development capabilities.
– ford –