Athletics
Football Hears Barrier-Breaking Athlete
Wheelchair-bound Irwin Holmes sat in front of NC State's football team Wednesday morning and talked to them not about barriers but opportunities.
Yes, the first African-American student-athlete in Atlantic Coast Conference history and the first black student to earn an undergraduate degree from NC State told the current Wolfpack players about some of the difficulties he and the other three black students that enrolled at the school in 1956 had during the earliest days of desegregation.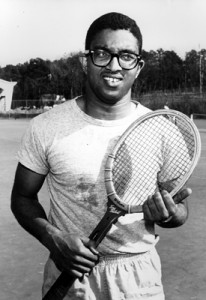 About the female math professor who refused to teach a class with a black student. About the Chapel Hill diner that refused him service when the tennis team stopped for a post-match meal, and how his teammates walked out, leaving a feast of food, uneaten and unpaid for. About the cheap shot he took during an intramural football team. About being barred from participating in conference matches at South Carolina and Clemson.
There were times of discomfort and real pain for NC State's racial trailblazers.
But mostly, Holmes told his rapt audience, there was opportunity his forebears never had.
"Your achievements in life will only be limited by the price you are willing to pay for them, not by anything outside of you," he said. "Your four years at NC State is your opportunity to set the foundation for your life.
"Don't waste it."
Holmes appeared as part of what NC State football coach Dave Doeren calls "Real World Wednesdays," a program he initiated last year, inviting speakers to address his team as part of their off-season training regimen. Last year's speakers ranged from an etiquette expert who instructed them on the proper way to eat a nice meal, to a fashion expert who taught them how to tie a tie to former NC State basketball star Chris Washburn, whose gritty presentation talked about his glory days, his struggle with drugs and his eventual ban from the NBA.
"The goal of Real World Wednesdays is to develop our players as athletes, as students and as men," Doeren says. "We want to surround them with real-life example and leaders that they can learn and grow from."
Future speakers include university administrators, representatives from the Wounded Warriors and others relevant to a life off the gridiron. That lesson was easily absorbed from Holmes.
"It was definitely a good perspective of how things were when he was in school here," said junior offensive lineman Tony Adams of Charlotte. "Seeing someone who is a pioneer like that is a great opportunity. It helps us understand what he went through, how he persevered through everything he faced. It wasn't easy. He fought through it, as a good student and a good athlete.
"For me, the lesson was how he prepared for life, to take school seriously and if you do well in the classroom, you'll do well in life, regardless of what happens in athletics."
For Holmes, 76, getting the opportunity to share his story with a roomful of fresh faces was a joyful event, and another chance to talk about the educational background that changed his life.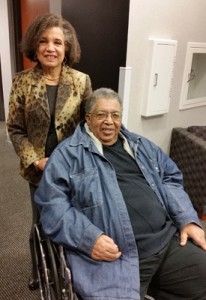 Holmes' father was an All-American football player at North Carolina Central in the 1930s who graduated with a degree in math and chemistry, but could not find a job as a professor in his hometown of Pittsburgh. He returned to Durham, where he was a high school teacher, principal and eventually the director of Durham's African-American parks and recreation department.
The younger Holmes graduated from Hillside High School in Durham in 1956 with outstanding academic credentials and applied as a student to NC State, less than two years after the landmark U.S. Supreme Court decision that struck down separate-but-equal education. The spring of his senior year, UNC Consolidated System president William Friday told the chancellors of the state's three largest universities in a May 15, 1956, letter that "we are now to proceed with the processing of the Negro applications we have received."
Holmes, Ed Carson, Manuel Crockett and Walter Holmes (no relation) were all accepted for the 1956-57 school year. In February 1957, Irwin Holmes and Crockett ran in the 600-yard dash during an indoor track meet in Chapel Hill, becoming the first African-American athletes to compete for an ACC school.
Holmes, who enrolled as a highly regarded junior tennis player, played on the freshman tennis team that spring and eventually joined the varsity program. As a senior in 1959-60, he was elected team captain and made Sports Illustrated's "Faces in the Crowd" as the first black captain of a varsity program for any school in the South.
The other three black students who enrolled with Holmes left NC State, but he earned a degree in electrical engineering and a master's degree from Drexel University. He had a lengthy career with IBM, working on high-profile computer projects before he retired to his hometown with his wife Meredythe.
His message to the football team Wednesday morning was simple: take advantage of their athletic abilities to fulfill their academic and career dreams.
"What I appreciate most about NC State, and what I hope you understand," Holmes said, "is that it gave me the opportunity to pursue what I wanted to do."