The Abstract
Engineering a Better Necklace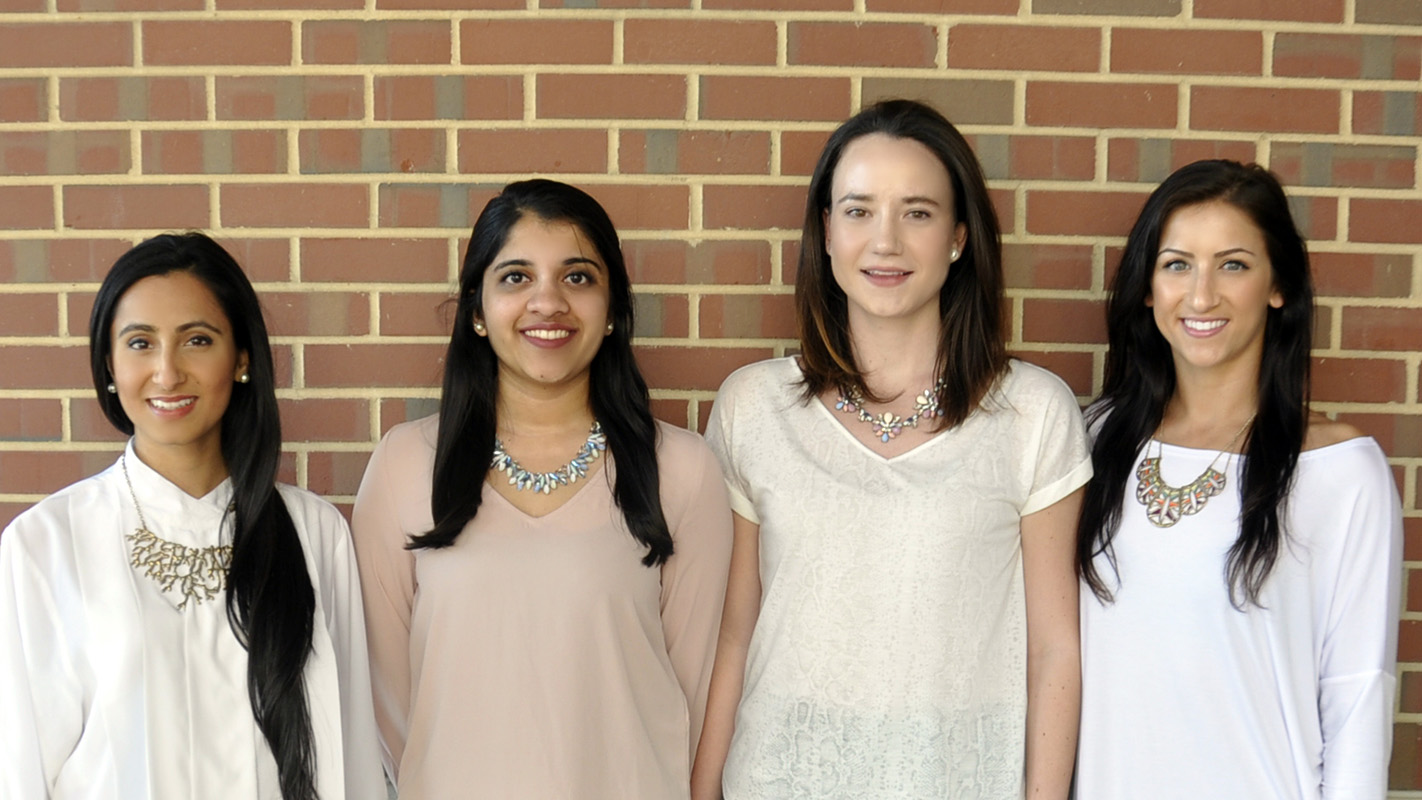 Four engineering students have stopped looking for the perfect "statement" necklace, deciding to design their own – and to launch a company to make the jewelry available to everyone.
"In autumn 2015, I was looking for a necklace to wear to a wedding; I found one that was almost right, and I wished that I could modify it," says Klaudia Kozek, co-founder of BloomUnique, the company she created to make necklaces like the one she wanted. "The idea of creating a necklace that could be customized into many different configurations came up in my engineering entrepreneurship class, and our team adopted the concept as our class project."
That team, which would become BloomUnique, consisted of Kozek, Kalyani Joshi, Avi Aggarwal and Christianna Carter. All four are seniors at NC State, majoring in chemical and biomolecular engineering.
"We want to give women more flexibility and control over how they express themselves through their jewelry," says Aggarwal.
"We also think this will appeal to groups – like wedding parties – that want to buy multiple necklaces that have some uniformity, but that can be personalized after the event," says Joshi. "Another benefit is that it is cost-effective; you only have to buy the necklace once, but it can be reconfigured many different ways. And purchasing new components would be less expensive than buying an entirely new necklace."
"We surveyed more than 300 women and men in the Raleigh area about the BloomUnique concept, and found that there was definitely a market for the type of necklace we wanted to create," Carter says.
After market research, the team's next step was to buy off-the-shelf jewelry and modify it for use as a proof of concept.
"We wanted to be clear that we were not recreating existing jewelry lines that simply swap out beads or charms on a chain," says Joshi. "Instead, we wanted to create 'statement' necklaces that could be easily modified by changing the chain length, and by using interchangeable jewel pieces and other components to form necklace designs as desired."
After creating its proof-of-concept, the team began identifying means to connect the necklace components, which led to the development of a larger-than-life prototype. By experimenting with the prototype, they were able to develop a new form of clasp for connecting the necklace components, which the team members plan to patent.
The engineers are now using 3-D modeling software and a 3-D printer to create a third prototype that incorporates the new clasp on a more realistic scale.
"The next step is to fine-tune the clasps and incorporate them into component designs," Kozek says.
"We also want to do more market research to make sure the clasp design is user friendly, and to confirm that the features we're incorporating are features people actually want," added Joshi, who plans to launch BloomUnique as a start-up company with Kozek after they graduate in May.
For the moment, the team is looking for experts they can consult on manufacturing.
"We are looking for people who can help us identify manufacturing challenges, develop manufacturing-friendly prototypes, and provide firm estimates of manufacturing costs that we can use when talking with potential investors," Joshi says.
All four engineers say they've enjoyed seeing the business side of what they see as an engineering endeavor.
"We knew a lot about things like thermodynamics and additive manufacturing," Carter says. "But this gave us the opportunity to engage with issues such as finance and customer acquisition."
"It helps us understand the relationship between engineering, business and ultimately providing consumers with a solution – a product or service they can actually use," Aggarwal says.
"NC State, the university's Entrepreneurship Initiative, and the entire Raleigh start-up community have been incredibly supportive," says Aggarwal. "It's been an encouraging experience."
You can follow BloomUnique on Facebook, Twitter and Instagram.
BloomUnique will be participating in the Lulu eGames, NC State's annual startup competition that celebrates innovation and entrepreneurship, on Thursday, April 14. This event is free and open to the public. Please visit ei.ncsu.edu/egames to register to attend.