Faculty and Staff
Creative Course Redesigns Benefit Students
Faculty members continually seek ways to solve instructional challenges and increase the effectiveness of course activities. But it's difficult to find creative solutions without adequate time and resources.
Faculty also face the urgent need to improve passing rates for classes with a high number of D and F grades and high withdrawals or DFW rates.
When students fail a critical path course required for graduation, a domino effect may occur. Students have to retake the class, which prevents another student from enrolling – potentially delaying both students' graduation.
The Critical Path Course Redesign grants offered through the annual DELTA Grants program focus on the challenges created by high-demand and critical path courses such as increased enrollments, inconsistency in learning experiences, repeat enrollments, learning space constraints and/or high DFW rates.
Using best practices in pedagogy and instructional technology to enhance teaching and learning, redesign efforts examine different methods to create more consistent learning experiences for students, and new ways to motivate students to become active learners.
These redesigns have the potential to reduce high DFW rates, influence students' choices in their intended discipline and keep students on a timely path toward graduation. Two recent examples demonstrate the impact of Critical Path Course Redesign grants.
Flipped Class Featuring Java
Teaching Assistant Professor Jessica Schmidt was intrigued by the blended learning concept presented at a conference she attended, and was determined to flip her course when she returned to NC State. Schmidt teaches seated and online sections of CSC 116, the first course required for computer science majors.
Schmidt noticed issues with the way she had been teaching her course. Students lacked enough time to work on exercises and receive crucial feedback in class. Since students are learning a programming language and there is a lot of syntax, Schmidt wanted to increase in-class problem-solving time.
"The lectures are obviously important, but the students gain a lot more when they are actually programming and applying what they have learned," she says.
CSC 116 was reworked nearly 10 years ago to be an integrated lecture lab meeting twice a week. Schmidt wanted to give students more in-class time with access to her and the two teaching assistants during class because students were struggling to complete their six big programming projects on their own.
Schmidt explains that since the course has no prerequisite, students come in with significantly different backgrounds—from no programming background to advanced programming skills. With such a wide range of experience to consider, it is challenging for Schmidt to keep everyone together and not intimidate or bore people. She saw flipping the course as a solution that would both increase the amount of in-class time for students to work at their own pace and allow for in-person guidance.
When applying for the DELTA Grant she recalls, "initially I thought, I am going to make these changes, I would get a little extra money to make them. But DELTA has been super helpful in terms of bouncing ideas off the team."
Originally, Schmidt had planned to apply for a blended learning grant. DELTA Associate Director for Instructional Design and Development Daniel Davis suggested she apply for the Critical Path Course Redesign grant which would provide more support.
Schmidt participated as a TH!NK faculty member last year. The campuswide initiative assists faculty with producing course designs to utilize higher-order skills in critical and creative thinking, so she was actively pursuing ways to foster these concepts.
Schmidt says DELTA staff "worked through many prototypes of Moodle and the best way to get information to the students and to group the students. Also, they have given me motivation and direction to keep me going."
Since Schmidt recorded her lectures when she decided to flip prior to receiving the Critical Path grant, DELTA staff tested the first iteration with a focus group. The feedback from students has made the course even better, she says.
She credits DELTA staff with helping organize course plans and bringing specific educational technologies. Her redesigned class will be fully launched next spring.
Organic Chemistry SMART Videos
For Maria Gallardo-Williams, director of organic chemistry teaching labs, her decision to apply for a DELTA Grant was an effort to scale up a student-led video project preserving a peer-to-peer information distribution model. A teaching associate professor, she says there are not many grants to specifically fund teaching innovation, so she jumped at the opportunity to apply.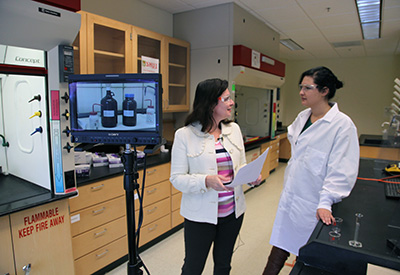 In fall 2014 Gallardo-Williams received an exploratory grant that quickly evolved into a Critical Path Course Redesign grant because of the sheer number of NC State students who would benefit. The DELTA team partnered with Gallardo-Williams to create 22 videos in a very short time.
Gallardo-Williams says many lab programs in the U.S. use videos as a supplement to lab briefings. What makes the NC State-produced videos different from those available elsewhere on the Web is that they are generated from scripts written by students who know first-hand what needs to be emphasized.
The students dubbed their creations "SMART" videos, an acronym for Student-Made Audiovisuals Reinforcing Techniques. The grant allowed her to make the most of the SMART videos, allowing her access to both professional production and integration into an online component that students may access during labs.
"Engaging students in activities that foster their critical thinking skills and preparing them for real problem solving in their chosen career path is the ultimate goal," she said.
DELTA Critical Path Course Redesign grants require an evaluation component. For the CH 222 and CH 224 labs Operation Evaluation Observation (OEO), DELTA recorded videos of students in each of the six different labs over a two-week period. In each lab Go-Pro cameras were set up to record in both the lab and the instrument room. Additionally, a set of six Go-Pro cameras recorded 360-degree video in the lab. These videos, along with audio transcripts, questionnaires and survey responses, comprised the data collected for the OEO.
Students worked  with Gallardo-Williams and her research team to mine the collected data and generated the SMART videos research poster presented at the 14th annual NC State Summer Undergraduate Research Symposium.
"My association with DELTA took this project from the parochial realm of a few volunteer students to a serious production – with people who actually knew how to do things properly – and our YouTube channel to the next level, with NC State branding and flashy animations," she says.
Gallardo-Williams, who was selected as one of the inaugural DELTA faculty fellows, mentions an accidental benefit to the recordings in addition to the progress her students are making in labs. She uses the videos to instruct her TAs as part of their training at the beginning of each semester.
If you're interested in applying for a DELTA grant, consultations with DELTA staff are available March 28 through April 29 with proposals due May 6.