A Leader in Licensing Research
A good idea that goes unshared? That's no good at all.
As a land-grant university, NC State focuses on sharing its work. That focus has always served North Carolina, and it's having a broader impact, too. The Association of University Technology Managers (AUTM) recently ranked NC State a national leader in licensing and optioning research to the private sector.
Options and licenses are the vehicles that carry innovative ideas from campus to companies that can commercialize them.
"When we have a technology at the university, we need a way to get it out to a company so that it can be commercialized by the private sector and converted into an actual product," says Kelly Sexton, director of the NC State Office of Technology Transfer. "These agreements give the company the right to use the technology."
During the 2014 fiscal year, NC State reached 145 license or option agreements with companies. That's the most of any university in the country without a medical school, and sixth among all U.S. universities.
Over the last four years, licenses and options executed by NC State have jumped by 146 percent — from 59 in 2012 to 145 in 2014. Ten of those 2014 agreements were with startup companies launched specifically to take university research to the marketplace.
So how did NC State emerge as a national leader in technology transfer?
The Right Raw Materials
It starts with a faculty that does innovative work and understands the value of partnering with the private sector.
"Our faculty are really interested in seeing that their research doesn't just get published," Sexton says. "They want their work to impact the public good, and they want to see it turned into products that can be put to use."
An Innovation Infrastructure
The rise in NC State's tech transfer activity coincides with the expansion of Sexton's team. Today, the staff of 20 includes licensing associates who serve as conduits between faculty researchers and potential industry partners.
"The strength of this office, and where I think we add value, is helping faculty connect with industry," Sexton says. "We bring industry into the lab."
Supporting Startups
The tech transfer office also has dedicated resources for startup companies. An experienced professional works on launching startups from NC State research, and the recently launched Pack Start program helps researchers find potential funders and mentors. It also enlists experts from the Poole College of Management to help with business planning.
NC State also recently announced a partnership with Duke, UNC-Chapel Hill and NC Central University that will tap the universities' alumni networks to support new startups. With help from the United States Economic Development Administration, the Triangle Venture Alliance will help students, faculty and alumni from the four schools get their startups off the ground.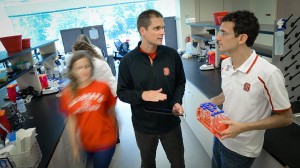 Investment in Ideas
NC State has been aggressive in making direct investments in faculty research. The Chancellor's Innovation Fund, launched in 2010, supports research projects that seem likely to yield marketable products. The $75,000 awarded to each research project is an important bridge between federal grants, which support early research, and private support, which funds the final steps to market.
The fund has sped innovations toward the marketplace, including one you may be using already:
CellSentry

, a software package that protects data on millions of Samsung smartphones

A

smarter fuel injector

that's currently being prototyped by a private company

Food scientist Rodolphe Barrangou's work on cut-and-paste DNA editing, which has earned him

international acclaim
Location, Location, Location
NC State's faculty innovators work at the center of several overlapping hubs of scientific and entrepreneurial activity. The Research Triangle Park, of which the university is a founding partner, is home to dozens of cutting-edge companies that regularly license faculty research, Sexton says.
There's also Centennial Campus, where more than 70 industry, government and nonprofit partners work alongside our faculty and students. Those partnerships include seven NC State-led federal research hubs where public and private agencies tackle global challenges such as renewable energy and advanced manufacturing development, chronic disease monitoring, nuclear nonproliferation, corralling big data and confronting climate change.
Several of those major research hubs have spawned tech transfer successes. GridBridge, a startup developing tools to build a smart electric grid, emerged from the FREEDM Systems Center, one of two active National Science Foundation Engineering Research Centers led by NC State.
"The fact that NC State is engaged with industry on so many research fronts contributes to our success in technology transfer and commercialization," Sexton says. "These companies are working with our faculty because they see the value in our research programs. Once a new technology is created, we already have corporate partners poised to license it."