Faculty and Staff
NC State Star to Disco for Dollars
Mindy Sopher admits she occasionally gets winded. The radiation treatments that helped her battle and defeat cancer four times in 12 years left scars on her lungs.
But what the relentless optimist lacks in lung power she makes up in heart.
This Saturday, Sopher, an academic advisor and lecturer in exploratory studies, will step out on the dance floor during the Southern Women's Show at the North Carolina State Fairgrounds to compete in a fundraiser to benefit children with disabilities.
The competition, Dancing Like the Stars, matches local celebrities such as Sopher, WRAL anchor Kathryn Brown and WTPF reporter Brandon Dickson with professional dance instructors from the Arthur Murray Dance Center in Cary. The teams are not only competing on the dance floor; they're going toe to toe to see who can raise the most money for the National Inclusion Project, a nonprofit group that supports children with physical and developmental disabilities.
Shaking Some Trees
After practicing her dance routine for hours after work, Sopher takes to social media to reach out to friends, colleagues and former students who might kick in a dollar or two toward the effort. You can vote for Sopher and help her raise funds by donating online.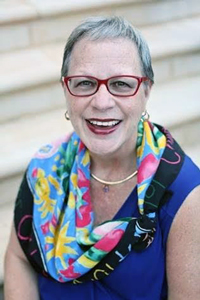 "I'm shaking some trees," she says. "I don't mind asking for help, because it's for the kids."
Her efforts are beginning to pay off. A student she advised at Memphis State three decades ago donated $50 and then passed the word to his fraternity brothers in Phi Gamma Delta to chip in, too.
"He challenged them to pony up because Miss Mindy bought their T-shirts and raffle tickets and doughnuts back then," she says. "It's payback time."
At the Arthur Murray Center, instructor Alex Lloyd echoes Sopher's enthusiasm. He's looking forward to their moment in the spotlight on Saturday, when they'll shake their booties to the tune "Dancing Queen" by Abba.
"Anybody who knows Mindy knows how wonderful she is," he says. "She just lights up the studio. She loves dancing, and she loves the cause. She inspires everybody."
Lloyd and David Cox, owner of the Cary Arthur Murray franchise, choreographed the dance routine, which incorporates moves from the tango and the hustle, spiced with a flirtatious Latin flavor.
"It has a Saturday Night Fever feel to it," Lloyd says. "It's pretty challenging."
Stepping Up
Sopher is determined to step up to the challenge, recalling her early successes on the dance floor, including a dance recital at 6 — at which she wore a glow-in-the-dark outfit — and ballroom-dancing lessons at 12.
"I taught my little brother how to do the the cha-cha in the living room," she says. "And dancing taught me the little grace that I have."
The effort also reinforces the philosophy of service learning that lays the foundation for the course Sopher teaches in nonprofit leadership and development every semester. Students in the course, some of whom volunteer with the National Inclusion Project, encouraged her to join the dance contest.
"Service learning is far more than volunteering," she explains. "It's integrating ideals with action, and then reflecting on that and growing from that. It focuses on critical-thinking skills. It's the essence of 'think and do.'"
That reminds her she still has plenty to do before Saturday's event.
"I'm on the hunt for a costume," she says, browsing a website for vintage 1970s clothing. "I have a feather boa and a curly, white wig. But I still need an outfit that I can dance in. Something with bright colors and bell-bottoms."
Sopher tilts her head thoughtfully as she checks out a picture of a psychedelic tunic with ruffled sleeves.
"Something like this," she says, breathing a little easier.