Students
Crossing the Finish Line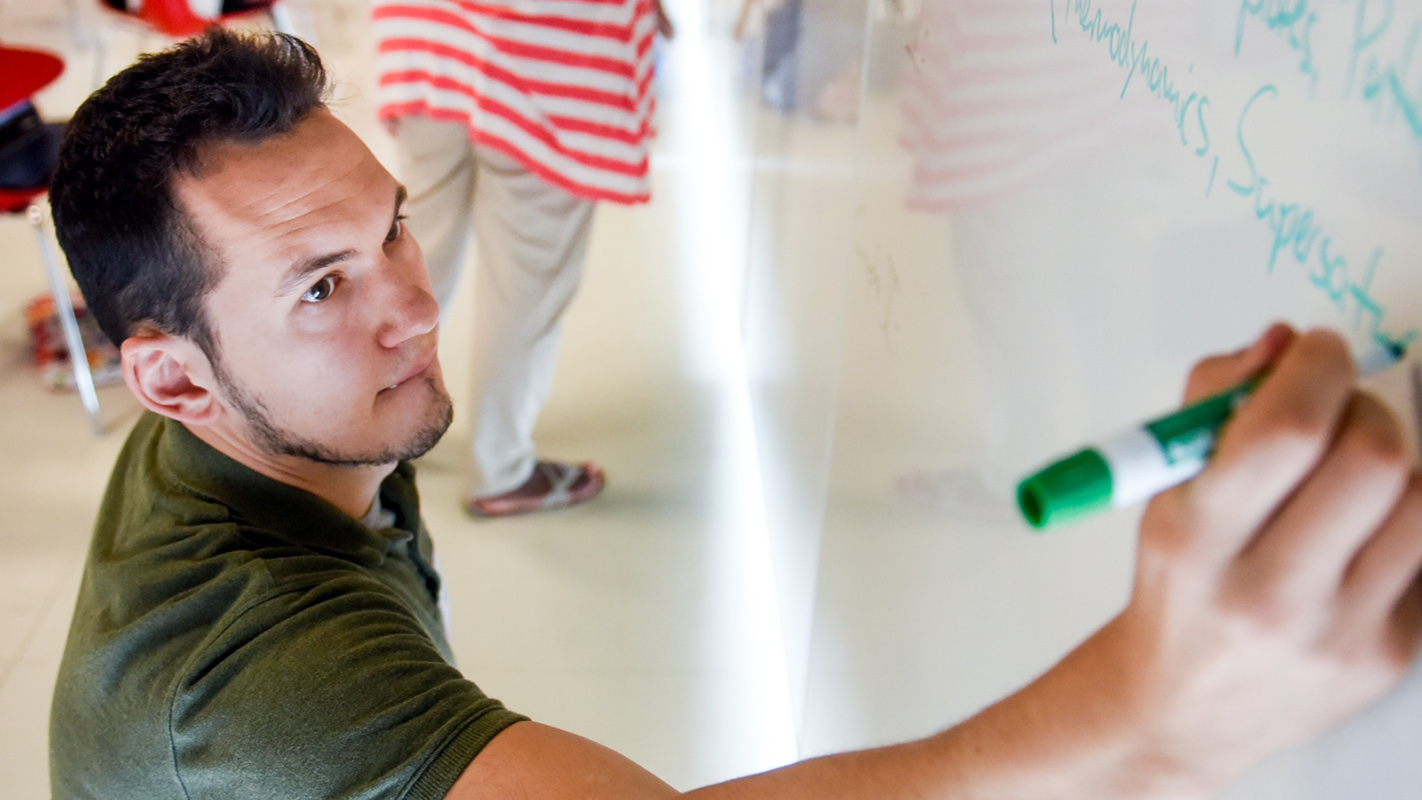 Finish what you started.
That's the concept behind the Dissertation Institute — a graduate school program that propels doctoral students to complete their dissertations in a timely fashion.
The program aspires to help raise NC State doctoral student completion rates, which normally means getting doctoral candidates to hunker down and finish their dissertations. The current rate — around 62 percent of NC State doctoral students complete their degrees within 10 years — hews closely to the national average. Graduate School administrators, however, would like to see 70 percent of NC State students completing their degrees within 10 years of starting them.
"Increasing doctoral enrollment is an important part of NC State's strategic plan, so getting students through their doctoral programs — and completing their dissertations — is a must," said Meagan Kittle Autry, director of thesis and dissertation support services in NC State's Graduate School. "We try to provide light at the end of the tunnel to help students realize that finishing that dissertation is possible."
The Dissertation Institute is a weeklong program held twice yearly at the end of the fall and spring semesters. It combines writing instruction, personalized consultation with a writing coach and workshops on best dissertation-writing practices.
"The resources we offer during the week really make this program unique in higher education," Kittle Autry said. "Other universities say 'Come work on your dissertation for a week.' In contrast, we have a dedicated office that understands the culture of a variety of academic disciplines to help students finish by demystifying the writing process. We're providing them a road map to finish."
The program appears to be working. Data show that 69 percent of the 53 candidates who attended the first three institutes — offered in May and December 2014 and May 2015 — completed their doctorates in only six years. That's nearly double the national six-year completion rate of 36 percent.
"The earliest version of the program started with a smaller groups of 12 students, but we're now doubling that to around 24 students because the dean has invested in this important initiative," Kittle Autry said.
To supplement the institute, Kittle Autry also started an online dissertation completion community so students can form writing groups, ask questions and get answers.
"Some all-but-dissertation students may have started jobs or moved away for other opportunities," she said. "So this is a way to consult with and track students who aren't in Raleigh."
Kittle Autry also teaches a semester-long graduate course in advanced research writing. This semester, 11 of her 13 students were engineers, so she was able to tailor the instruction to their needs, which could be wildly different from Ph.D. students in education or English, for example.
"Finishing the dissertation is an issue for all academic disciplines, not just in the sciences," Kittle Autry said. "A majority of doctoral students today, especially in engineering and the sciences, produce research article dissertations – that is, dissertations that can include multiple research articles produced by the author. This 'new normal' makes dissertations a bit more complex, as they have more moving parts. Fortunately, we're ahead of the curve on these changes and can counsel students so they can successfully complete their dissertations."
"Completing the dissertation is the final step in the educational experience of our doctoral students," said Graduate School Dean Maureen Grasso. "The work that the Graduate School is doing to support completion is a value added asset to our graduate students and faculty."
This semester's Dissertation Institute is May 9-13. For more information, visit NC State's Graduate School website.
– kulikowski –
Editor's note: This is one in a series of stories about NC State's strategic attempts to help students achieve academic success by finishing their degrees in a timely manner. Read about the way NC State is closing the undergraduate completion gap.