Academics
Narrowing the Completion Gap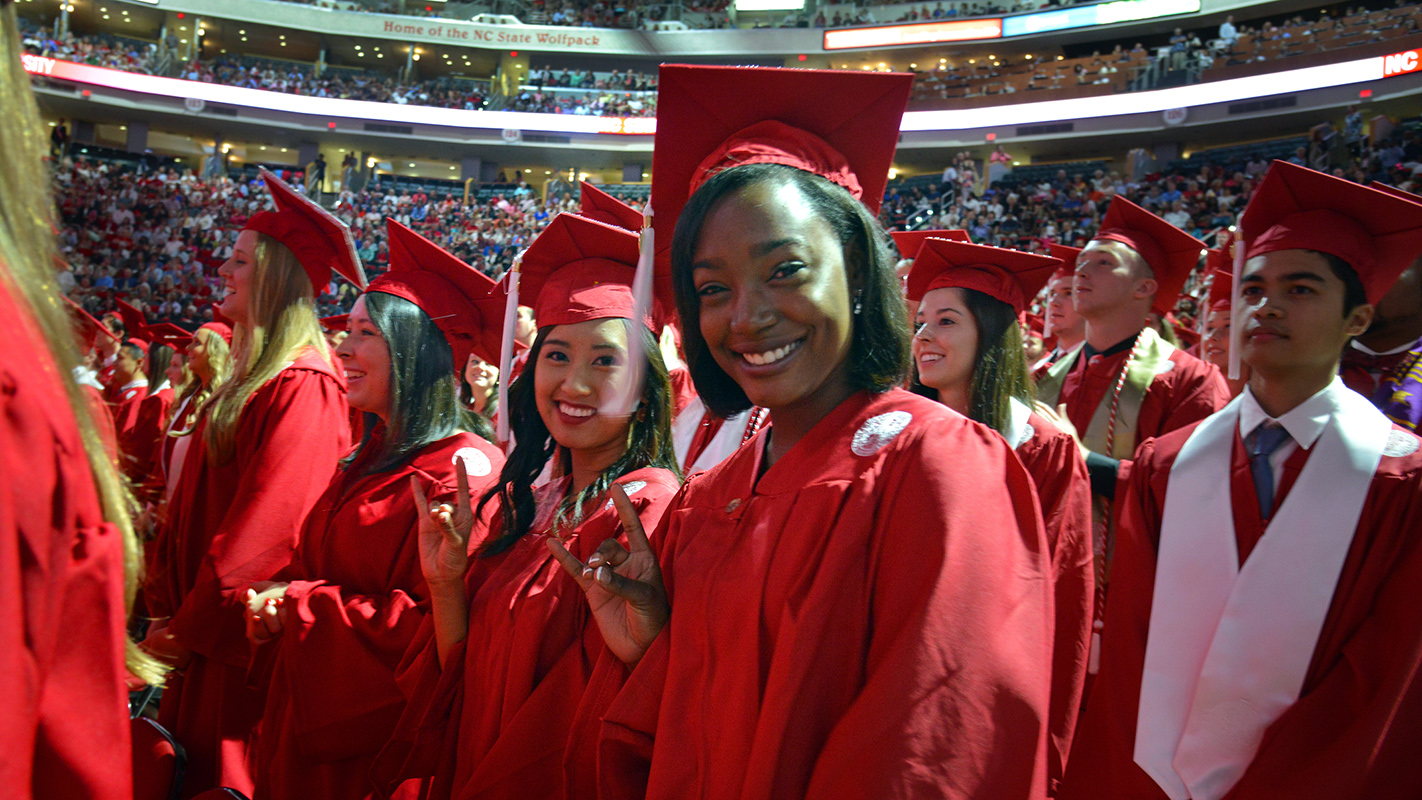 The disparity between graduation rates for white and underrepresented minority students is a challenge for universities throughout the United States, but a new report shows that NC State is making progress in closing this completion gap.
The nonprofit Education Trust, which promotes academic achievement for all students at all levels of education, found that NC State was near the top of the list — in North Carolina and nationwide — of schools shrinking the disparity in graduation rates.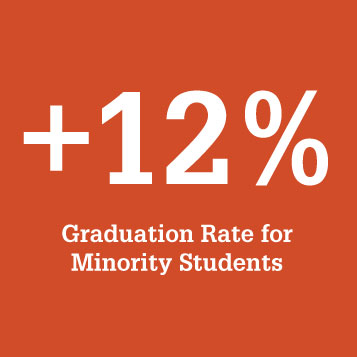 "We're justifiably proud of being cited nationally as a university that is closing the completion gap," Provost Warwick Arden said.
The report, titled "Rising Tide: Do College Grad Rate Gains Benefit All Students?" examines the graduation rate changes for 1,309 colleges and universities across the country by averaging the six-year graduation rates in a three-year increment from 2011, 2012 and 2013 and comparing those rates to averages in another three-year increment from 2003, 2004 and 2005.
By the Numbers
At public universities, overall six-year graduation rates increased from 52.8 percent to 57.7 percent from 2003 to 2013, according to the report. But the completion gap remains formidable. At a subset of public schools that narrowed the completion gap, for example, white student graduation rates are still more than 14 percentage points higher than minority student graduation rates.
NC State's six-year graduation rate for white students increased 4.8 percent, to 74.2 percent, over the study period, while the six-year graduation rate for minority students increased 12 percent, to 64 percent, over the same timeframe. That means NC State narrowed the completion gap by 7.2 percentage points.
Among North Carolina public universities, NC State and UNC-Wilmington were both cited for improving the completion gap, ranking in the top 10 among public institutions. The University of Nebraska led public universities by reducing its completion gap by 15.2 percent. It's worth noting that Nebraska's graduation rates for both white and minority students are lower than NC State's rates.
Focusing on Student Success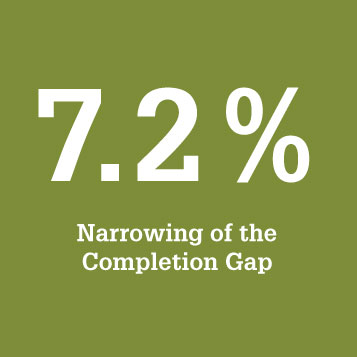 Arden and Senior Vice Provost for Enrollment Management Louis Hunt say that a variety of factors – many tied to the university's top strategic priority of ensuring student success – play a role in the ongoing efforts to narrow the completion gap at NC State.
"Academic persistence and success are correlated to academic and social integration," Hunt said. "The provost's office has funded student success initiatives consistently, and I think the evidence shows that they work."
Arden and Hunt point to the formation of the Division of Academic and Student Affairs and the success of a number of diversity programs and academic initiatives.
Those programs and initiatives, some of which predated DASA, include:
The Office of Institutional Equity and Diversity and its Office of Multicultural Student Affairs, which promotes the pursuit of academic success, retention and graduation of students, with an emphasis on African-American, Native American and Hispanic/Latino students — the very students affected by the completion gap. Many of the office's programs and services expand students' cultural horizons while honoring their respective cultural experiences.
The TRIO program, which helps students overcome cultural, class and social barriers to higher education success.
Peer mentoring and advising in programs like Living and Learning Villages, which allow students with common interests, female STEM majors for example, to live together in residence halls and support each other all day, not just in the classroom or the library.
More efficient ways of teaching traditionally large lecture classes — such as the SCALE-UP initiative, which effectively flips the classroom to allow for less lecture and more group problem-solving.

Inclusive orientation and welcome-week programs.

More library study spaces, thanks to the addition of Hunt Library.
Another key factor is providing the right amount of financial aid, Hunt and Arden say.
"Financial hardship is one of the main reasons why students leave school," Hunt said.
"Appropriate funding of need-based financial aid has had a significant impact on closing this gap," Arden said.
Building on the Momentum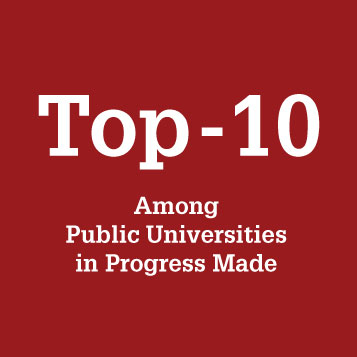 Arden and Hunt say more work is needed to continue the progress made toward shrinking the completion gap.
"Access to higher education is more than just letting people in the door," Hunt said. "It means starting the moment undergraduates begin their careers at orientation. It means more personalized advising. It means meeting the needs of all of our undergraduates." "There's work to do yet. We've got to keep working at it and expand the programs that make a real difference," Arden said. "University campuses are microcosms of society," Hunt added. "I don't think you can have true diversity on campus without having equal opportunity for success."
Editor's note: This is one in a series of stories about NC State's strategic attempts to help students achieve academic success by finishing their degrees in a timely manner. Read about the way NC State is helping doctoral students finish their dissertations.