Campus Life
5 Honored for Outstanding Service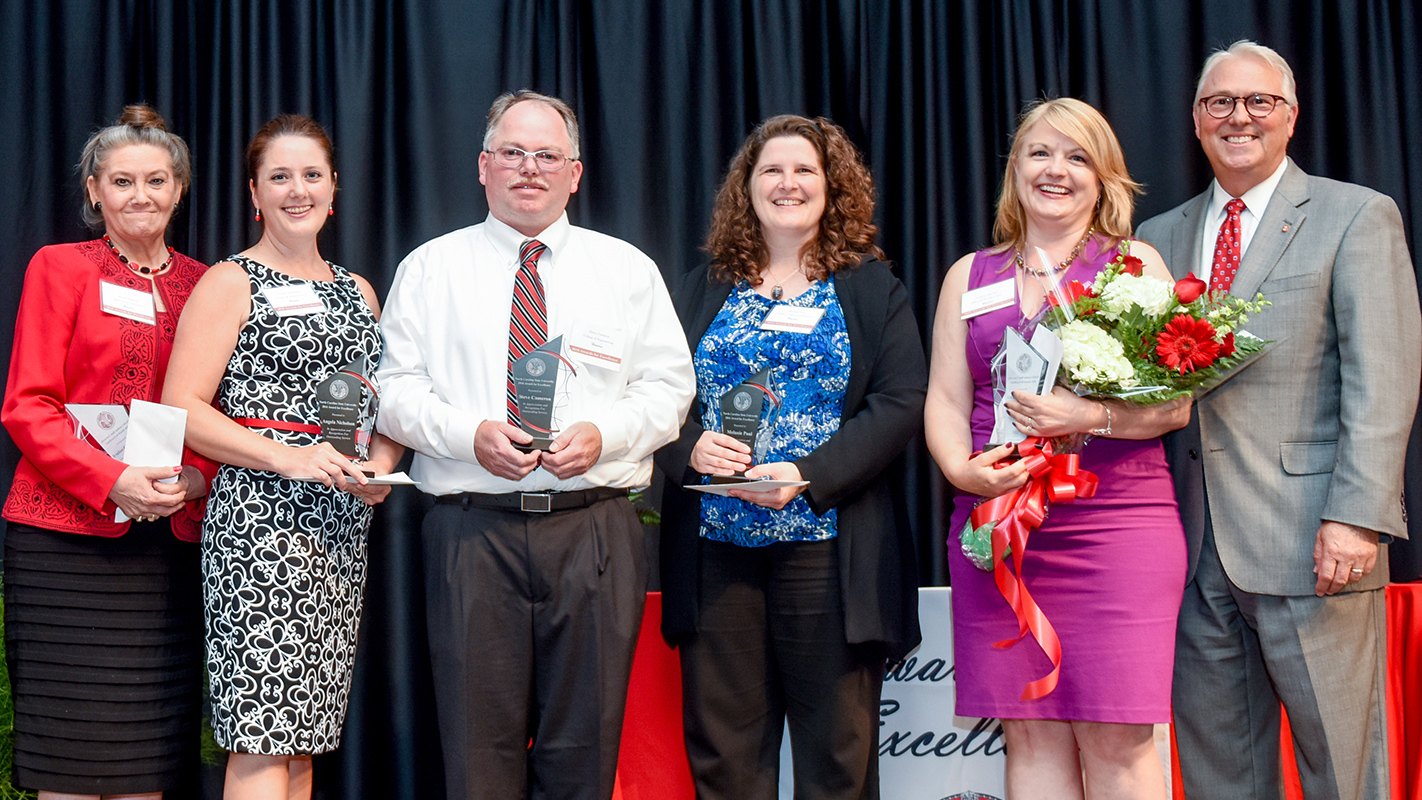 Five NC State employees were honored for their outstanding service, from saving money to saving lives, at the Awards for Excellence ceremony June 14. The annual event, at the Talley Student Union, celebrates the efforts of high-performing staff members in each of the university's colleges and units. Chancellor Randy Woodson delivered the keynote address at this year's event, which honored 46 nominees.
This year's winners are:
Donna Woolard, Special Events Coordinator, Athletics
Category: Public Service
Woolard, has been a part of the Wolfpack family for over 20 years, and volunteered for 12 years before that. She has raised over $1 million for the Student Aid Association. She is continuously uplifting and encouraging to all and always has a smile on her face. Her public service in and outside of the office is truly amazing, as is her dedication to helping students succeed.
Angela Nicholson, Onboarding Specialist, Onboarding Center
Category: Public Service
In June 2014, Nicholson's husband, Brian, was diagnosed with lung cancer. She has handled this situation with grace and a positive attitude. While keeping up with activities for their two children, she went with Brian to appointments, scans and chemotherapy. With the Lung Cancer Initiative of N.C., Nicholson has worked on two Evening of Hope galas, coordinated large teams for 5K runs, and worked on other initiatives which have raised tens of thousands of dollars. As Brian says, "From fundraising to working on the annual gala, she has found an outlet to help her cope while making a huge impact. As usual, even her coping is selfless."
Steve Cameron, Specialty Trades Technician, Mechanical and Aerospace Engineering
Category: Customer Service
Cameron is patient, steady and clear when instructing students in lab safety workshops. He makes significant educational contributions to students by providing valuable insights into the design process that streamline the machining and prototyping, resulting in the fabrication of unique equipment that pushes the bounds of what is possible. He is dedicated and committed to his work and does whatever it takes to complete projects. He produces complex parts that in the past were only available through outside vendors. Cameron enjoys challenges and comes up with brilliant and cost effective solutions.
Melanie Paul, Accountant, Forestry and Environmental Resources
Category: Efficiency and Innovation
Paul epitomizes efficiency and innovation. She has an excellent capacity to assess complex issues and identify innovative solutions. She became the senior accountant for the Department of Forestry and Environmental Resources on extremely short notice and has maintained a positive attitude, worked countless hours until deadlines were met, and implemented a series of innovative improvements to allow faculty to become active participants in their budgets. Her self-initiated analysis of the budget revealed the summer camp was losing money, and so she successfully secured an additional $16,000 supplement that greatly reduced the operational fees each student paid for the summer camp, in addition to summer school tuition. Her innovative approach saved 48 undergraduate students a lot of money. She continues to pursue additional funding models that will hopefully lead to a sustainable funding model for the camp.
Lindsay Recchie, Assistant to the Chancellor, Office of the Chancellor
Category: Safety and Heroism
This year, when a coworker became ill and was in need of a kidney transplant, Recchie selflessly elected to go through testing to see if she was a match.  After discovering that she was indeed a match, she volunteered to go through with the procedure. Thanks to her kindness and bravery, her coworker was able to receive a life-saving gift. Her actions have proven to be true heroism.