Faculty and Staff
Steering Students to Success
Jeff Joines pulls a toy car out of a cardboard box on his desk and sets it on a table in his office. On a piece of paper he traces a floor plan for a single-car garage and pushes it across the table at me.
"See how many times you can roll the car into the garage without hitting the walls" he tells me.
The first time I try it, the car veers to the right, rolling over the line representing the garage's side wall. The next time, the car stops just millimeters from what would be the back wall. It turns out I don't drive much better in this simulation than I do in real life. That doesn't matter, says Joines, an associate professor of textile engineering, chemistry and science. We're just collecting data.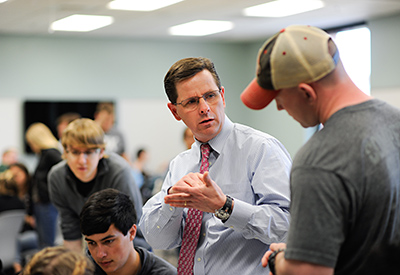 After a few minutes of this, Joines enters the results of the exercise into a frequency distribution chart, then makes a rough histogram. Like my driving, it leans to the right — hardly the perfectly proportioned bell curve you'd expect from random inputs.
"If this were data for a manufacturing process, it would be well beyond permissible tolerance limits," he says.
Although it's been more than a few years since I've taken a statistics course, I nod appreciatively. It may not be the result I wanted, but it's my data. And the chart makes sense.
"That's the point," Joines says. "Students learn better if they're involved in collecting their own data. Then, the charts and graphs don't seem so abstract."
Honored for Excellence
Joines' engaging hands-on teaching methods haven't gone unnoticed. He recently won the 2016 Board of Governors Excellence in Teaching Award from the University of North Carolina system, an annual honor given to one faculty member at each of the system's 17 institutions.
"I'm thrilled that NC State and the university system recognize the importance of teaching and value great teachers," he says. "I'm also humbled as I look at the list of people who have won in the past and at the other teachers who are being honored this year."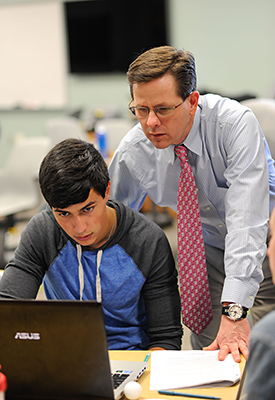 His commitment to student success has paid dividends for the College of Textiles. In a recent survey of textile engineering alumni, 84 percent praised Joines' computer-based modeling course as one of the most useful classes they took at NC State. Joines created the interdisciplinary course in cooperation with the industrial engineering department to help students learn how to use data to make better decisions and to build decision support systems.
"I like helping students," he explains. "I like seeing them succeed."
Joines, who earned his bachelor's, master's and Ph.D at NC State, appreciates the value of excellent teachers. His faculty mentor, Russell E. King, the Edward P. Fitts Distinguished Professor of industrial engineering, encouraged his interest in teaching while he was still a graduate student.
"He said, 'You know how to take complicated subjects and help students understand them. And you push students to work hard.' I guess that's true. I have very demanding classes but students respond well because they understand these skills will help them once they leave NC State. Also, they don't want to disappoint me because they know how much I care for them," Joines says.
Engaging the Next Generation
In addition to his teaching duties, Joines serves as associate department head in textile engineering, chemistry and science. That gives him the opportunity to support student recruitment efforts.
"When we go out to high schools, we often find that students don't know much about textile engineering," he says. "We tell them to think about the excitement of designing new products, everything from artificial aortas to composite materials for the aerospace industry."
Student retention is less of a challenge, he notes.
"Our retention rate is 98 percent," Joines says. "Once they get in, they never leave us because we have many caring and inspiring faculty."