Athletics
Longtime Voice of NC State Dies at 91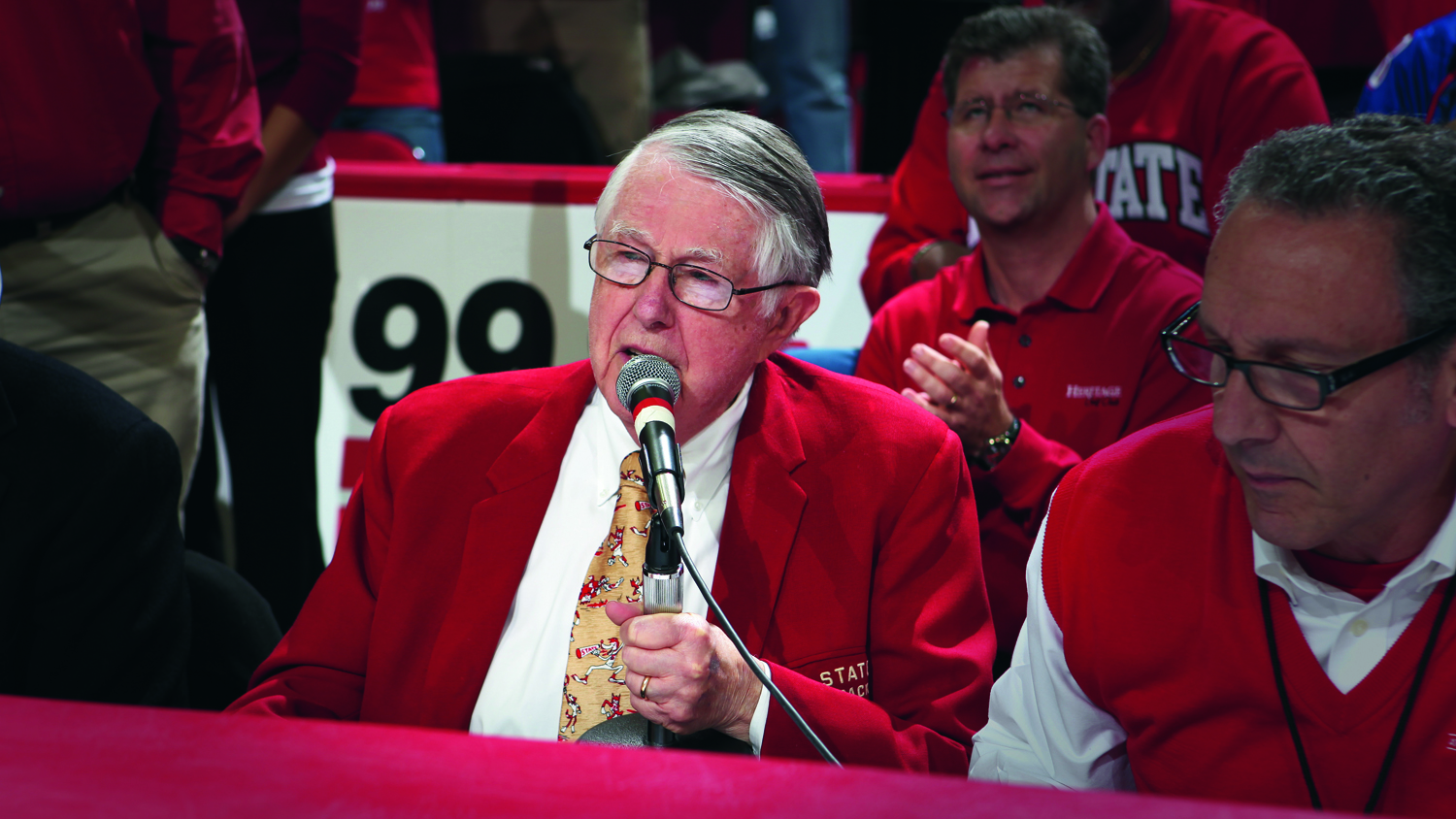 The voice of Reynolds Coliseum has echoed into eternity: C.A. Dillon, the public address announcer for four of NC State's home basketball arenas who was known as the "Soul of Reynolds Coliseum," died peacefully Thursday morning at his home in Raleigh. He was 91.
Dillon took his seat behind the microphone in 1946 at Thompson Gymnasium, with a personal invitation from new head coach Everett Case. He moved over the years with the teams and the next six basketball coaches to Raleigh's downtown auditorium, Reynolds Coliseum for the entirety of its 50 years and two games in what is now PNC Arena before retiring after 53 years of service to the program.
His smooth baritone voice was distinctive and welcoming, and his friendly demeanor was disarming to game officials and opposing coaches. He opened nearly every game with these words: "Good evening, ladies and gentlemen and welcome to William Neal Reynolds Coliseum. Tonight North Carolina State University is pleased to host as its guest the basketball team from … "
A banner representing his honored microphone hangs from the rafters of PNC and he is remembered in a display at the newly refurbished Reynolds Coliseum, which he toured the day it reopened last fall.
Dillon, like senior associate athletics director Frank Weedon, was an encyclopedia of knowledge about Red Terror and Wolfpack basketball, beginning with his days as the sports editor of Technician, NC State's student newspaper, during World War II. He was a 1947 graduate of the school with a degree in mechanical engineering.
From 1946-85, he missed exactly two games behind the mic: one for his honeymoon and one when his mother died. He missed more after '85, when games sometimes conflicted with his Monday night Bible study.
Born May 26, 1925, Clyde Alvin Dillon Jr. was the son of an NC State alum and the founder of Dillon Supply Company, a downtown Raleigh industrial supply company where he served as president until he retired in 1990.
Dillon served NC State in multiple capacities besides his work with basketball. He was the P.A. announcer for football games at Carter-Finley Stadium from 1970-99, and on more than a few radio broadcasts. He filled in as play-by-play announcer for a local radio station when the Wolfpack made its first appearance at the Final Four in 1950. Dillon never let Weedon live down the fact that when the Wolfpack Radio Network was formed in 1961 Dillon was fired as a radio broadcaster.
He was a member of the NC State Board of Trustees from 1973-83, president of the Alumni Association from 1970-71 and campaign chair and Wake County fundraiser for the Wolfpack Club.
A frequent member of search committees, he helped hire football coaches Lou Holtz, Bo Rein and Monte Kiffin and chancellors Joab Thomas and Bruce Poulton.
Last Friday, Dillon and his wife Mildred celebrated their 61st anniversary. He is survived by his five children, 16 grandchildren and one great-grandchild. Funeral arrangements are pending.