At 100, Retired Prof Recalls Postwar Campus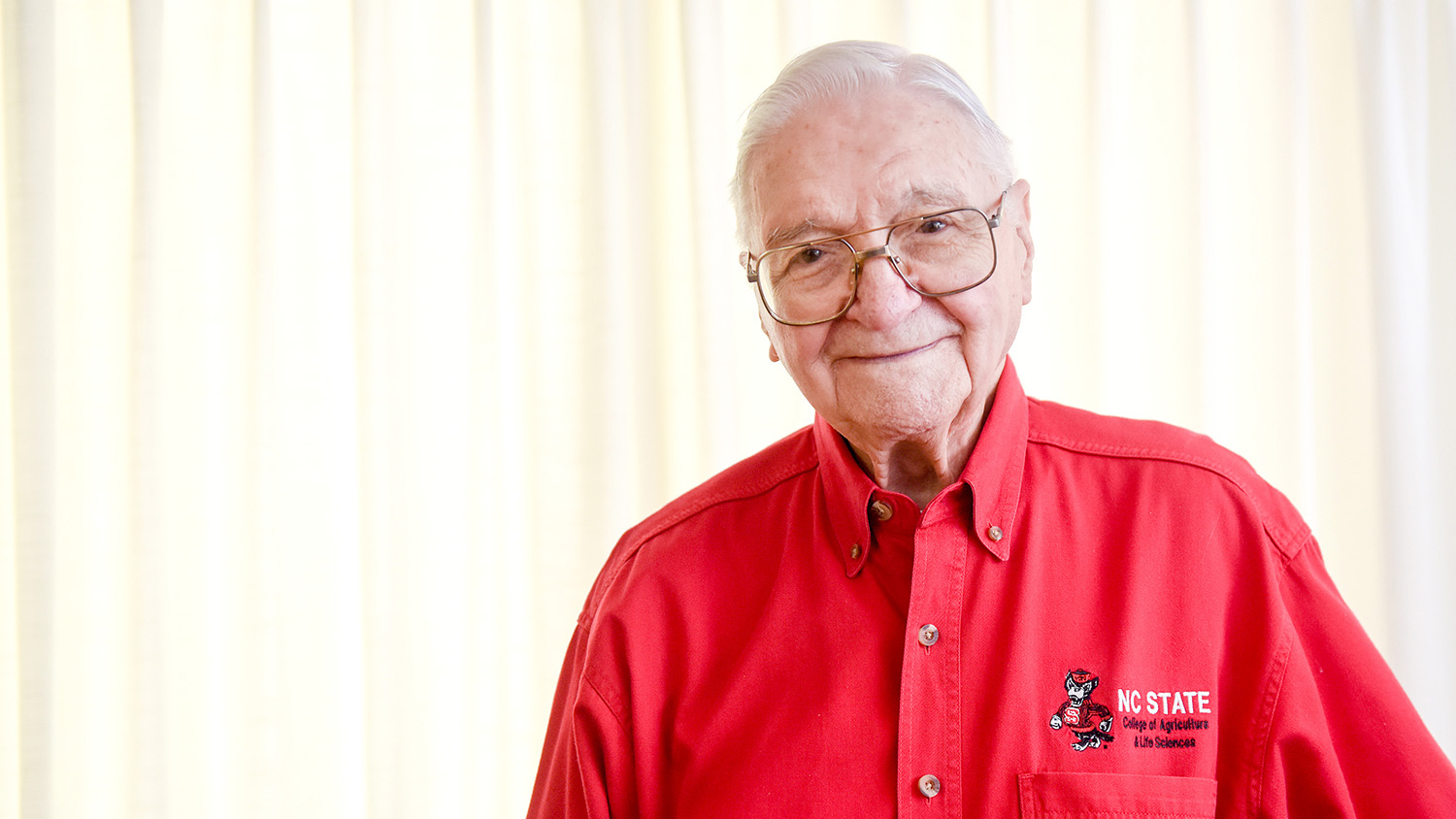 Students who complain about small dorm rooms have nothing on Emmett Dillard. In March 1946, the grad student lived in a 22-foot-long trailer with his wife and three children.
"It was kind of crowded," Dillard says. "In that time, people were lucky to find a place to live. Students had trouble finding a house because of the crowd that came in after the war."
Dillard, an alumnus and former professor, has photos of those days, along with other mementoes of his time at NC State. An award from the NCSU Animal Science Club for contributions to the state's beef and swine industries hangs on the wall of his apartment at Jordan Oaks retirement community in Cary. A plaque honors 31 years of outstanding service to the university. Somewhere he has a scorecard from the year he got the most points in the state and faculty bowling league.
More than anything, he has memories – almost a century's worth. Dillard turns 100 on Saturday.
From North Carolina and Back Again
Dillard was born Aug. 12, 1917, in Sylva, North Carolina, one of seven children. The family moved to Rabun Gap, Georgia, when he was in ninth grade. Dillard graduated from high school and junior college and went on to study agriculture at Berea College in Kentucky.
"They're still there and going strong," he says. "I just got another letter yesterday; they wanted money."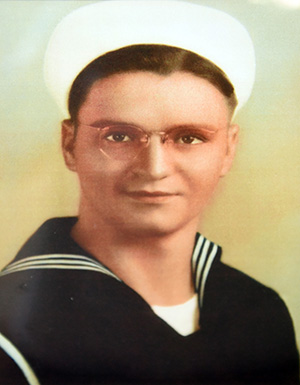 Dillard graduated from Berea in 1940 and went to the University of Georgia in Athens for two quarters before deciding to take a job. In April 1944, he joined the Navy and served as a radar operator. He left the service in November 1945 and decided to resume his education, choosing to focus on animal breeding and genetics. Iowa State College – now Iowa State University – was one of the top schools for the field, but it wouldn't give him a scholarship and was far from his home in Georgia. NC State was closer.
Dillard was accepted into the master's program and, in 1946, he, his wife and their children moved to Raleigh. They landed in Trailwood.
Two Tiny Homes
Dillard remembers the influx of students after World War II.
"NC State I don't think ever had over 2,700 students before the war. Immediately thereafter, pretty quickly, we were at 4,700," he says.
Housing was a problem; couples and children weren't allowed in residence halls, and apartments were scarce. The solution, the university decided, was trailers. Hundreds of married veteran students lived in the makeshift homes and formed their own community called Trailwood on the western side of campus. By January 1947, there were 220 trailers housing 550 people.
Life there "was OK," Dillard says. "We got along well. Most everyone was congenial."
With three children by 1946, Dillard says he had the biggest family in Trailwood, though not the largest trailer. Their tiny home had three beds, two of which folded up and a third that turned into a couch. There was a stovetop, a table and a small refrigerator. There was no air-conditioning, so the Dillards sent their two eldest children to their grandparents in Georgia that summer.
Dillard served as mayor of Trailwood from 1946-47, though he's not entirely sure how that happened.
"I guess we had an election, but it probably was just somebody wanted me and I agreed," he says. "It wasn't a job that was very important anyway."
His most notable achievement was establishing a grocery store, which sold stock bought from larger stores.
Trailwood wasn't home for long. In 1947, the Dillards moved into an HUK, short for housing for the United Kingdom. These homes were meant to go overseas after the war but instead ended up on Hillsborough Street. There were about 30 units, Dillard says, that he thinks were made of some kind of cane fiber with wooden framing and a flat roof.
"I put a hose up on top of the house and let it run on the hot days to cool it off because we had no air conditioning," he says.
HUKs were bigger than trailers; the Dillards had two bedrooms, a kitchen, a dining room and a bathroom. The homes housed a mixture of grad students and faculty. Dillard joined the latter when he finished his master's degree in 1948.
The Slaughterhouse in Polk Hall
Six faculty members housed in Polk Hall concentrated on animal breeding in the late 1940s. Dillard's office was on the second floor with the rest of his team, which eventually comprised Eugene Eisen, who conducted experiments using mice, and Wayne Robison, who specialized in swine. Dillard's focus was beef cattle. He experimented with crossbreeding and selection to improve animals suited to the climate and environment of North Carolina, using breeds such as Herefords and Brahman. Many of his subjects met their fate in the basement of Polk.
"They brought them in there live and slaughtered them there and then cut up the carcasses," Dillard says.
Dillard and his colleagues, along with food science faculty who also worked out of Polk, studied the cuts of meat, conducted taste tests and collected data. Dillard says the practice ended well before he retired, with the animals instead going to outside slaughterhouses.
Along with research, Dillard taught, first as an instructor, then assistant professor then associate professor. Most of his classes were introductory animal science courses with some lectures on breeding and reproductive physiology. His students included veterans. Dillard remembers one who flunked out of college before the war, entered the military, then returned to college and earned straight A's.
War "matured a lot of boys. We saw a lot of that – students who hadn't really done well before and then came back home and were ready to come to work."
Dillard had three notable absences from the campus. He took leave in 1951 to pursue a doctorate in animal husbandry from the University of Missouri.
He did two tours in Peru in the 1950s and '60s through an NC State contract with the United States Agency for International Development. He did livestock work during his first tour; the second he focused on beef cattle and guinea pigs – the Peruvian equivalent of chickens.
"Chickens used to be family-raised in the yard before the days of commercialization," he says. "In Peru, the guinea pig was the yard animal that was used for food. We were trying to get them a little bit bigger."
Happy Retirement and Happy Birthday
Dillard retired on June 30, 1979. It was time, he says.
"I just felt I wasn't getting the job done like I would like to," he says. "I would say I was more tired than anything else."
He devoted himself during retirement to a hobby that dovetails with his professional interest in breeding and genetics: family genealogy. He has more than 20 binders of records, births and other statistics. His book, David L. Dillard: His Roots and Branches, studies his great-great-grandfather's descendants.
Dillard doesn't know if anyone in his family ever reached 100. His parents died at 87. One grandmother almost reached 90. A couple of cousins made it to 92. Dillard says he doesn't do anything in particular to prolong his years. The man who spent decades studying genes can't explain why his outstripped his relatives'.
"I don't have a secret that I know of. Maybe if it's a secret, it's a secret to me, too," he says.
He looks back over the decades with satisfaction tinged with regret. He wishes he had published more research articles while at NC State; however, he is proud that he won the 1975 Educator's Award from the North Carolina Beef Cattle Improvement Program. Former grad students still keep in touch. He and his wife were married for 75 and a half years until her death in 2015. His four children, two of whom hold degrees from NC State, turned out well, he says. Family are coming in from as far away as Colorado to celebrate his birthday. Forest Hills Baptist Church, which he has attended since 1946, will mention the milestone on Sunday.
Plans for his 101st year include a trip back to NC State's campus. So much has changed since he retired – technology, the casual attire of students and faculty, even the campus landscape.
"I haven't seen campus since they tore down Harrelson Hall," he says. "I haven't been in the new library, which is on my bucket list."
Decades after retirement, Dillard has advice for both students and faculty. Instructors should encourage students and keep them interested. Students should take advantage of today's easy access to information.
"You have for your appraisal and use the minds of the best people in any category, whether it's technology, religion, poetry," he says. "You have something nobody else can give you. We can't talk with all those great people individually, but the books are there for you to read."