The Abstract
Beetles and Lightning: Photography Winners of the 2017 NC State Research Image Contest
First place for photography among faculty and staff goes to Matt Bertone, for his image capturing the fine details of a carpet beetle – which many viewers are likely to find surprisingly beautiful.
"Insects and their relatives (called arthropods) are a common – and sometimes abundant – component of the indoor biome," Bertone says. "Humans live with many species of arthropods, some of which are tightly associated with homes and able to thrive in our relatively sterile, constructed environment. Carpet beetles (Coleoptera: Dermestidae) were found to inhabit 100 percent of the homes (and 57 percent of the rooms) sampled in a recent survey of North Carolina homes. Although sometimes pests of wool rugs and garments, these insects generally feed on hair, feathers, bits of dried food and dead insects. They are also commonly found in the nests of other animals, a habit that has likely predisposed them to living with us. My photo shows an adult beetle that finished development and is resting in its former larval skin.
"Although the biodiversity of natural ecosystems is important and exciting to study, we still know relatively little about the flora and fauna of our homes, and how they affect our daily lives," Bertone says. "By collecting samples of arthropods from houses all over the country (and the world), we gain relevant insight into the species that typically inhabit our dwellings and what roles they may be playing in our daily lives. Some are pests, others are beneficial, while many simply reside alongside us in the dwellings we have built – even if they are often engineered to keep these creatures out."
The winner in the graduate student category is Andy Wade, a Ph.D. student in the Department of Marine, Earth and Atmospheric Sciences, who captured lightning in mid-strike in a photo he titled "July 12, 2015" (the photo at the top of this post).
"The photo was taken when graduate students from NC State, the University of Oklahoma and Colorado State University were collecting data on a line of passing storms in southeastern Minnesota," Wade says. "The Plains Elevated Convection at Night (PECAN) experiment sent researchers from numerous universities and laboratories across the central U.S. in search of nocturnal thunderstorms.
"Nighttime thunderstorm complexes are responsible for much of the Great Plains' warm-season precipitation, sometimes produce severe weather and influence weather far downstream," Wade explains. "Improved understanding of their formation and dynamics will benefit agriculture and yield better forecasts."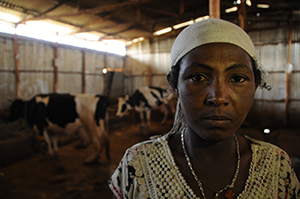 Second-place in the faculty category goes to Andy Stringer, a clinical assistant professor in the Department of Population Health and Pathobiology and director of NC State's Global Health Initiative, for his photograph of an Ethiopian farmer who helps study diseases that spread between animals and people.
"The Health and Livelihoods research group, which I founded, utilizes a 'One Health' approach to understand the determinants of health and their relationships with livelihoods," Stringer says. "Wude, who I photographed, is a farmer in Ethiopia who is involved with research focused on addressing the challenge of zoonotic disease on livestock owners, and the development of interventions aimed at increasing the safe consumption of milk for improved nutrition.
"Stunting affects 25 percent of children under five worldwide, and reduces child growth, health and cognitive development," Stringer says. "Animal-source foods, including milk, provide essential protein, as well as important micronutrients, which can increase the growth, nutritional status and health of children. Smallholder farmer systems often have low profitability and productivity due to numerous issues including zoonotic diseases. Endemic zoonotic diseases are found wherever people live in close proximity to their animals, affecting not only the health of poor people but also their livelihoods through the health of their livestock."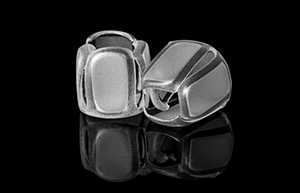 Second place in the student category goes to a two-person team: Amber Hubbard, a Ph.D. student in the Department of Chemical and Biomolecular Engineering, and Sally Van Gorder, a former graduate student in the College of Design, for images of self-folding materials.
"This image was captured to analyze the overall shape and curvature of polymer structures after a self-curving response was produced," Hubbard says. "These bi-axially strained substrates are used in the production of self-folding polymers that can transform from two-dimensional sheets into three-dimensional objects when exposed to an external stimulus. Ink is printed onto the polymer substrates with a standard, inkjet printer, where the ink absorbs thermal energy from an infrared light. A temperature gradient through the thickness of the polymer sheet generates a strain gradient, resulting in a shape change of the substrate. By carefully controlling the ink printed on the substrate the amount of thermal energy absorption can also be controlled, which determines the amount of movement and shape deformation experienced by the polymer.
"In recent years, self-folding materials and origami engineering have been recognized for their ability to aid in large-scale problems, such as increasing transportation efficiency for satellite deployment," Hubbard says. "By enhancing our understanding of these materials and their full range of functionality we can develop novel structures with a wide range of applications."
Because the competition in this category among students was so fierce, contest judges also awarded two honorable mentions.
Yixin Liu, a Ph.D. student in the Department of Textile Engineering, received an honorable mention for his photograph of graphene-oxide-stabilized wax bubbles.
Vivek Bharambe, a Ph.D. student in the Department of Electrical and Computer Engineering, for his cross-section photograph of liquid metal in a microchannel.
"Liquid metal filling of microchannels using injection and other pressure driven techniques have been popular in literature," Bharambe says. "However, these techniques struggle when it comes to filling up of dead-end capillaries and planar structures leaving large voids. This image illustrates the outcome of a vacuum-driven liquid metal filling technique capable of overcoming this problem. The air inside the blue, 3D-printed, hollow structure is evacuated using vacuum, and atmospheric pressure can force the liquid metal into these cavities in a void-free manner. These liquid metal-filled structures can be used for a variety of applications – such as electrical circuits, fabrication of stretchable/flexible electronics and other electromagnetic devices."
Note: You can find the work from winners in all of the research image contest categories here.