Campus Life
Students Explore Social Issues in Forum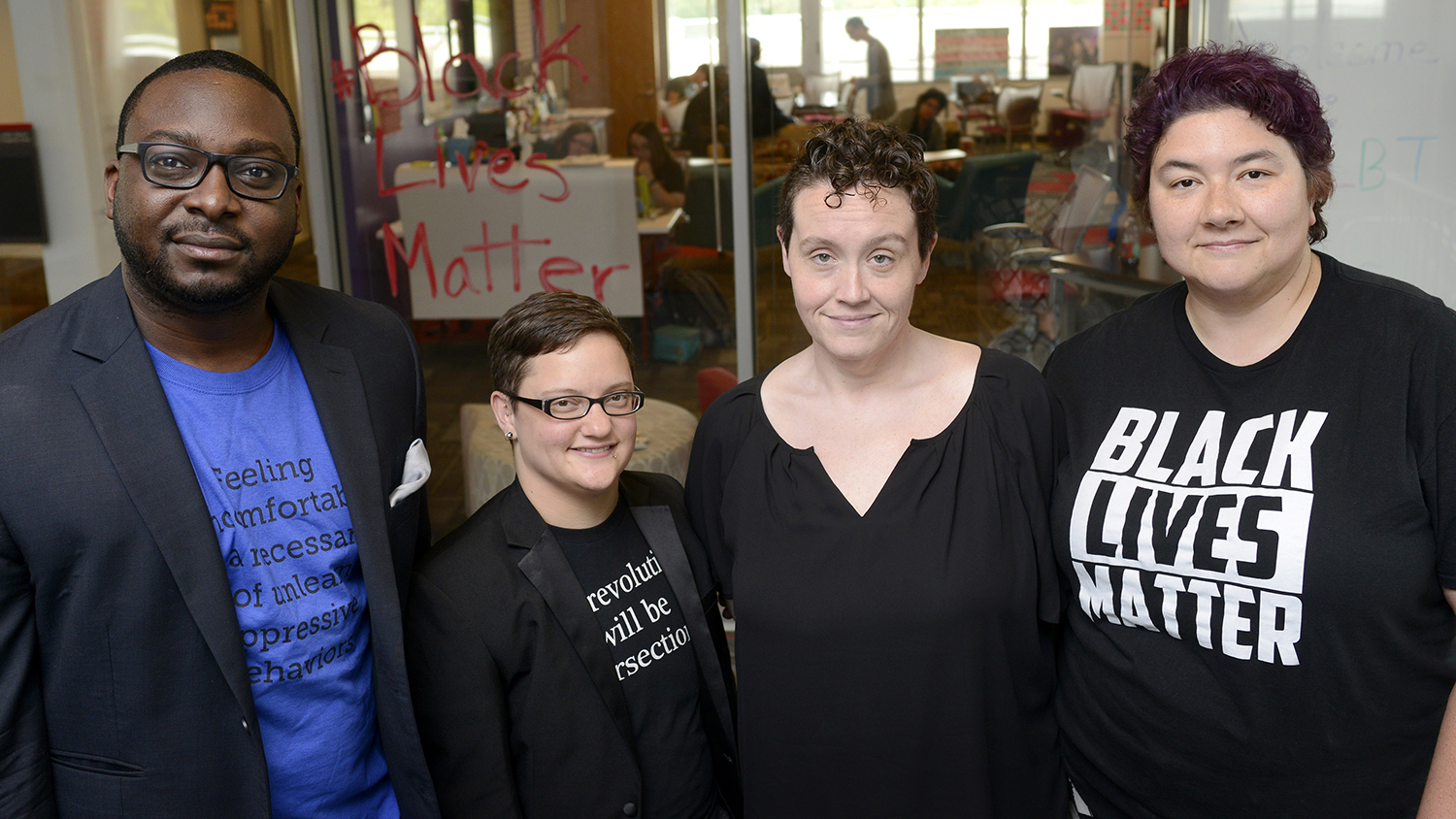 Students concerned about racism, sexism and similar topics have a new forum for sharing and discussing ideas.
The Social Justice Cohort is designed to educate students about prejudice and give them a forum to brainstorm ways to promote equality. Meetings are held every other Thursday in the GLBT Center and focus on different topics, with subjects such as colonialism, police misconduct and transphobia on the schedule.
"We wanted to make sure that we were providing educational opportunities for students to learn more about what social justice is and learn about different systems of oppression that exist in our world and how they operate," says Preston Keith, the GLBT Center's assistant director.
About two dozen people attended the cohort's first meeting on Aug. 24. They talked about the concept of safe spaces, the challenges of creating them and the different views surrounding them.
Different Views
Bethany Kendall, a senior from Lexington, North Carolina, majoring in history with a minor in African studies, says she attended to meet people with different views and to learn techniques to talk to them. She hopes future meetings touch on divisions within minority communities as well as friction with majority groups.
"We have to look at the problems we have in our own communities, whether they be by race, gender or identity," Kendall says.
She says she wants to learn about identities that don't get much exposure and translate that knowledge into action to promote equality.
"I decided this would be a good place to jump-start me in the right direction," she says.
Equal Access to Resources
The goal of the cohort is to work toward a society in which all people can live freely. For Keith, that means a world in which "all identities are affirmed, all identities have equal access to resources."
"Liberation is literally being free to just exist and not having all of these different systems of oppression impact you in different ways," he says.
For now the cohort is for students, but Keith says he would eventually like to invite faculty and staff to talk about their experiences and help lead discussions. Until then, the gathering is an opportunity to lay some groundwork and strategize to make the world a more inclusive place.
"We hope that from building these foundational dialogues and allowing understanding and knowledge to grow, we can start to talk about strategies of how we utilize this in our day-to-day lives," he says.