Campus Life
Olympian Now Champions NC State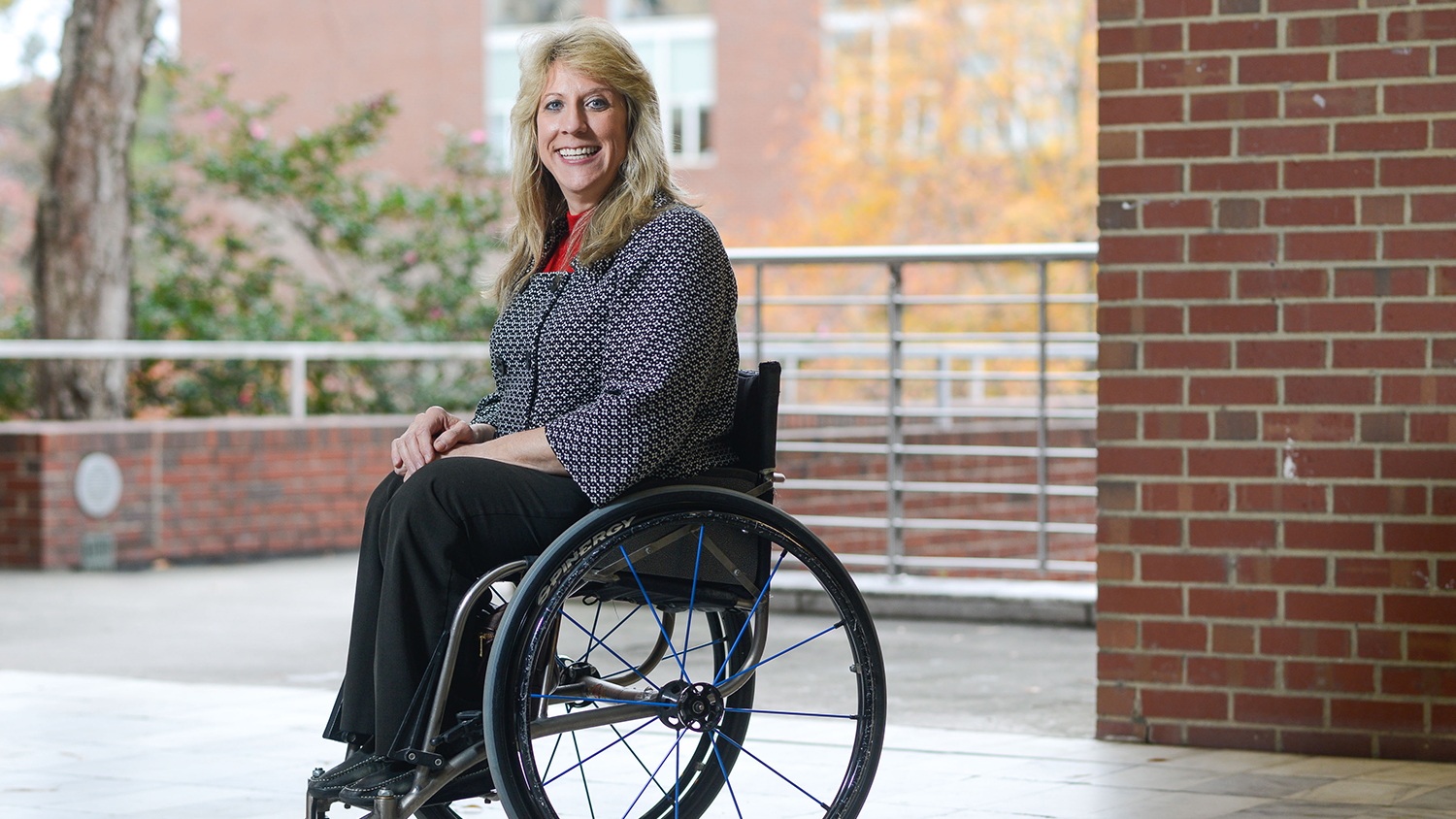 Jean Driscoll knows a thing or two about commitment, perseverance and diligence.
The new executive director of development for the College of Design is a medal-winning Olympian and eight-time winner of the Boston Marathon. Now she wants to apply her ability to win to NC State.
"Just like in a race — you train, train, train, train, train, and then you trust your training," she says. "I work, work, work, work, work preparing for a meeting or gift solicitation, and then, when I'm in the moment, everything just flows."
Driscoll started her position on Nov. 27 and has already identified one goal: obtain an endowed professorship for the college. She's also focused on learning as much as she can about design and NC State's advancement policies and procedures.
"I want to be able to serve the dean and set everybody up for success," she says. "In order to do that, I have a lot more to learn. I'm excited to contribute to the growth of the college and bring in support for students, faculty and programs."
Breaking Records
Driscoll comes to NC State from the University of Illinois, where she spent about 30 years as a student and staff member. It's also where she launched a career as an elite athlete. Originally recruited to play wheelchair basketball, she soon turned to track and road racing. She won her first Boston Marathon as a senior in 1990. She won six consecutive races after that, breaking the finishing time a world record five times. She won again in 2000, becoming the first person to win the Boston Marathon eight times.
Driscoll also competed in the Paralympic Games. She won 12 medals — five of them gold — over 12 years, competing most recently in 2000 in Sydney. She also earned two Olympic exhibition medals during her athletic career and was inducted into the U.S. Olympic Hall of Fame in 2012.
Strength of the Pack
Driscoll had planned to retire in 2000 and started thinking about new career paths. Before her career as an international athlete, she had always envisioned working in a behind-the-scenes job. Her interest in making a difference drew her to advancement. The solo racer liked the idea of building relationships with colleagues and organizations.
"You become part of a community that is really a gift to be part of," she says.
It was difficult to leave her community at the University of Illinois, but Driscoll says she knew it was time to move beyond her comfort zone and experience a new environment. The College of Design attracted her for its potential for growth and Dean Mark Hoversten's vision.
"He seems like a hands-on dean who cares about his alumni and donors," she says. "That's a really good situation to come into."
Winning Attitude
Life, she says, has taught her two crucial skills: focus and "imagery" — "imagining myself doing other things and being other places." She learned them from a young age. Born with spina bifida, Driscoll struggled to walk as a child.
"I focused hard on staying upright because I was always falling down," she says. "It was frustrating. I developed the skill to focus at a very young age without realizing it."
A bike accident when she was a high school freshman garnered her five operations and a body cast. Driscoll's imagination helped push her through long stints in hospital beds.
"Imagining myself doing other things and being other places was another skill that I didn't realize was a skill," she says. "But when I got into sports, the ability to focus, the ability to do imagery before races and even before certain workouts was really important.
"Those skills transfer over to what I'm doing now," she says. "Just as I did due diligence in my workouts leading up to a race, there is always due diligence that is required leading up to opportunities to represent the college."
Full Speed Ahead
Just as Driscoll pushed herself, she is ready to push the College of Design to new limits. The athlete who hit 37 miles per hour in her racing chair in the Boston Marathon is ready to move at full speed in her new role.
"I'm really proud and happy to be part of the NC State community now and I really hope I contribute in ways that help the college and university grow," she says. "That's my goal."