Honor Bound
NC State police Maj. Ian Kendrick cycles 500 miles in a charity event honoring the memory of fallen law enforcement officers.
Last year 158 law enforcement officers across the United States died in the line of duty, bringing the total number lost in the past decade to nearly 1,600.
As grim as these numbers are, they mask a starker reality — families devastated by grief, children facing the future without a parent, friends and co-workers struggling to make sense of the senseless. Worse still, after the news coverage ends, the names and faces of the fallen quickly fade from public memory.
In his office in the Public Safety Center at NC State, Maj. Ian Kendrick, a 12-year veteran of the University Police Department, taps at his computer keyboard. A web page opens, revealing the smiling face of a young uniformed police officer.
"When he was at work he was all business," Kendrick says of Christopher Driver, a senior police officer with the Rocky Mount Police Department. "But he was able to bring some humanity and some levity to work, to really liven up the day for people, to make them want to come to work and enjoy being there."
It's important for Kendrick to share stories of the young officer, to keep his name and his memory alive. Driver, just 27, was killed last June when his patrol car collided with a truck that had been abandoned in a roadway. Two men have been charged in connection with his death.
Kendrick, who served on the Rocky Mount force before joining NC State's police department, recently participated in a 500-mile bicycle ride — the Road to Hope — in Driver's honor. The local contingent of 60 riders, including current and former police officers as well as family members of fallen officers, cycled to Chesapeake, Virginia, where they joined a larger group sponsored by Law Enforcement United. On May 12, the Virginia group met contingents from New Jersey and Pennsylvania at their final destination, Washington, D.C.
The annual event raises money to support youth camps, scholarships and memorials, and makes grants for equipment and resources to help prevent officer fatalities.
Although riders maintain a leisurely pace, averaging about 15 mph with hourly breaks, "it's a long day in the saddle," Kendrick says. He estimates he pedaled a total of 34 hours over six days, burning more than 24,000 calories.
Communities along the route cheer the riders along and often donate meals and lodging in the evenings. Law enforcement agencies provide the riders with motorcycle escorts to keep them safe on the road. "There's a great sense of camaraderie," Kendrick says. "We're all in this together."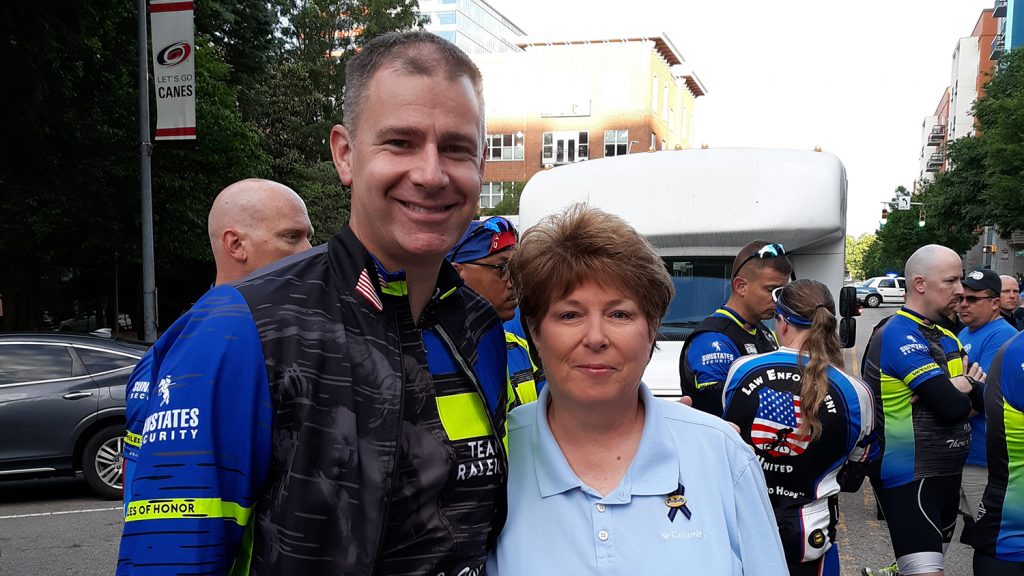 This year marks the eighth time Kendrick has participated in the Road to Hope. The first year he signed up, he recalls, he didn't even own a bicycle. "I went out and got a used bike and I've been hooked ever since," he says.
For Kendrick, a highlight of this year's journey was meeting Driver's family at the finish line.
"I'm so thankful I got to ride in Chris's honor," he says. "I gave his family the flag that was on my bike and the wristband that was on my wrist."