Campus at the Coast
About 150 miles from Raleigh, NC State's Center for Marine Sciences and Technology is offering students unique experiences and furthering the university's research and outreach mission.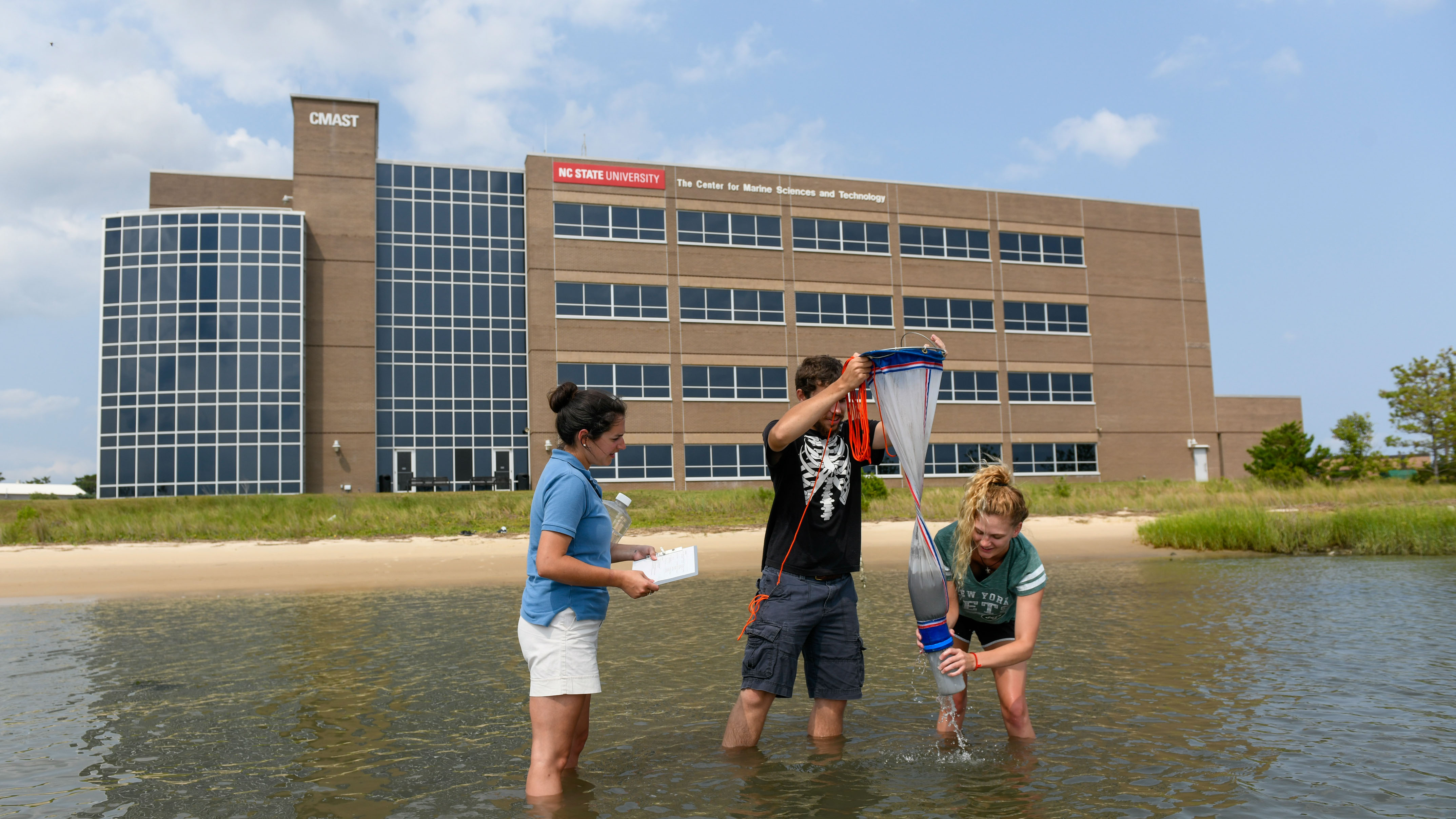 On a sunny June morning, 17 NC State students are boarding a boat. They're in sunglasses and hats, carrying coolers and lathered up with sunscreen. This may sound like the perfect recipe for a day of relaxation on the water, but these students are actually on their way to class — in the middle of the Bogue Sound.
The students and their instructors — associate professor of marine, earth, and atmospheric science (MEAS) Astrid Schnetzer and MEAS graduate student Gabrielle Corradino — are taking to the high seas as part of a three-week marine science field course. On their four-hour research cruise, they will gather samples of plankton and other marine creatures. When they're ready to examine them in the lab, they won't have to return to Raleigh to do it.
Their home base for the course is NC State's Center for Marine Sciences and Technology (CMAST), located right on the sound in Morehead City, N.C. The facility is connecting students, faculty and the community with the resources of NC State in the perfect location for marine and coastal research, education and outreach.
Getting Their Feet Wet
The 51,000-square-foot CMAST facility is a home-away-from-Raleigh to NC State faculty from three colleges. Dozens of students from all over the university pass through its doors each year for courses, veterinary medicine rotations or research experiences.
"We're in an amazing part of N.C. in terms of the marine science education community, and it's allowed us to form great partnerships that advance marine science research and offer fantastic educational opportunities for students," says Dave Eggleston, CMAST director and Alumni Distinguished Undergraduate Professor in marine, earth and atmospheric sciences.
The center is located just down the road from similar UNC-Chapel Hill and Duke research facilities, the N.C. Division of Marine Fisheries, the National Oceanic and Atmospheric Administration's Southeast Fisheries Science Center in Beaufort and the N.C. Aquarium at Pine Knoll Shores.
Its biggest educational program is the Semester at CMAST, which brings 15-20 students to Morehead City to spend the spring semester. The students take a full course load that includes courses offered only at CMAST, paying the same tuition as they would on campus and living in CMAST Coastal Quarters, the center's housing facility.
My experience at CMAST really broadened my skills both in the field and the lab.
The experience immerses them in all facets of marine science, including hands-on research and collaborations with community partners.
"The impact of this program has been incredible," Eggleston says. "It's been a game-changer for students to get real-world experience and work with professionals in the fields they want to enter."
Marine science student Gabe Hopkins has spent two summers at CMAST as a research fellow and completed the Semester at CMAST program in 2019. At CMAST, he's studied species including scallops, blue crabs and cobia, and collaborated with professionals at institutions all over the East Coast.
"My experience at CMAST really broadened my skills both in the field and the lab," Hopkins says. "It's set me up to excel beyond my wildest dreams."
"Semester at CMAST opened a lot of doors for me going into my last two years at NC State," says Kirsten Boleyn, a fisheries, wildlife and conservation biology major. "Everything I took away from the semester has helped me — not just the classes I took, but the people I met and the network I built as well."
Diving Deep With Research
Other students spend a semester or summer at the center on research fellowships like the Dr. Patricia McClellan-Green Summer Fellows Program. This summer, Leslie Smith, an undergraduate studying environmental sciences, is working with Eggleston's lab to study how to help bay scallop populations live longer.
"Bay scallops used to be the state's most profitable shellfish until a red tide wiped out many of them in the 1980s," says Pat Lyon, a research technician in the Eggleston lab. "We want to help them become a viable aquaculture crop again for the state."
A typical day might find Smith and Lyon taking care of young scallops to release into the wild or snorkeling to look for scallops in their natural habitat in seagrass beds. Smith is thankful to be an active participant in each step of the research process.
"I'm more capable and confident pursuing research positions in the future because of the experience I've gotten here with all aspects of research," Smith says.
The bay scallop project is only one example of research coming out of CMAST that has a direct impact on the people and economy of North Carolina.
The unique thing about CMAST is that we can do research 12 months out of the year.
Jeff Buckel and Jie Cao, faculty members in the Department of Applied Ecology, focus on fisheries management. They work closely with the nearby N.C. Division of Marine Fisheries (DMF) and other groups to study fish populations and develop mathematical models to determine the rate at which they should be caught to maintain a sustainable population.
"The unique thing about CMAST is that we can do research 12 months out of the year," says Buckel. "It's invaluable to get year-round sampling for certain species."
Buckel, Cao and the students they work with apply their data to practical research problems the DMF and other partner organizations have. "There's a lot of synergy between our work and theirs," Buckel says. "And I see students take a lot of pride in their work because they know it's something that will be useful right away."
The Animal Doctors Are In
Partnerships like the one with DMF are the backbone of much of the work and research at CMAST.
Craig Harms, a professor in the College of Veterinary Medicine and director of the Marine Health Program at CMAST, is another researcher who relies on these partnerships. Harms assists with veterinary care at facilities up and down the coast and carries out field projects like tagging leatherback turtles to study their health and migration habits. He also works with the Marine Mammal Stranding Network of the North Carolina Central Coast, an organization also based out of CMAST that responds to reports of beached marine mammals.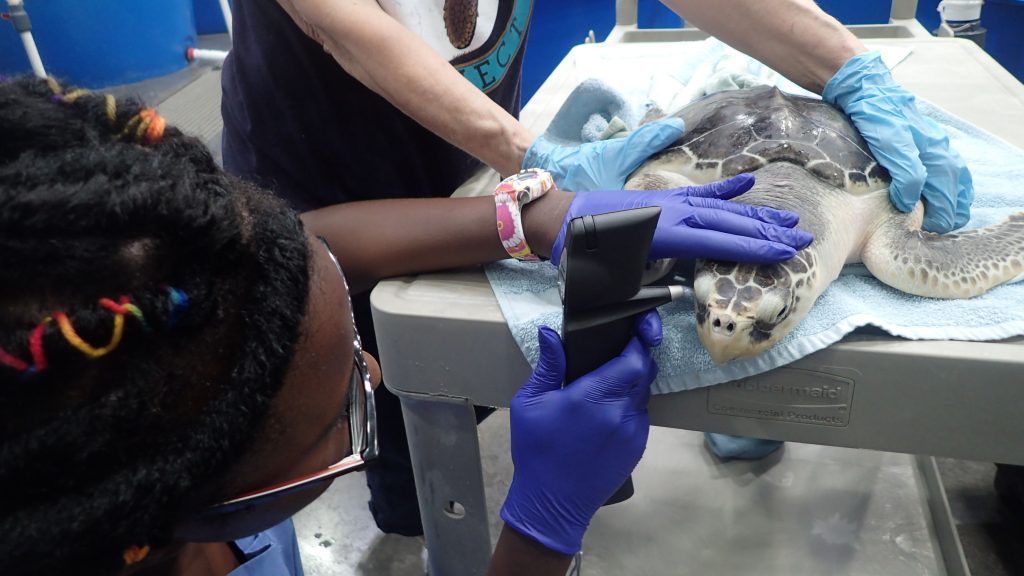 "The diversity of marine mammals here is phenomenal," Harms says. "And being stationed at CMAST means that when a mammal is stranded, I'm right here if they need assistance. When I need a sea urchin or a horseshoe crab to study, I can just go out and get it."
Harms works closely with Emily Christiansen, who completed her veterinary medicine residency at NC State and is the chief veterinarian for N.C.'s three aquariums. She is also an adjunct NC State faculty member based at CMAST.
"The N.C. Aquariums serve as a training site for zoological medicine residents and veterinary students from NC State," Christiansen says. "The aquariums benefit by having extra veterinary support, as well as personal connections to the College of Veterinary Medicine in Raleigh for some of the more advanced care that is possible only there."
For those interested in seeing inside a marine animal, CMAST is also home to the only high-powered marine MRI machine of its kind in the United States. With it, researchers can obtain very detailed pictures of the tissues and organs inside marine creatures and study how their metabolic pathways respond to environmental stressors. This specialized facility is available to researchers around the world.

Community Connections
An important part of the mission of CMAST is to take this research into the community in Morehead City and surrounding areas through education and outreach programs.
NC State's The Science House education and outreach program has a satellite office at CMAST that primarily serves teachers and K-12 students in Eastern North Carolina. The office offers professional development to help teachers connect their instruction to coastal topics. It also sponsors a variety of events and ongoing programs for kids, including the Sea Wolves Science Careers Explorers group, monthly Coastal Teen Science Cafe events, the N.C. Youth Ocean Conservation Summit, competitions, and summer camps on topics like alternative energy and marine technologies.
The Science House at CMAST's programming brings the resources of NC State and CMAST to around 100 educators and hundreds of students each year, says director Pat Curley.
Buckel's lab also engages in education through frequent meetings with local fishing clubs and similar groups. Brendan Runde, a Ph.D. student in his lab, has been speaking to local fishing clubs about using descender devices to help fish that are being thrown back in the water after being caught safely resubmerge.
And each June, Buckel and his team sample fish caught at the Blue Rock Marlin Tournament in Morehead City. Opportunities to study blue marlin are typically rare because they aren't killed regularly. But by partnering with this event, Buckel's team has been able to examine more than 100 of them over the last 20 years to study what they are feeding on.
This place enhances creative collisions.
The facility also engages the community by opening its doors for a good time during its annual Crystal Coast Oyster Roast each spring. The event includes live music, displays on CMAST research and — of course — oysters.
As the center prepares to celebrate its 20-year anniversary in 2020, Eggleston hopes it will continue to be a place where everyone comes together.
"What I love about this place is that it enhances creative collisions," he says. "When faculty, students, partners and the community come together, great things happen."