#29DaysOfNCState: Snap a Pic, Win a Prize
Show your creativity every day in February by entering the #29DaysOfNCState daily photo contest.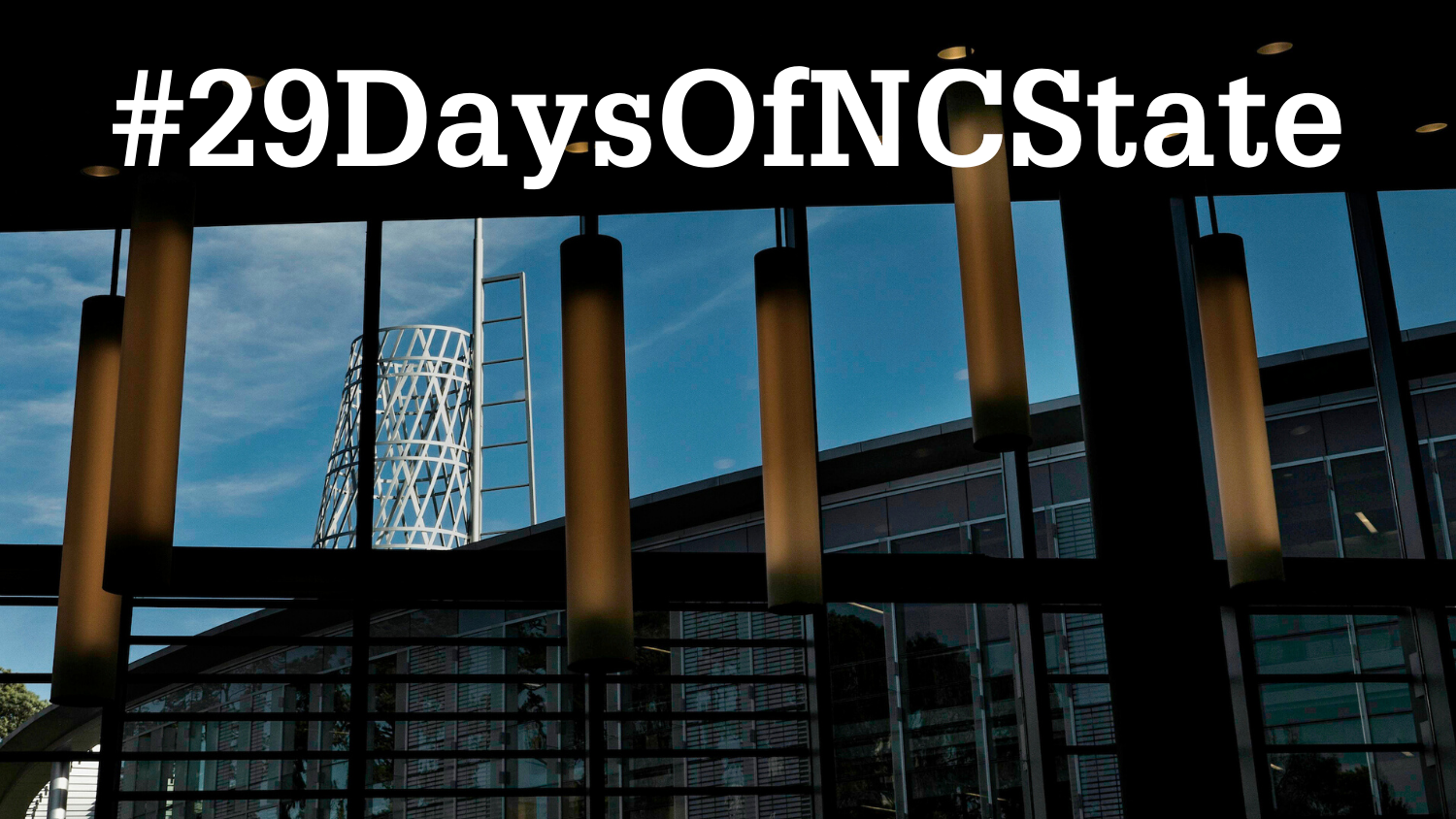 Every leap year, we get an extra day in February, and we think that's cause for celebration. We asked you to show us February through your lens by posting photos based on the #29DaysOfNCState prompts outlined below — and you stepped up to the challenge. Take a look back at the winning entries.
Missed out on the contest? You can show us student life through your lens all year long using #NCStateOnCampus.
[instagram-feed hoverdisplay="caption" captionlength=120 captionsize=80 showbutton=true buttoncolor=#C00 num=12]
#29DaysOfNCState Daily Calendar
Use the following daily photo prompts to share your contest entries. Don't forget to follow @NCState on Instagram and tag your posts with #29DaysOfNCState.
Saturday, Feb. 1: Something Red

Because red is our favorite color. Obviously.

Sunday, Feb. 2: Shadows

Groundhog Day. Show us your favorite NC State shadow.

Monday, Feb. 3: Wolf Hands
Tuesday, Feb. 4: Howling Cow

What's your go-to Howling Cow order? Treat yourself to a scoop (or two) and show us.

Wednesday, Feb. 5: Campus Landmarks

Could be anything from your favorite wolf statue to that tree you pass every day.

Thursday, Feb. 6: #ThinkAndDo

How do you Think and Do on a daily basis?

Friday, Feb. 7: Fitness Friday

Head to one of Wellness and Recreation's facilities and show us how you stay fit.

Saturday, Feb. 8: Something White

Because "We're the RED and WHITE from NC State…"

Sunday, Feb. 9: Wolves' Den

Shout-out to University Housing. Photograph your NC State home.

Monday, Feb. 10: NC State at Night

Take a study break and show us your favorite nighttime campus view.

Tuesday, Feb. 11: Where You Stand

Look up. Look down. Look around. Show us where you stand.

Wednesday, Feb. 12: Where You Sit
Thursday, Feb. 13: Throwback Thursday

Post a throwback photo or snap a pic of your vintage Wolfpack memorabilia.

Friday, Feb. 14: Valentine's Day

Love is in the air. Show us someone or something you love.

Saturday, Feb. 15: #PackToNature

Head outside and show us how you get #PackToNature.

Sunday, Feb. 16: NC State Artwork

Any DIYers out there? This is your day.

Monday, Feb. 17: Unfiltered

Expectations vs. Reality. Give us that authentic view today.

Tuesday, Feb. 18: Pack Perspectives

Take a photo of something on campus from a different angle. Low, high, up close — surprise us.

Wednesday, Feb. 19: Books

Whether it's for fun or for class, show us what you're reading.

Thursday, Feb. 20: Pack Pets

In honor of National Love Your Pet Day, show us how your pets rep the Wolfpack.

Friday, Feb. 21: Pack Portraits

What's your story? Post a photo of yourself and tell us a little about who you are.

Saturday, Feb. 22: Reflections

Mirrors, puddles, sunglasses — get creative.

Sunday, Feb. 23: How You #HowlBack

This one's especially for our NC State alumni. How do you stay connected to the Wolfpack?

Monday, Feb. 24: You and Your Pack

There's strength in the Pack. Show us yours.

Tuesday, Feb. 25: Pack Spirit

Big game today at UNC-CH. Wear your favorite NC State gear or show us your collection of memorabilia.

Wednesday, Feb. 26: Wolfpack in Motion

Life moves pretty fast. Take a photo of something moving.

Thursday, Feb. 27: Wolfpack Beyond Campus #PackAbroad

It's a Wolfpack world. Where's the farthest place from campus that you've repped the Pack?

Friday, Feb. 28: The Belltower

Showcase NC State's iconic landmark.

Saturday, Feb. 29: Leap Day

We get a bonus day once every four years. How are you spending yours?