NC State Collects Protective Gear for Hospitals
Faculty and staff across campus step up to make Wednesday a day of giving back, donating dozens of boxes of personal protective equipment to area hospitals.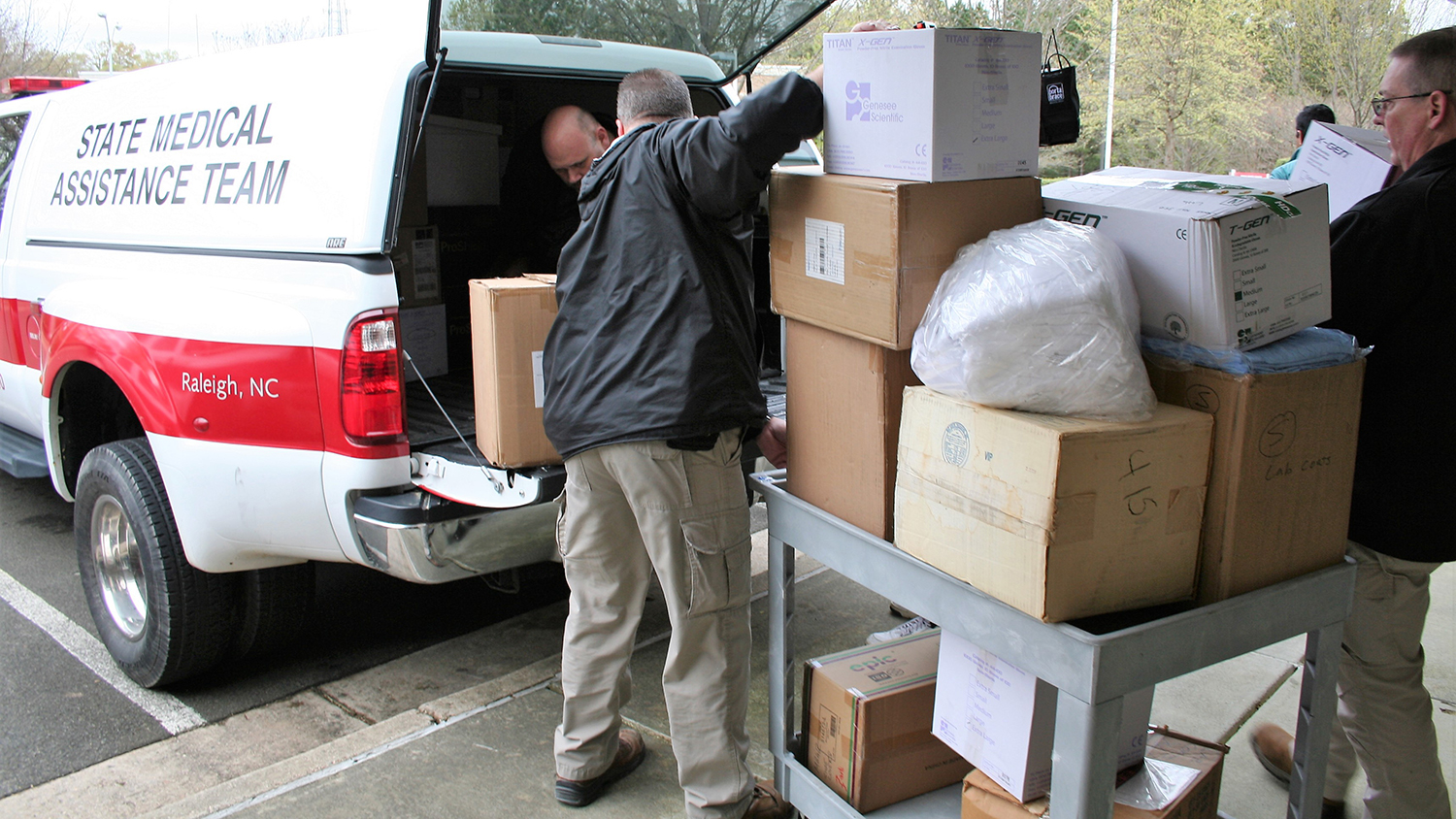 On what was originally scheduled to be NC State's second-annual Day of Giving, nearly two dozen well-stocked units on campus donated truckloads of surplus medical wear and personal protective equipment to facilities in five area counties that are in critical need of such items as they treat patients during the spreading COVID-19 pandemic.
Following a similar donation from Student Health Services on Monday, Emergency Management and Mission Continuity Director Amy Orders put out a call Wednesday and volunteered to collect all donations at the Environmental Health and Safety Center on the corner of Varsity Drive and Wolf Village Way.
Over the course of about four hours, volunteers from 22 different units brought enough supplies to fill four wooden pallets and an additional 60 boxes of masks, gowns, gloves and foot protection from research and academic teaching labs on campus.
Two trucks from Wake County Medical Services, dispatched by area medical assistance team Capital Regional Advisory Committee, picked up the goods late Wednesday to be delivered to clinics, hospitals and other medical facilities in Wake, Franklin, Johnston, Lee and Harnett counties.
Even more items are expected to be donated and delivered throughout the rest of the week.
"We sent out an email in the morning that was a call for supplies that were readily available on campus," Orders said. "We are experiencing a slower time on campus right now and these are supplies that are needed in our community.
"Our researchers and faculty responded in droves."
It's one of the many ways NC State is responding to needs in the area. Late last week, the College of Veterinary Medicine donated other critical supplies, including two ventilators, to the UNC College of Medicine and its hospitals.
Much of the donated equipment — mostly protective medical wear — is used on a daily basis when NC State is under normal operations. But with most classes being held online and lab work reduced, there are surplus supplies that can be used immediately elsewhere by medical personnel treating patients.
"Health care workers can't afford to be exposed or get sick," Orders said. "These donations are mainly to help the people in triage activities and on the frontline providing patient care, to give them that boundary equipment, the apparel that protects them as a provider.
"This is the equipment that makes that possible."
And, Orders said, donating and volunteering are such a part of NC State's mission, this was the perfect opportunity to step forward and provide a helping hand.
"This is really an unprecedented time and people are struggling," Orders said. "People needed a happy moment and people on campus wanted to give. This was an amazing response to show how the Wolfpack community is being a good partner in our larger community."
If you have supplies or equipment that is not needed during NC State's partial shutdown due to the pandemic, contact Emergency Management and Mission Continuity at (919) 515-9657 or email Orders at aborders@ncsu.edu.
All information about NC State's response to the coronavirus outbreak and other campus resources is available at ncsu.edu/coronavirus.