Resilient Pack
OIS Goes Virtual to Keep Students Connected
The Office of International Services offers daily online gatherings to help people from overseas socialize and practice their English.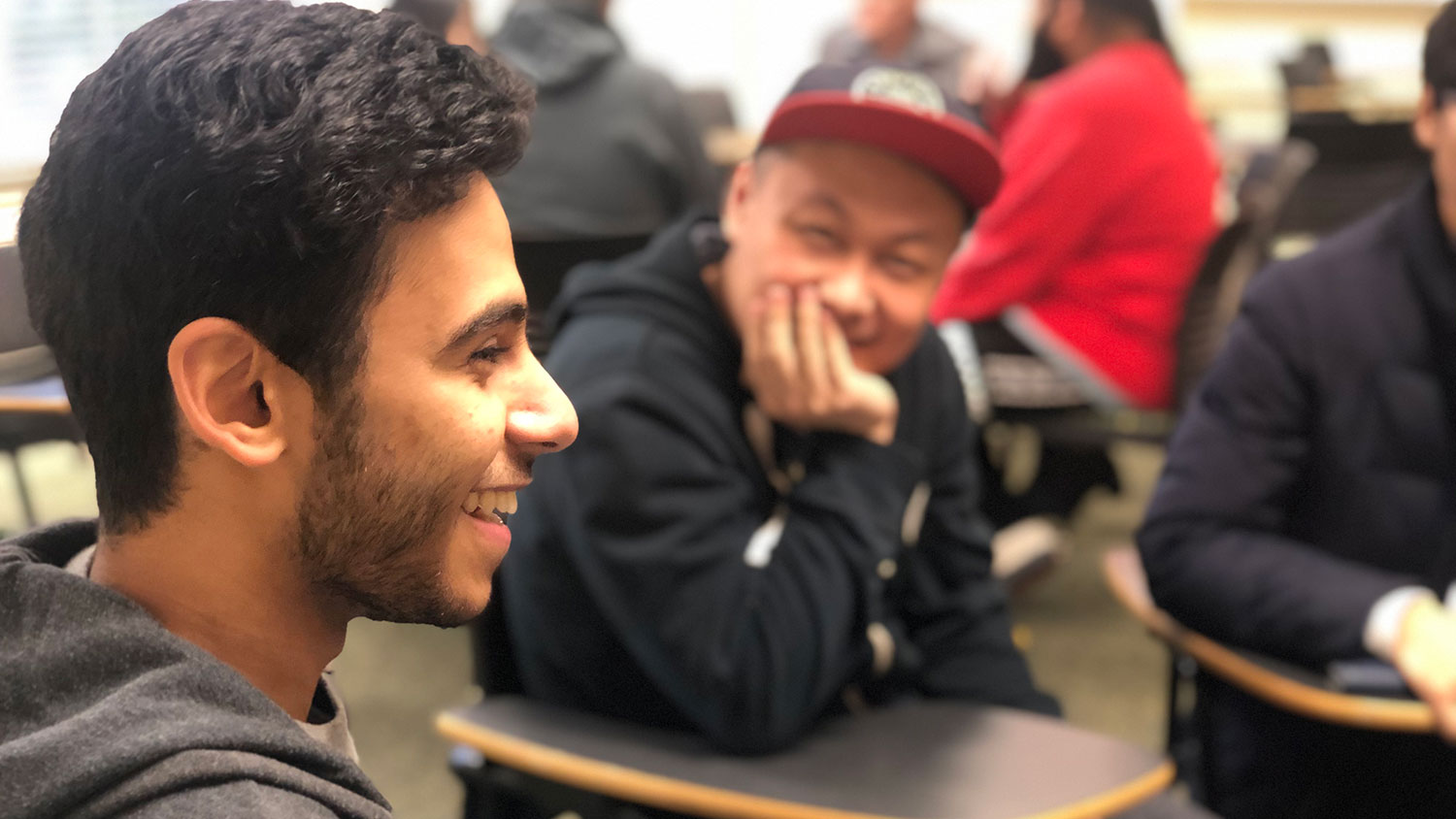 Sandra Pfeffer's trip to the United States hasn't gone as planned. She arrived at NC State from Vienna in February with her boyfriend. He came to do research in industrial engineering, she wanted to improve her English. She looked forward to meeting new people, exploring Raleigh and traveling around the South.
Most of that is out of the question because of COVID-19, but luckily Pfeffer can still work on her language skills thanks to the Office of International Services (OIS). Staff shifted their on-campus gatherings to virtual ones to help people from other countries practice English, learn more about American culture and, most importantly, socialize in a country where they may know few people.
"There were concerns over isolation," says Lauren Ball, assistant director for programs in OIS. "Some of the stuff that we've heard in English Conversation Club meetings in particular was how the transition to online classes has taken away opportunities to communicate in English, to be able to respond and participate in discussions."
A Learning Experience for Everyone
English Conversation Club (ECC) is one of the programs OIS offers to help newcomers from overseas adjust to life stateside. It's not just for students; visiting scholars — a broad group that includes Ph.D. students and visiting faculty — and dependents such as significant others are also welcome. They practice English, of course, but they also ask questions and share experiences.
Oscar Andres Urzua Cabello, a student in the Master of Accounting Program in the Poole College of Management, attended one of the ECC gatherings online. He says they are valuable, especially now that classes have shifted to online.
"You need some interaction," says Urzua, who is from Chile. "When you start classes online, you lose something. You lose contact, you lose talking to the people, you lose that feeling when you have to present in front of people. Now you feel alone, especially when you are an international student."
ECC meets three times a week via Zoom, with program coordinator Asia King and a team of volunteers facilitating discussions. Some are structured, such as one earlier this month that covered American slang terms including "to tag along" and "throw the book at someone." Others are more casual and cover topics that wouldn't typically come up during on-campus meetings.
"I've been helping a student with Instacart and grocery ordering,' King says. "We had a customer service issue where someone didn't get their Instacart refund, so we're trying to figure that out. And maybe that's not how they do that back in their home country, so here it can be even more difficult."
Along with Instacart problems, Ball and King have fielded questions about Amazon Fresh and how to work a dishwasher — King used video calls to walk the student through that one. Sometimes they have to research answers themselves, which they file away for next time.
"It's really building your toolkit on the fly, so the next person who asks about Instacart or has questions about how to get their deliveries, you've done the research," Ball says.
Other virtual meetings OIS offers along with ECC are International Moms or Mates (IMOM), a group specifically for female spouses and dependents; and a new initiative called Global Coffeehouse. Gatherings are staggered so there's at least one a day and are held at different times to accommodate class and family schedules.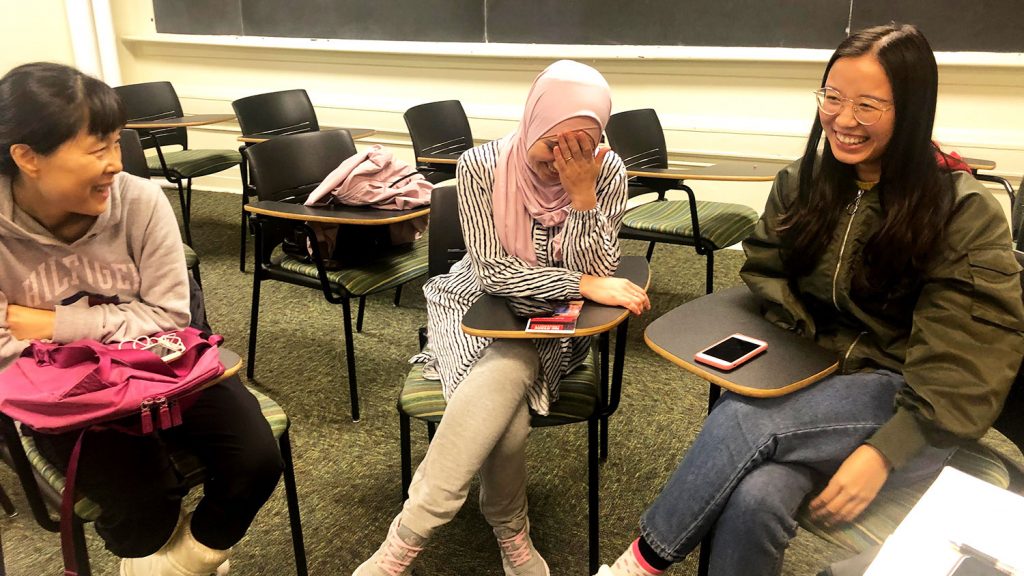 Opportunities
Pfeffer misses the in-person meetings. The virtual ones help, but they aren't the same.
"I think it's a little more difficult now because I need to see the mouth. It would be easier for me," she says, referring to the people she's talking to. "On the laptop or PC, the picture is not the same time as the voice sometimes; that makes it a little bit difficult. It's also difficult if there are two people talking and the computer doesn't know which one is talking now."
However, they beat trying to learn English via Netflix, no matter how much she enjoys Hart of Dixie. Sometimes, she says, the virtual gatherings are the highlight of her week.
Ball and King have discussed extending virtual ECC and IMOM programs through summer. On-campus meetings typically end with the semester, but international students and researchers might have to stay in the area because of travel restrictions. OIS is also considering how to use virtual gatherings once the pandemic is over. A lot of programs go on pause when students leave Raleigh over the summer.
"Do we have to stop?" Ball says. "Are there not still ways to engage using technology when people physically aren't present? I think this has forced us to revisit how technology can impact and improve our programs."
Like Pfeffer, Urzua prefers chatting in person. However, he appreciates OIS' efforts to help students like him. Maybe, he suggests, everyone who attends OIS programs can get together on campus when the pandemic ends.
"When you belong to an organization for international students, you feel confident," he says. "I don't care that they don't speak Spanish or they are not South American. I have very good relations with them because we feel the same."