We Are the Wolfpack
Chiefly Remarkable
With a diverse background in higher ed administration, law, government and communications, Paula Gentius hits the ground running as the chancellor's new chief of staff.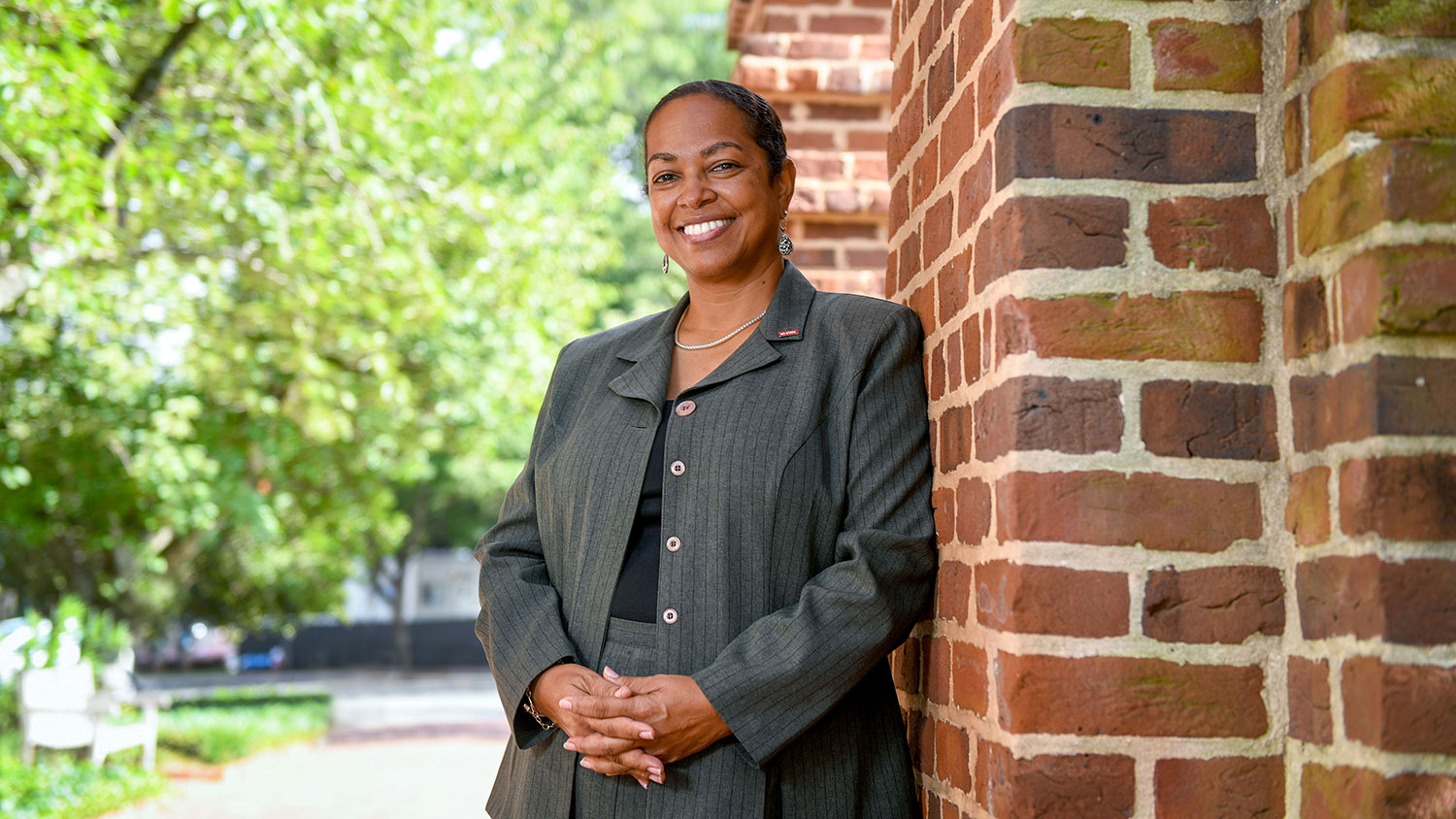 Fresh off a move to North Carolina and just days into her new position as Chancellor Randy Woodson's chief of staff and secretary of the university, Paula Gentius is laser-focused on meeting — and genuinely getting to know — as many people as possible.
That includes everyone from her colleagues in the chancellor's office to the university photographer who took the pictures for this story.
As chief of staff, Gentius says her biggest goal is to help advance the university in meaningful ways, from helping develop institutional policies to managing the chancellor's calendar, and everything in between.
It all starts, she says, with people.
"Great working relationships are the basis for getting things done," she says. "It builds a sense of reliability and trust that's so important. And when you have that, you can accomplish anything."
With diverse experience in higher education, law and government, Gentius is uniquely equipped to do just that.
She most recently served as the interim executive director and Title IX review panel administrator in the Equity and Access Services office at Virginia Commonwealth University. Before that, she was the senior executive in the Office of the President at VCU, and senior policy analyst and assistant to the president. Gentius held a similar position at Norfolk State University and also has served in city and state governments.
Her educational background is equally impressive: doctoral and master's degrees in educational administration, a law degree, and a bachelor's degree in mass media arts and public relations.
"Paula is an outstanding addition to NC State," Woodson says. "She will bring tremendous insight and experience to the position, and I am confident that she will help make NC State a stronger, better institution for our students, faculty and staff."
All of her accomplishments, Gentius says, have exceeded her dreams as a child raised on the Caribbean island of St. Croix, U.S. Virgin Islands. Read on to learn more about Gentius and her unique path to NC State.
What about this opportunity at NC State most appealed to you?
There are a lot of things that sealed the deal, but I think most importantly, this is what I love to do and what I'm good at. Also, Chancellor Woodson is such a warm, intelligent individual, and those qualities are reflected in the staff as well. I'll use the word comfort. It's a comfortable feeling interacting with them. When I speak to the chancellor or when I talk with the staff, I feel like I'm at home: comfortable. I look forward to working with the chancellor and staff to help move the university forward. My biggest goal is to contribute in a way that is meaningful.
What exactly does a chief of staff do?
Well, the title "chief of staff" is subjective. It can mean a lot of different things. It really depends on the person you're serving. And I use the word serving because this is not a role where you're standing out front on the issues — you are there to serve the institution. And so for me, it's very similar to what I've done throughout my years in higher ed — to be that executive-level support to the chancellor and to help facilitate and coordinate. Essentially it is helping to make things work and to find solutions.
You've earned degrees in education, law and mass media. How did one lead to the next?
There were so many things I didn't know about — that I hadn't been exposed to — growing up on a tiny island, so I came to the continental U.S. with brand new eyes. As an undergraduate student, I studied mass media arts and public relations because I wanted to learn more about people and how they operated. That was really interesting to me. At the time, my sister was in the counseling program at Hampton University. She'd mention to me that I needed to get into the field of education because that's how I can share what I've learned and help people get to where they want to be. I got into the Master of Education program at Hampton and finished up at Ohio University.
My interest in law really ignited when I had to represent myself in court against a landlord over a lease issue. I went against the landlord's attorney and I won. I said to myself, "I can do this." I was recruited to a small Catholic law school in Detroit and learned so much about the law and people, and how things work in government.
What happened after you graduated from law school?
I was honored to have two summer associateships at the largest law firm in Detroit, where I learned from the best attorneys. And it was after my second summer that I realized practicing law is just not for me. To me, it was more important to be able to help people and see the fruits of my labor. So I entered into city government with a job in Detroit, and this is where all of my degrees and education converged. I started as a telecommunications contract compliance manager in the cable commission, and I rose up in a very short period of time to become the executive director of that commission.
I subsequently worked as a confidential policy advisor for a small state agency and also worked my way up to serving as the agency head. I think part of my story is starting at a certain point and working my way throughout an organization and eventually leading it. From state government, I was recruited to serve as the assistant to the board and the president at a historically Black university in Norfolk, Virginia.
So that's how you got into higher ed administration?
I knew early on that I wanted to be an administrator, but I didn't really know what that meant. What I did know was that I enjoyed organizing things, ensuring that things worked with effective processes and procedures in place, and that people had what they needed to be efficient.
My position at Norfolk State University evolved over the years from managing the staff in the president's office to managing board affairs, government relations, special projects and a number of other responsibilities. The bottom line was to make sure that the institution was on its best course.
When I came to VCU, I was the senior policy analyst and assistant to the president, so developing and enforcing policy became part of what I was doing as well because of my legal background and legislative exposure. I actually enjoy policy; that is what makes the institution work. I was asked to assist with updating the policies on delegation of signatory authority, non-discrimination, Title IX and ADA. And when the executive director of the Equity and Access Services office left the university, I was asked to step in as interim executive director.
Did you ever imagine as a child growing up in St. Croix that this would be your journey?
I had no idea, but what I did know was that I was going to pursue my goals. I had that drive and I knew that I didn't want to stay on the island and work at a hotel. Nothing wrong with working at a hotel, but I knew I wanted more out of life and I wanted to learn more. So I had to be ready to do what I had to do. I lived in places where I didn't know anyone. It was scary, but I couldn't let fear keep me back.
My career path has been an evolution, not just a journey. It was like an evolving puzzle: It all came together.