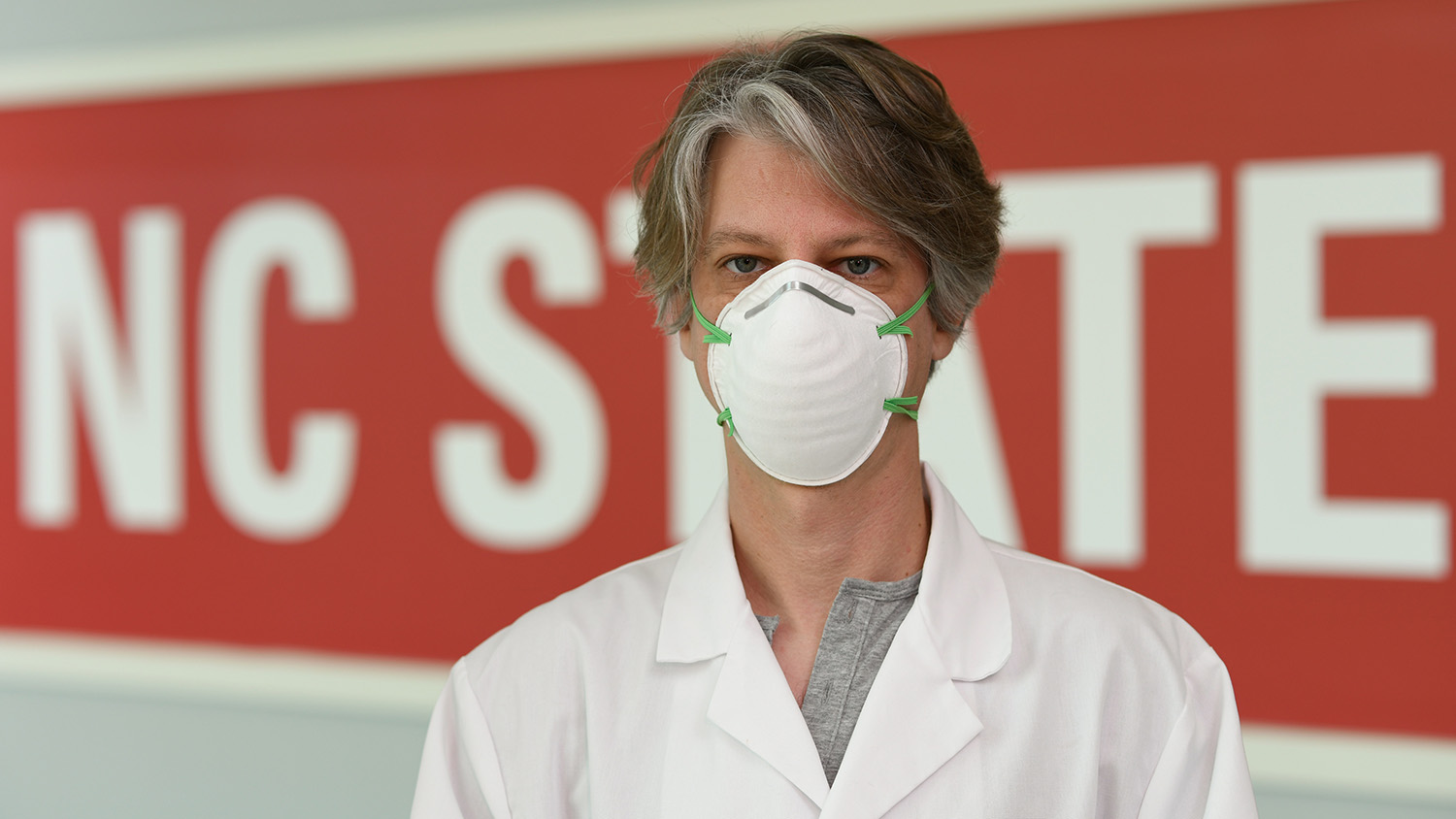 Since the onset of the COVID-19 pandemic, demand for N95 respirators and other personal protective equipment has outpaced current U.S. manufacturing capabilities, resulting in supply chain challenges. As it's difficult to secure a reliable source at a reasonable cost, the shortage of critical supplies has left health care providers and essential workers at a higher risk of infection.
A coalition of public and private partners have joined forces to fulfill current and upcoming needs for North Carolina's hardest-hit communities. The Made in NC initiative provides the entire supply chain within the state.
NC State's Nonwovens Institute (NWI) announced a new partnership with Blue Cross and Blue Shield of North Carolina (Blue Cross NC), Freudenberg Performance Materials, UNC Health, the NC Healthcare Association and NC Medical Society to manufacture N95 masks to equip frontline workers across North Carolina with a safe and cost-effective solution.
Prices for N95s and other critical supplies have jumped sometimes more than five times pre-COVID prices. The Made in NC collaboration will produce an initial 100,000 to 200,000 N95 respirators per month with plans to quickly ramp up production, providing a more consistent and affordable source of PPE for local health care systems.
"From our largest hospitals to our smallest medical providers, the need for quality N95 masks is great across our state as this pandemic continues," said Jody Fleming, senior vice president of North Carolina Healthcare Association Strategic Partners.
A donation of $450,000 from Blue Cross NC allowed NC State to purchase two mask-molding machines needed to produce effective and reliable N95 respirators locally, as well as to procure materials and supplies used for production.
"Blue Cross NC is committed to the health and well-being of all North Carolinians, and we are proud to be part of this initiative to help to ensure that vital PPE remains available to frontline health care workers in the continued fight against COVID-19," said Dr. Tunde Sotunde, President and CEO at Blue Cross NC. "This unique collaboration brings together health care, education and private industry at an unprecedented time to help solve an unpredictable challenge. We are all working together toward a common goal of protecting those who continue to protect the people and communities across our state."
"NC State is committed to getting our research into the hands of North Carolinians to make a real difference," said Chancellor Randy Woodson. "We're proud to work with our public and private partners to deliver innovative solutions throughout the pandemic."
The two mask-making machines are housed at Durham-based Freudenberg Performance Materials, which provides the manufacturing expertise and workforce needed to install, operate and maintain the new production lines using novel materials provided by NC State's NWI.
This unique collaboration brings together health care, education and private industry at an unprecedented time to help solve an unpredictable challenge.
"The Nonwovens Institute engages leaders from industry, government and higher education to build next-generation nonwoven applications," said Dr. Behnam Pourdeyhimi, NWI's executive director. "Through these collaborations, we are proud to provide our novel materials to create solutions for communities across North Carolina in the continued fight against COVID-19."
"Having the opportunity to make an impact in the fight against the pandemic and to help improve the safety of our community has given new meaning to our business, our operations and the engagement from our employees," said Raoul Farer, Freudenberg's general manager of its North American Regional Business Unit, who also received his master's degree and Ph.D. from NC State's Wilson College of Textiles. "We are happy we are able to take advantage of NC State's capabilities and align them with our own to make this happen."
As masks become available, the NC Healthcare Association and NC Medical Society will conduct outreach to providers who may lack staffing capacity and contacts to place accelerated orders.
"The NCMS is fully supportive of local solutions like this," said North Carolina Medical Society Executive Vice President and CEO Chip Baggett. "We look forward to helping ensure these affordable N95 respirators get to impacted communities throughout the state."
When worn properly, single-use N95 respirators are a critical form of PPE that protects both patients and health care providers due to its efficient filtration of airborne particles that can carry viruses and other contaminants.
UNC Health will source infection prevention experts who will perform rigorous testing to ensure the respirators offer the highest levels of protection and meet industry health and safety standards.
"Our North Carolina health care providers and frontline workers need more reliable sources of PPE at reasonable and predictable prices – exactly the goal of this collaboration," said Dr. Wesley Burks, CEO of UNC Health. "The top priority at all times is the safety of our frontline workers, especially during this pandemic. N95 masks are among the most important tools because they filter out droplets and smaller airborne particles that can carry viruses."
Continuing the fight to combat COVID-19
At the start of the pandemic, NC State's Nonwovens Institute launched two new filter materials to serve as an effective filter in surgical and N95 masks.
N95 respirators and surgical masks are generally a sandwich of two or more common nonwoven layers – so-called spunbond layers that provide mask shape and protect the inner filtration layer – and typically a layer of nonwoven meltblown material that serves as the filtration layer and captures microscopic unwanted particles like viruses and bacteria.
"NWI created a new spunbond material that can serve as an effective filter without the need for a meltblown filtration layer, and we've also developed a new unique meltblown filter," adds Pourdeyhimi.
The unique spunbond fabric is composed of two different polymer materials that are combined to make a single fiber with significant strength and bulk – and that shows effectiveness in filtration similar to current materials used.
Between April and June, NWI provided nearly 2.9 million square meters of its spunbond and meltblown fabrics to partners across the country. Each square meter of fabric can make about 20 to 25 surgical and N95 masks.
NC State has donated material to the U.S. Army and delivered materials to partners across the country to manufacture critically needed equipment.
Through an additional collaboration between NWI and Freudenberg, 1 million high quality surgical masks per month are being manufactured and delivered to North Carolina government organizations and UNC System universities over the next year.