Nonwovens Institute Donates Filtration Material to Army in Fight Against COVID-19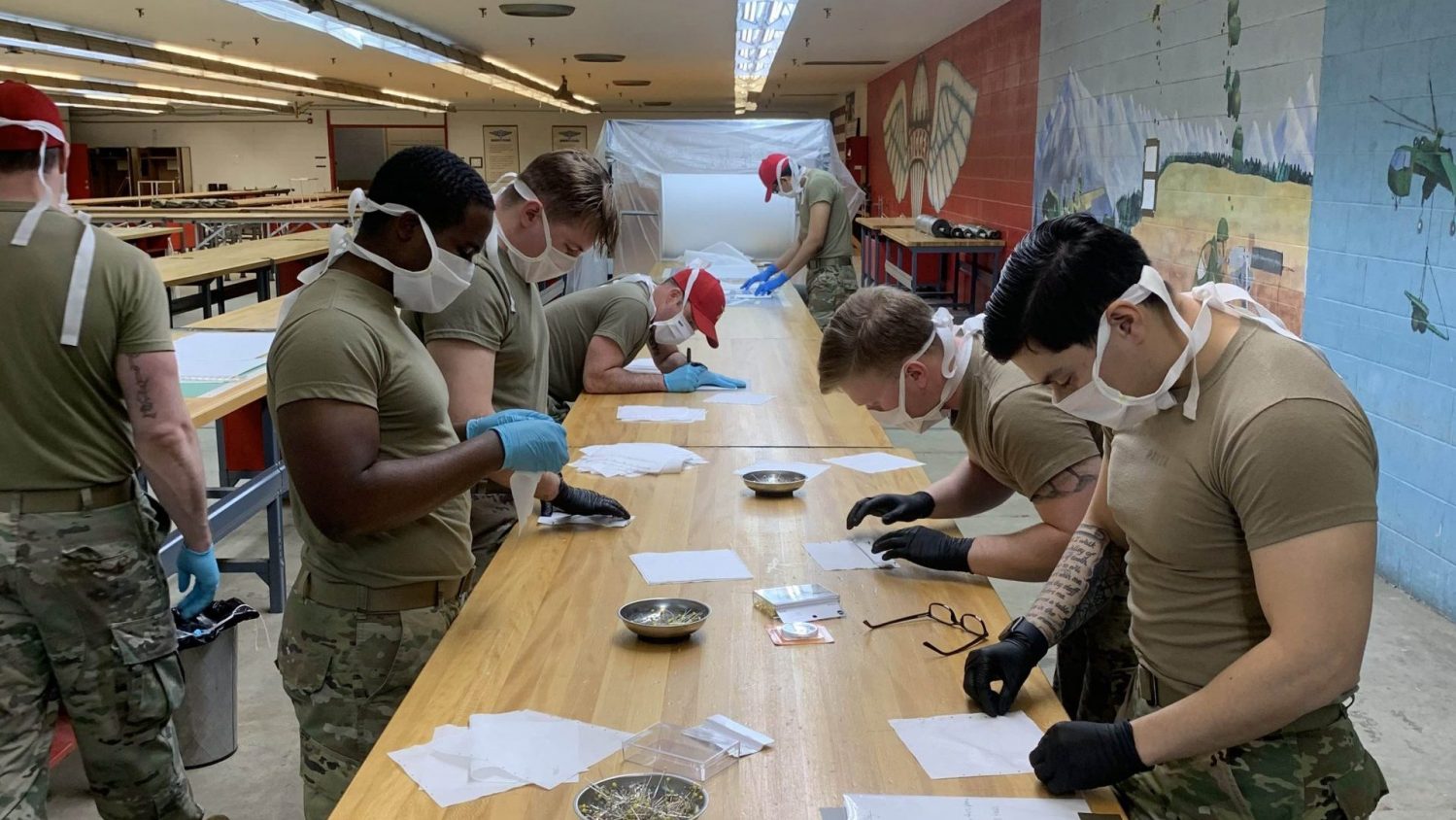 Uniting with the U.S. Army in the fight against COVID-19, NC State donated almost 5,000 meters of its newly developed filtration material to Fort Bragg to create much-needed face masks.
The 82nd Airborne Division, based at Fort Bragg, specializes in parachute missions. Those who maintain parachutes already have the equipment and facilities needed to sew masks.
"We're one of the only units with the skill set to sew, to make masks," Lt. Col. Mike Burns said.
The 4,725 meters of donated material will become about 100,000 face masks.
The material was developed by NC State's Nonwovens Institute (NWI) in response to the challenges brought by COVID-19. It's effective in filtering out viruses and bacteria. Despite its filtering capabilities, it can still be cut and sewn using traditional techniques.
Capt. Colby Miller, innovation officer for the 82nd Airborne Division, looked into opportunities to make personal protective equipment when he learned that the 1st Special Forces Group at Joint Base Lewis-McChord in Washington state was making equipment for an army medical center.
"I dove into, 'Why can't we do this here at Fort Bragg?'" Miller said.
When he saw that the Nonwovens Institute had created a filtering fabric that can be sewn, he turned to his connections from the 82nd Airborne Division's Innovation Council.
The division's Innovation Council, which Miller helped establish, connects soldiers to the University of North Carolina system. Miller had visited NC State in December to better understand the university's strengths and opportunities. He and other service members were scheduled to meet at the university in March, but COVID-19 forced them to cancel the visit.
4,725 Meters
of filtration material donated in April
1,000 Meters
of additional material to be donated weekly
When he reached out to NC State's Office of Research and Innovation, the university donated 4,725 meters of NWI's filtration material. NWI intends to donate up to 1,000 meters per week on an ongoing basis, said Behnam Pourdeyhimi, executive director of NWI, Wilson College of Textiles associate dean for industry research and extension and William A. Klopman Distinguished Professor.
On April 7, Fort Bragg service members picked up the fabric, and mask production began the next day.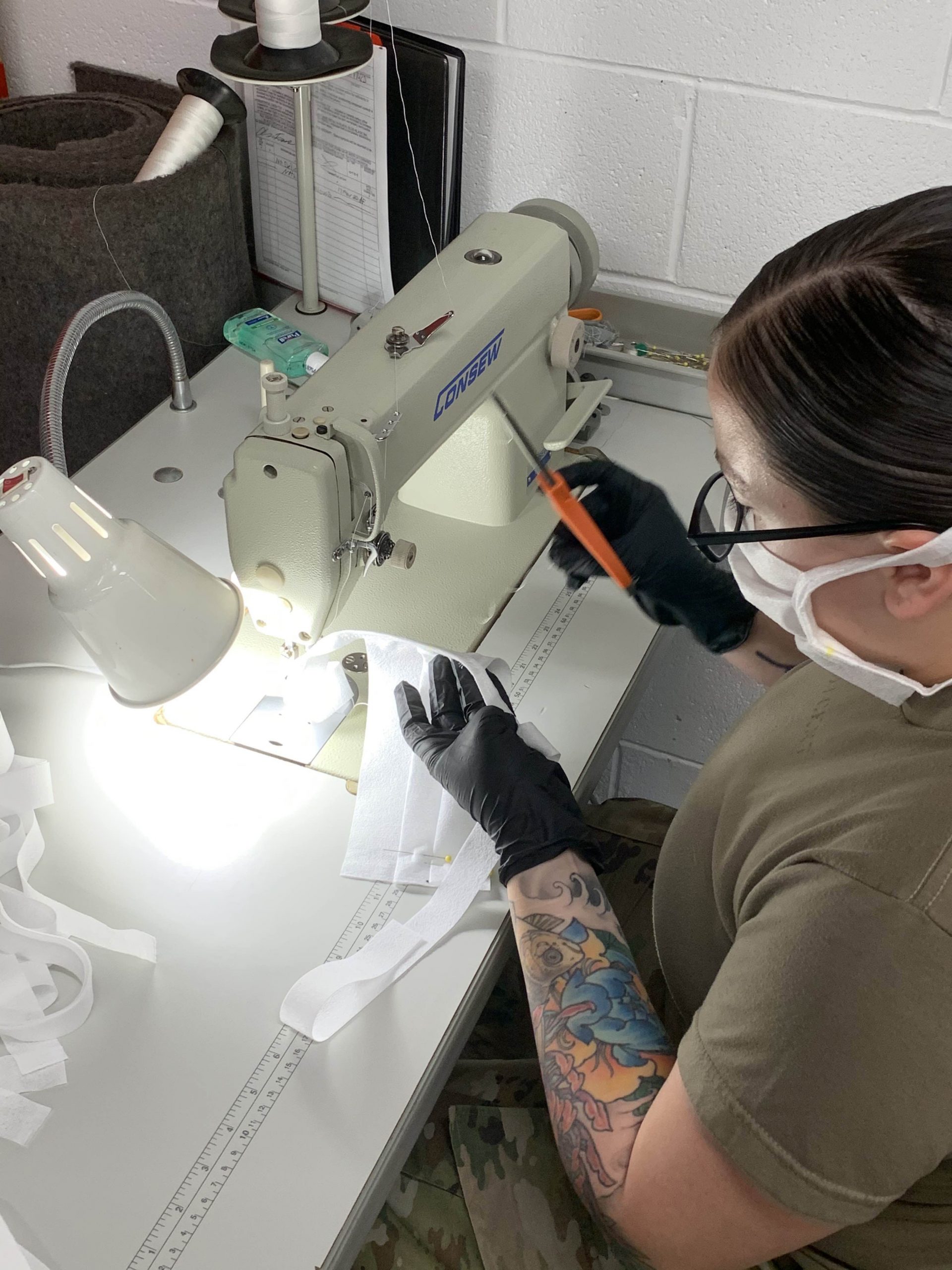 "This shows the necessity of having this partnership established," Miller said.
NC State and the Army have a valuable relationship. Together, the two generated a computational model that can help expedite military operations aimed at evacuating noncombatants, disaster response or humanitarian relief. With the U.S. Army Futures Command, researchers at NC State created artificial intelligence tools to improve squad training.
"That is what the spirit of this partnership is — to build a deeper understanding and collaboration between academia and military personnel," Miller said.
The Nonwovens Institute can manufacture more than 2,000 meters of the material in an hour and is prepared to donate more material, Pourdeyhimi said.
That is what the spirit of this partnership is.
By mid-April, the two mask-making machines his team ordered should arrive. That means the Nonwovens Institute can start making masks with its own material, too, Pourdeyhimi said.
"This is not just a one-time gig," Pourdeyhimi said.