Campus Life
Launching the Next Generation
Christina Koch, a three-time graduate of NC State, knows how to thrive working from home, which she did flawlessly during a record-breaking 328 days in space. She'll share her message of how NC State helped prepare her to become NASA's most accomplished female astronaut as the featured speaker at the university's Dec. 4 virtual commencement.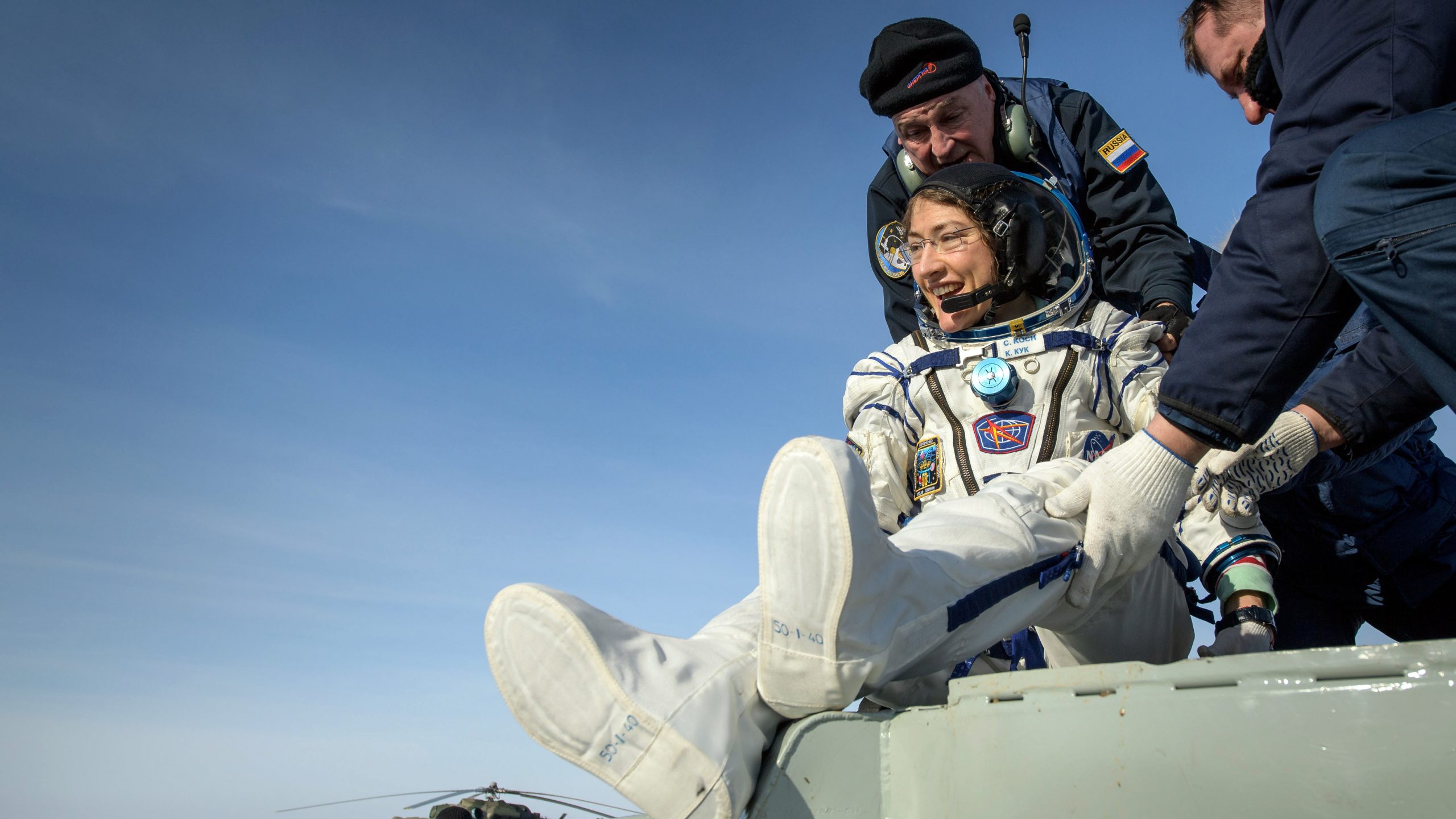 To the Class of 2020, and beyond: Christina Koch gets you.
The three-time NC State graduate and NASA astronaut knows what it's like to be isolated, apart from friends and family, unable to go about a regular routine, unable to even step outside for a breath of fresh air.
She lived that for nearly a year as a crew member on the International Space Station, setting a record for the longest stay in space by a female astronaut and participating in several historic all-female space walks with fellow astronaut Jessica Meir. And as exciting as her record-shattering 328-day journey was, she needed to make some adjustments to survive.
Just like everyone she will be speaking to on Dec. 4 during NC State's first virtual commencement has done over the last eight months. Koch will draw on her space experience as she gives the commencement address in the special online event honoring all graduates receiving their degrees this calendar year – including Koch, who will be conferred an honorary doctorate.
And, as it turns out, the similarities of life onboard the space station and life in isolation are more prevalent than you would think.
"As people have shifted to going to school and working from home, they had to redefine their work/home-life boundaries," says Koch, named recently with Meir as one of Time magazine's 100 Most Influential People of 2020. "That's definitely the case up there, because every morning we just float 3 feet out of our crew quarters and we are at our work module, doing whatever is planned for us to do that day.
"Having to figure out new boundaries is something that takes a while to get used to."
And face it, being at the space station, with the whole world watching your every waking move, is a lot like being on a 24-hour Zoom call.
"Having to be comfortable with not seeing your loved ones in person and finding ways to be supportive virtually is a big parallel with being at the space station," Koch says. "There's a lot less privacy. And even for people who have their families at home, because they are with their kids or their parents, having to make sure that you make some time for yourself, is so important."
Koch recognizes that there were some significant differences, even without considering she and the ISS crew were 250 miles above the Earth's surface.
"We were on a regimented schedule, down to five-minute increments, so we didn't have to worry about sort of defining our own schedule and creating a sense of purpose," she says. "It was planned for us every day."
As she has learned since coming home, returning to a pre-pandemic lifestyle might be just as challenging for some as it was for her to return from a year in space.
"We prepared for what life would be like coming back from the space station, but there is kind of an underlying assumption that you'll just figure it out because you are coming home to a place that you're familiar with," she says. "That's a fair assumption, but I would also say that some of the challenges I faced coming home were every bit as big as some of the challenges of adjusting to life in space.
"It will be the same for us all [coming out of the pandemic]."
Hope and Inspiration
Koch has clearly gained worldly wisdom to go with her space training and lifelong education, which is why NC State Chancellor Randy Woodson wanted to feature the pioneering astronaut in one of the most important commencement programs in university history.
"We're really excited to have Christina Koch come back to NC State for commencement," he says. "She's the perfect choice because she is a great role model and leader for so many women in science and engineering. She is also someone who spent 328 days in space, with all of its limitations and isolation, like so many of us have experienced during this pandemic.
"I think Christina will bring a great message of hope and inspiration for our students."
Koch had looked forward to being on campus in May for spring commencement, but that was postponed because of the COVID-19 pandemic. And, as excited as she is to be featured in the first virtual commencement, she can't wait to return to Raleigh to present some space-travel mementos to the place where she started her career in science, where she learned how to prepare for life's great journeys and where, she hopes, she can encourage others to do the same.
"I hope that by continuing to tackle challenges and share that process, it hopefully will inspire others," Koch says. "Just like those who inspired me."
Koch has spent much of her time since returning to her home in Texas reflecting on her experience. What else could she do? Her first week after landing in Kazakhstan and being whisked to the Johnson Space Center in Houston were spent in NASA quarantine. Her next two months were spent reintroducing herself to her husband and their dog, not to mention re-acclimating to gravity and relearning to walk.
And the last six months have been spent reliving her journey as part of NASA's outreach program, debriefing her colleagues and sharing her experiences to the next generation of astronauts, scientists and space pioneers.
She admits that she needed the support of the NC State community during and after her trip. She could feel it every time she passed over North Carolina, seeing her hometown of Jacksonville or hearing from friends from the North Carolina School of Science and Math and NC State. And she found solace in taking pictures, a hobby she developed while working as a photographer at Technician, NC State's student newspaper.
"Those connections became so important and so amplified for me when I was in space," Koch says. "I think it's because you recognize when you see the vastness of the planet and how big it is and how many diverse places there are that it is special to be from somewhere and have those shared experiences every now and again.
"I would work with someone on the ground, whether it was during a science experiment or on station maintenance or whatever the daily task was and they would say, 'Hey, I went to NC State, too.' It was special to know that we had that thing in common. It really meant the world to me."
The whole universe, in fact.