Arts Programs Don't Miss a Beat During COVID-19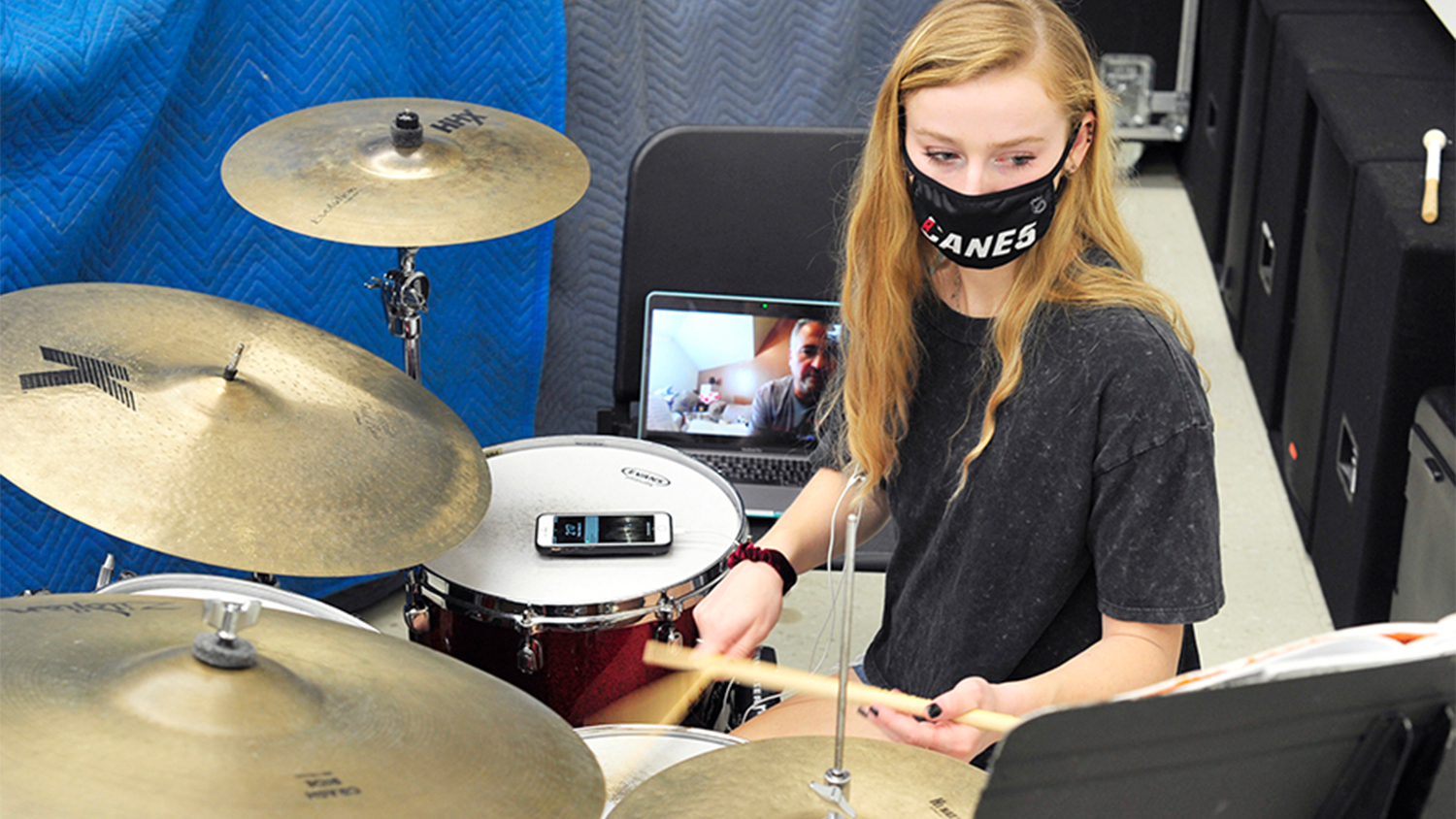 Prior to 2020, it's safe to say that many student musicians or dancers would never have imagined they would be recording their parts for an ensemble concert alone in their bedroom. Similarly, it would have been unthinkable to put on a theatre production with the cast and crew not physically in the same space, let alone in front of a live audience. But, where there's a will, there's a way.
NC State's visual and performing arts organizations have overcome many challenges and have been forced to adapt to a "new normal" of their own this fall. Now, against all odds, NC State's student musicians, actors and actresses, dancers, and other artists are preparing to cap off an unprecedented semester with several performances and exhibitions.
University Theatre Answers the (Curtain) Call
University Theatre premiered its virtual fall theatre production, Argo: A Virtual Voyage of Jason and the Argonauts, last week following a semester unlike any other.
"It was, and continues to be, challenging," said Joshua Reeves, director of University Theatre. "Theatre is a shared art form that is experienced live and in person; we simply can't do that. Live theatre is what we, the staff, have trained to do and trained to teach."
Reeves equates the shift to virtual classes, rehearsals and workshops to flying a plane: both will transport you from point A to point B, but the way they are operated is vastly different.
"I believe University Theatre has done an outstanding job in pivoting to a new format," Reeves said. "We were laser focused in preserving what was important about our offerings. Connection. Engagement. Creation. Reflection. These are the ideals we committed to deliver in all we do. Classes are online, and though different, we have worked tirelessly to connect and engage students."
Rehearsals this semester have taken place in a hybrid format, with some held in person following physical distancing guidelines and others via Zoom. Outside of classes and rehearsals, the department has introduced several new workshops to keep students and the community engaged, help them learn new tips and tricks, and continue to network with theatre professionals:
· Strictly Speaking features professional theatre makers who discuss their work, their industry and their journey within the arts.
· Out Loud is a twice weekly reading of various plays by students and staff with commentary and discussion.
· Devised 2020 is hosted by theatre instructor Lormarev Jones, who introduces students to the conception of original work through ensemble devising.
· How to Theatre is a series of weekly interactive lessons in various production techniques that work beyond the walls of the theater, featuring professional staff who dive into different aspects of theatre work and help students hone their skills.
· Preparing the Performer is a weekly lesson in skills and techniques where professional staff give lessons specifically designed to help students land roles and perform their best.
· Revisited looks back at previous University Theatre productions and allows past and present members of NC State's theatre department to connect and reconnect in an interactive virtual setting.
· The Institute meets on Zoom every Friday and introduces students to site-specific, interactive, and immersive storytelling experiences and helps them tell their own stories.
Stemming from all of the special programming this semester is Argo, which engaged student performers, designers and technicians in a large, virtual production.
"Argo is something brand new and something so innovative," Reeves said. "It is exactly what the students and staff of University Theatre do when faced with a challenge. Argo started out as a full production of Mary Zimmerman's Agonautika on our fall season before the pandemic hit. After it was clear a fully staged production was not possible, [director Rachel Klem] looked for ways to tell the story of Jason and the Argonauts in a safe and intriguing way. It has blossomed into an artistic experience not only unique to University Theatre but to all theatre."
Despite such an unusual semester, Reeves and other theatre instructors have received lots of positive feedback from students and community members alike, praising the department for its outreach efforts and the sense of community it worked to foster during difficult times.
In the spring, University Theatre will continue its virtual series and programming, with some new additions. The Creative Artist Award will be produced on the Titmus stage to a limited student audience in mid-April, Devised 2020's fall work will culminate in an outdoor performance in late spring, and the department will host a new monthly get together called Social Saturdays that will bring students together in a safe way to connect.
Overall, Reeves said he is not surprised by the adaptability and flexibility of his department this fall.
"This pandemic has only confirmed my faith in the department's abilities to take on unprecedented challenges and create something special," he said. "Finding new ways to tell stories is what theatre artists do every day. The pandemic has simply made us stretch more and find more innovative ways to tell stories."
"What I have learned about the department as a whole is the importance of slowing down and listening," Reeves continued. "We are constantly being told 'places' and to 'stand-by' for the curtain to rise. This intermission from our traditional production has allowed us to reflect and talk with our students, patrons and the greater community. I'm excited to discover ways to implement these discussions when we reach our new normal."
Dancing to a Different Tune
During COVID-19, one of the things dance program director Tara Zaffuto Mullins has missed the most is being able to choreograph lifts and other movements that involve touching in her dance routines. She also misses being able to give the occasional hug or pat on the back when her students succeed.
"It's definitely not the same experience, but these students have been incredible," Mullins said. "I've been so pleased by just how hard they've worked."
The majority of dance rehearsals have taken place via Zoom this fall, with the occasional small group meeting in person, following physical distancing guidelines. For some of the more recent performances, however, students rehearsed independently at home the last several weeks before coming together in person for a day of recording. In fact, the upcoming Fall Dance Concert on Nov. 13 was recorded just last week.
"We're used to rehearsing 12, 13 or 14 weeks, and those were put together just a week before," Mullins said. "So, it was a very different experience, especially for the newer students."
As it turns out, the dance department actually had more auditions this year than ever before, and nine first-year students in both dance companies. "We didn't plan on taking that many at first, but we decided to because we felt that it would be a good way for them to connect with other people and not feel so lost their first year of college," Mullins said.
The dance department kept students and the community connected with several unique programs and workshops this spring as well, and was even recognized for its outreach efforts during the pandemic by Walter Magazine. Throughout the semester, the department shared performances as part of its Concert from your Couch series. Other events and workshops included:
· The Lunchbox Series: a brand new series featuring NC State faculty and other esteemed guests who shared their expertise or discussed various topics in the field.
· The Online Master Class Series: an ongoing series that allowed students to meet and network with international artists such as Maleek Washington and Broadway performer NaTonia Monet.
· LWOC Master Class Outdoors: Health and Exercise Studies' dance minor faculty member Joan Nicholas Walker taught an outdoor class open to anyone on Stafford commons.
· STEAM event: a collaboration with Fusion Dance Team, a virtual Hip-hop class and college panel for high school students from the Work of Art organization.
In addition, student dancers came together prior to the 2020 Presidential Election to record a special Screendance titled On Their Shoulders, which was created by members of the State Dance Company and was a reflection on the collective power of women in civil leadership and the legacy of voting rights.
When they haven't been leading virtual rehearsals and classes, Mullins and other dance instructors have also been conducting and publishing research. This fall, Mullins published the article "Do Dance Majors Need Entrepreneurial Skills?" in the Journal of Arts Entrepreneurship Education, and Francine Ott was consulted in an article by Dance Spirit entitled "How Social Dance Can Benefit Your Training — and Your Humanity."
Looking ahead to next semester, Mullins and the dance department plan to continue to offer Concerts from Your Couch and the Lunchbox Series as well as master classes both online and in-person. She also hopes to organize an outdoor pop-up concert.
"I think we've had a successful semester this fall, just in ways I never expected," Mullins said. "I am beyond impressed by the dedication and creativity of our students and our instructors to make it all happen."
Recording Music — Together
For Dan Monek, professor and head of the Department of Music, music-making is the ultimate team sport, and this fall the department's success has relied on buy-in from the entire team of faculty, staff, and students.
"The pandemic has been hard on all of us, but for those of us who make music, that's something that's part of who we are and it's the way we cope with struggles in life," Monek said. "It's not just a social thing. There's something very special about making music together."
This fall, that passion for making music together has rallied the department while it converted more than 50 courses, including 13 performance ensembles, into an online format. Some aspects of music education have been easier to transition online. Students taking solo lessons, for example, have been mostly meeting for their lessons live via programs like Zoom, and are submitting recordings for their juries and to be used in a virtual recital compilation. Meanwhile, 100-member ensemble rehearsals have been a bit more difficult to transition.
"There's no way for an entire ensemble to effectively meet at the same time while everyone is at home," Monek said. "So what's happened is that it's started to feel a bit like a recording project, but we've been working on how to capitalize on that feeling and give our students the experience they need."
Throughout the fall, students in these larger ensembles have also been recording audio and video of themselves singing or playing their instruments and submitting the files to their professors. Students who remained on campus this fall have continued to use practice rooms and recording studios on campus. Students taking piano lessons, in particular, have been able to use a practice room outfitted with a grand piano — and several cameras for instructors to observe their hands, feet and overall posture during lessons.
"We were really fortunate that we had set ourselves up to be ready for these kinds of things," Monek said. "Almost everywhere you look, people have had to get innovative in their teaching methods. We tend to look at the classes that have been the most challenging to convert online, but I think it's really been impressive across the board."
Wes Parker, a teaching professor and director of jazz studies, has found other unexpected advantages to virtual classes and rehearsals, and plans to incorporate some of his findings into the way he teaches moving forward.
"I'm more intimately aware of my students' abilities as musicians than I've ever been in my career because I listen to their recordings 12 hours a day," Parker said. "I've gotten to a point where in an email I can say, 'Hey you're doing this, this, this and this,' and, again, nowhere near as effectively as being face to face, but I know exactly what my students can do so much more than before. I'm going to maintain a healthy portion of having them submit recordings…And now, knowing how good of a job we can do of recording tunes from a distance, I don't ever want to get through a semester without giving them a recording experience at least once or twice a semester."
The department has also capitalized on the creativity and technology skills of its faculty, staff and students as well as collaborative partners within the university and beyond to produce multiple virtual projects. For Halloween, the NC State marching band produced its own music video for Michael Jackson's "Thriller," directed and edited by band member Tolar Ray. On Thursday, Nov. 12, the music department will debut its highly anticipated Brickyard Broadcast, a virtual reality concert featuring the Orchestras and Choirs of NC State with the Concert Singers of Cary. Finally, the fall semester will culminate on Dec. 10 with the music department's Virtual Fall Concert: A Celebration of Our Students.
For Monek, listening to and compiling audio files misses out on some of the human aspects of music making. However, he believes these projects still provide beneficial learning opportunities for student-musicians and a sense of connection and accomplishment.
"With recordings, it's sometimes frustrating because there are things you can't fix. Once it's recorded and the file is submitted, it's done, and that feedback loop is very different," Monek said. "But when you play it back on a Zoom call and you watch it with the musician, you can see their faces and you realize that even though this is completely different, we still got to do something together. We still got to come together and make art."
This post was originally published in DASA.