Here Comes the Sun
NC State is partnering with Mooresville-based Powerhome Solar to add an array of energy-saving panels on top of the Murphy Center.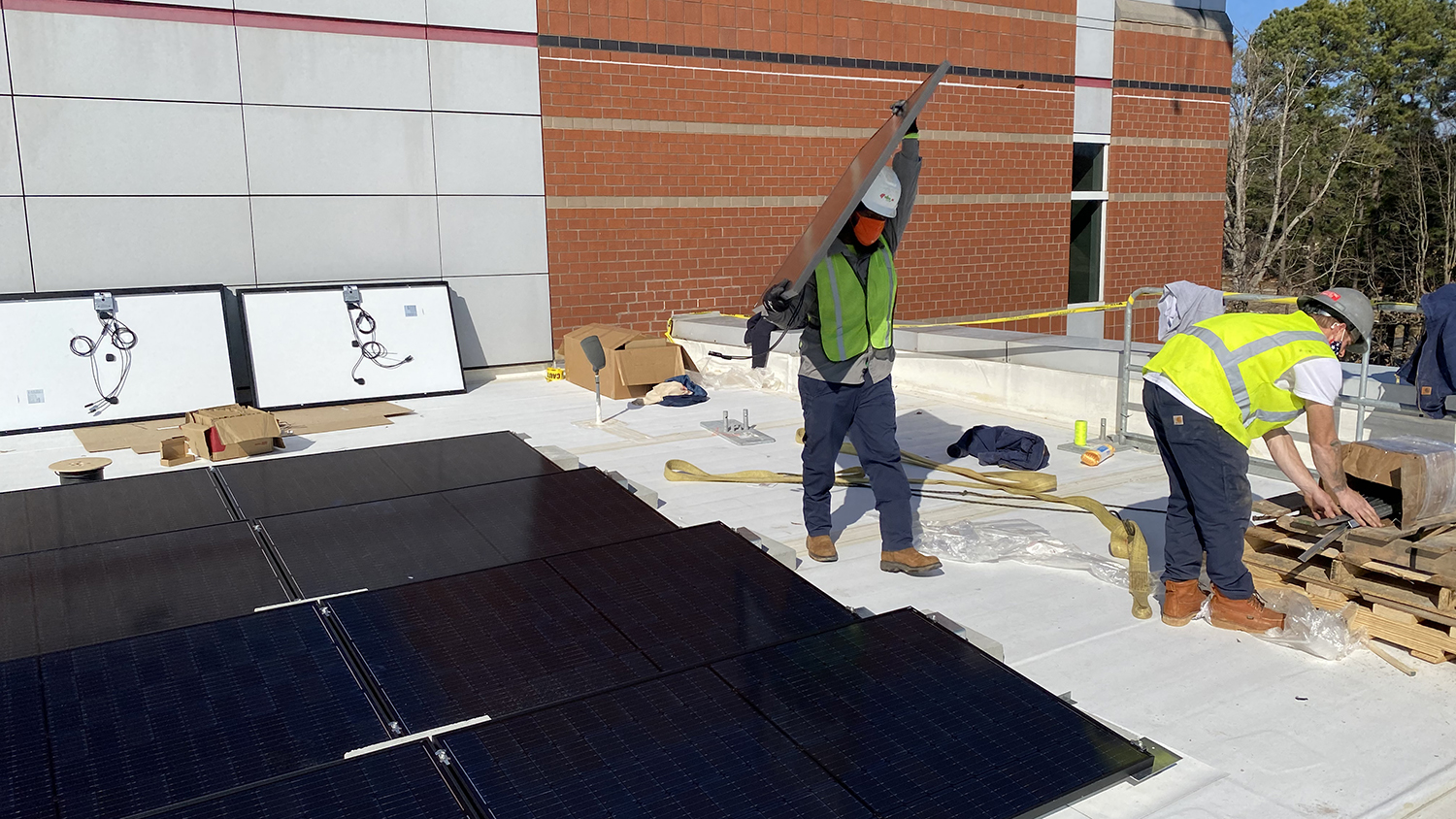 Carter-Finley Stadium's Murphy Center is adding a little bit more green to go with all of its red and white.
Wolfpack Sports Properties has partnered with Mooresville-based Powerhome Solar to install an energy-saving array of solar panels on top of the football operations building adjacent to the stadium to help augment the energy supply for the complex.
It's a small part of a variety of energy-reduction initiatives athletics has employed through the years to reduce game-day consumption and everyday use. And it supports the university's ongoing efforts to significantly reduce energy consumption across campus from a baseline set in 2002.
"I like to think of this as another step toward our overall energy reduction goal," says Weston Hockaday, NC State interim director of energy management. "We are currently at 37% overall reduction, with 40% as our goal. This is another step towards meeting that goal."
The new installation is the second at the Carter-Finley Stadium complex and among the 17 different solar-powered options that have been on campus since 1981, not to mention the world-class solar research done by the university's NC Clean Energy Technology Center. The first stadium project is an array of solar panels that feeds electricity back to the Duke Energy Progress grid. Other locations on campus for solar energy collection include the Hunt Library, Carmichael Gymnasium and the Partners I building.
Headquartered near Charlotte, Powerhome has 1,650 employees in 10 states. It has installed similar solar panels at six home fields or facilities of six professional franchises, including the NFL's Carolina Panthers, Detroit Lions, Pittsburgh Steelers, Cleveland Browns and Indianapolis Colts and Major League Baseball's Cleveland Indians. The new installation at the Murphy Center is the company's first at a college sports facility.
Powerhome officials hope the partnership with NC State will help expand their recruiting of NC State graduates as design engineers, salespeople and technicians to install residential and commercial solar panels.
"Our goal in installing this is first to promote the message of sustainability," says Jason Cassiday, director of sales operations for Powerhome. "And, second, to build job opportunity pipelines with NC State grads, our company and our industry."