Carter-Finley Designer Dies
A pioneer on and off campus, Charles Kahn developed innovative design techniques for construction of Carter-Finley Stadium and led efforts to desegregate Raleigh businesses.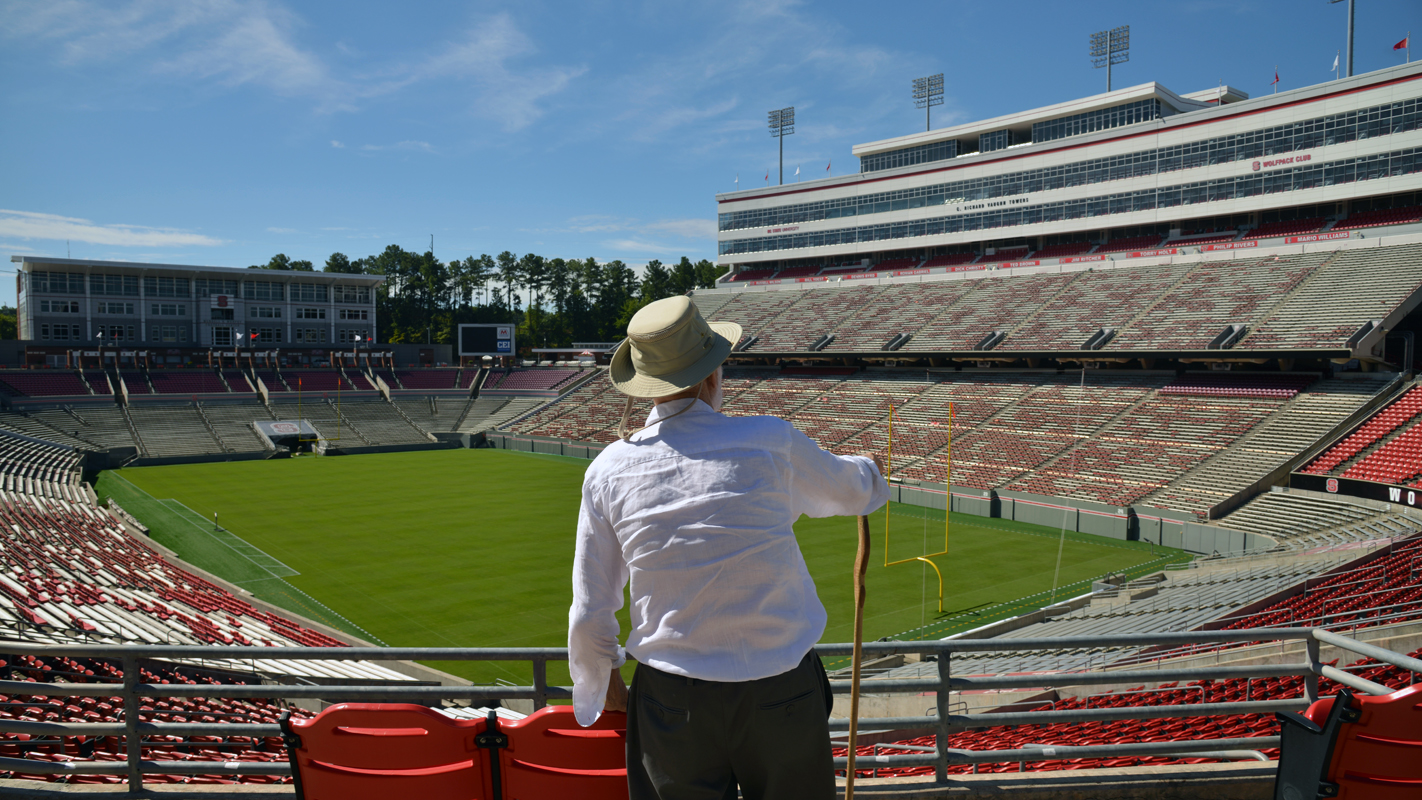 Charles H. Kahn, the NC State College of Design professor who was one of the primary designers of Carter-Finley Stadium and a faculty leader in racial equity, died April 8, his family announced earlier this week. He was 95.
Born in Alabama and raised in Salisbury, North Carolina, Kahn was a signalman in the U.S. Navy during World War II who went on to earn degrees in civil engineering and architecture from NC State (1948, '56), to go along with degrees in math and physics from UNC-Chapel Hill (1946) and a master's degree from MIT (1949).
While studying abroad as a Fulbright Scholar, he explored the design and architecture of the Colosseum, as well as Rome's two biggest facilities constructed for the 1960 Olympic Games, the Stadio Olimpico and the Palazzo Dello Sport.
Those structures heavily influenced Kahn when he was asked to be one of the principal designers of what became Carter-Finley Stadium, a replacement for NC State's original on-campus football home, Riddick Field. Working with NC State graduate and former civil engineering professor L.E. Wooten and architect G. Milton Small of Raleigh, Kahn designed a unique structure made of pre-stressed concrete that was poured in Durham and transported by train to a former research lake adjacent to the North Carolina State Fairgrounds.
Creative Design
By modern standards, the future home of the NC State football team was built lightning-quick, 20 months from ground-breaking to opening day. The Wolfpack debuted its new home on Oct. 8, 1966, against South Carolina.
"The only way to get it done in that time frame was through a creative design," Kahn said in a 2016 interview as the stadium celebrated its 50th anniversary. "There just wasn't enough time to have a cast-in-place concrete system.
"The concept I came up with was that the stadium would be built in three pieces of pre-cast concrete and could be made and erected as a Tinker Toy set."
After the A.E. Finley Fieldhouse was added in 1967, few changes were made to the stadium for more than 35 years. But in 2003, NC State athletics and the Wolfpack Club began renovating and adding onto the stadium with a $250 million project, which added the Murphy Football Center, Vaughan Towers and practice fields, while also enclosing both end zones to create a bowl stadium.
Kahn approved of the improvements when he visited the site for the first time in 30 years.
"It's impressive," Kahn said. "It seems to have preserved the original concept of the stadium very well."
Kahn, a member of the NC State faculty from 1959 to 1968, went on to design similar athletics structures, such as East Carolina's Minges Coliseum and the Poliedro de Caracas in Venezuela.
Fighting for Equality
While a member of the faculty, Kahn led a group of colleagues, students and others on campus to end racial segregation at Raleigh businesses, primarily those near campus. Kahn and some 400 others paid $847 to run full page advertisements in two local newspapers.
"We pledge that we the undersigned as residents of the Raleigh area will continue to patronize and support those businesses which abolish the practice of segregation and that we will urge others to do likewise," the signed ad read. "We are convinced that there is only one solution to the racial problem in Raleigh – the immediate removal of the color bar in all places and institutions to which the public has access.
"Such places would include restaurants, theaters and hotels, as well as facilities operated by public and governmental agencies. We urge the managers and operators of such businesses and facilities to proceed immediately to remove from their operations all segregation and discrimination based on race and skin color."
After more than a decade at NC State, Kahn left to become the initial dean of the School of Architecture at the University of Kansas. He retired from academia in 1991 after being diagnosed with Parkinson's disease and returned to the Triangle, where he lived until his death of heart failure last week.
He is survived by his wife, Annette Kahn, his daughters Kathryn and Sarah Kahn, his son Benjamin Kahn and five grandchildren.