Campus Life
Carter-Finley Still a Modernist Marvel
Carter-Finley Stadium Moments to Remember
When the inevitable replacement for NC State's tiny on-campus football stadium finally was set to become a reality, the school turned to its own experts — alumni, professors and frequent contributors to campus architecture — to create a unique off-campus entertainment complex for the Raleigh community.
Fifty years ago, gleaming 41,000-seat Carter Stadium opened when NC State's Wolfpack football team hosted South Carolina on Dedication Day.
"Good God, has it been that long?" says former College of Design professor and two-time NC State graduate Charles H. Kahn, one of the stadium's principal designers.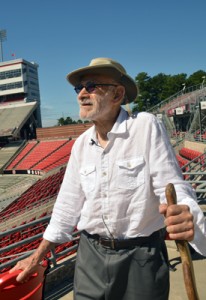 Kahn, 90, visited the site of one of his biggest projects for the first time in more than three decades last week, taking in the broad scope of an empty stadium just before the kickoff of its 50th anniversary. The Wolfpack opens the 2016 season Thursday night against William & Mary at 7:30 p.m.
"What happened to the press box?" he wondered aloud.
Much indeed has changed since his last visit to Carter-Finley—almost $200 million in facility improvements and stadium expansion, with a permanent seat capacity of 57,600. Luxurious seven-story Vaughn Towers replaced the demolished original press box in 2005, offering 51 suites, a chancellor's suite, boxes for home and visiting coaches and enhanced press facilities. Both end zones have been enclosed, taking the place of the original A.E. Finley Fieldhouse and the grassy bank where many general admission spectators enjoyed a festival atmosphere. There are three practice fields, an indoor practice facility and a plaza that connects the stadium to PNC Arena, a next-door-neighbor that didn't exist when the Wolfpack played its first game at its new home on Oct. 8, 1966.
Kahn, who retired as the dean of the School of Architecture and Urban Design at the University of Kansas in 1991 after developing Parkinson's disease, is one of three design engineers and architects credited with the modernist stadium's unique pre-stressed concrete design. Kahn, who also designed the East Carolina basketball arena Minges Coliseum and the Poliedro de Caracas in Venezuela, has lived in Chapel Hill since his retirement.
L.E. Wooten, a 1917 graduate and a former civil engineering professor who opened Raleigh's biggest engineering firm in 1936, was in general charge of design, personally invited to oversee the project by then-State College Chancellor John Caldwell in 1962. Wooten, a member of NC State's baseball team as a student and a leader to get grandstands built at Riddick Field beginning in 1917, was an ardent supporter of Wolfpack football until he died at the age of 99.
G. Milton Small, a former student of NC State School of Design Dean Henry Kamphoefner, was the primary architect. Small also built NC State's nuclear reactor, the original Talley Student Center and the now-demolished NC State student bookstore.
Carter Stadium was built lightning-quick, in just under 22 months, which created the necessity for its pre-fabricated construction.
"The only way we could get it done in that time frame was through a creative design," Kahn said. "There wasn't enough time to do a cast-in-place concrete system and have it done for the 1966 season.
"The concept I had was that the stadium would be built in three pieces of pre-cast concrete that could be made and erected [like] a Tinker Toy set."
Some 2,500 seat platforms were manufactured in Durham and trucked to the site of an old research pond adjacent to the North Carolina Fairgrounds, a university-owned tract that offered ample parking and room for expansion. The 16 pre-stressed support bents were poured into molds on the ground, then lifted into place by cranes. The girders that supported the two upper decks were also poured on site and lifted into place.
A native of Alabama who grew up in the Piedmont town of Salisbury, Kahn had earned degrees in math and physics from UNC (1946) and in civil engineering from NC State (1948), plus a master's degree from MIT (1949) and a bachelor's degree in architecture from NC State (1956). He spent a year as a Fulbright Scholar in Rome, where he not only studied the Colosseum, but also the city's two biggest facilities for the 1960 Olympic Games, the Stadio Olimpico and the Palazzo Dello Sport, both of which heavily influenced his design of Carter Stadium.
Upon returning from Rome, he was appointed associate professor of design in 1959, joining Kamphoefner's all-star cast of modern structuralist faculty that included Matthew Nowicki, Horacio Caminos and George Matsumoto. Kahn stayed until 1968, when he left for Kansas. He returned to Raleigh frequently, though, and often saw games at Carter Stadium through the 1970s.
He approves of the changes made over the last 15 years, even though the closed end zones hide some of the stadium's unique erector set qualities.
"Future expansion, of course, was limited by the site itself," Kahn said. "The obvious way to do it was filling in the end zones. Seeing it for the first time in 30 years catches me a little unawares, but it seems to have preserved the original concept of what the stadium was supposed to be.
"It's impressive."
Even after all these years.