Going the Distance
Cross country runner Edwin Rutto looks homeward to Kenya's Great Rift Valley as he prepares to graduate with a degree in plant and soil sciences.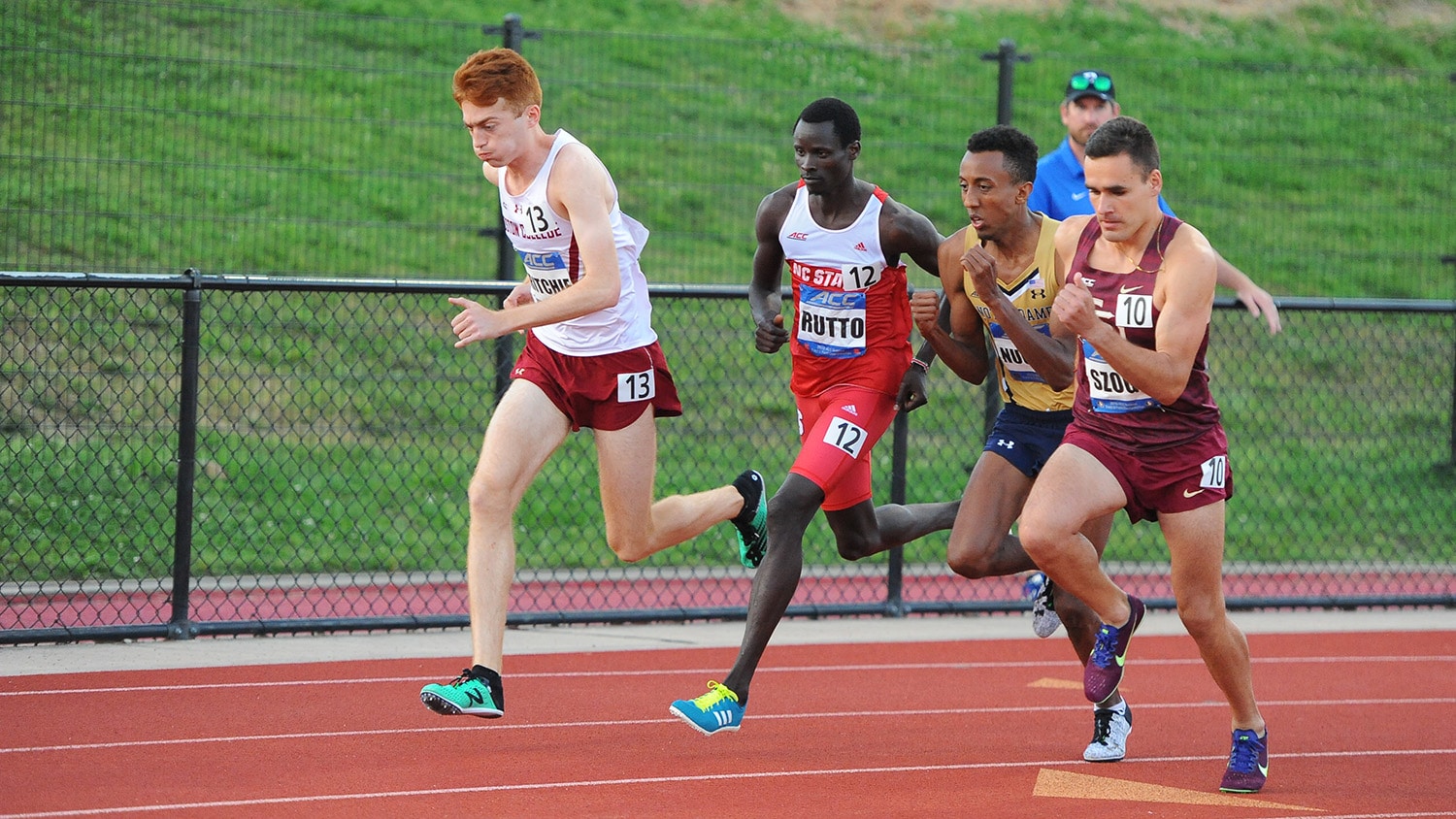 The first time soil science professor David Crouse met NC State distance runner Edwin Rutto not that long ago, he asked a simple question: What do you want to do?
Not, what do you want to study, or what major are you considering, or what kind of job do you want. But what do you want to do?
For Rutto, an accomplished distance runner from a tiny village in Kenya's Great Rift Valley, the answer was pretty simple.
"In Kenya, I could go back and make a lot of money as an engineer," Rutto told Crouse, the director of undergraduate programs in the College of Agriculture and Life Sciences' crop and soil science department. "But I want to feed my people."
"As an 18-year-old, that's a remarkable statement of maturity," Crouse says. "That kind of punched me in the gut."
The Kalenjin-speaking village in Marakwet community where Rutto grew up is famous for producing internationally successful distance runners. Rutto's mentor, Edward Cheserek, was a 17-time NCAA champion during his highly decorated career at Oregon.
Cheserek paved the way for Rutto by enrolling at St. Benedict's Preparatory School in Newark, New Jersey, in 2010. Rutto followed him there in 2013, not long after Cheserek jokingly promised to give Rutto a cow if he ever managed to break one of his running records.
Rutto forged other great bonds while at the private preparatory school, even taking one of his white, New Jersey-born teammates on a two-month journey into the heart of his home country, where subsistence farming is done without running water or electricity.
The teammate? Newark native Stephen Valvano, who later became an ACC running rival while competing for Boston College.
A raw runner who grew up playing soccer, Rutto needed five years at NC State competing for the cross country, indoor track and field, and outdoor track and field teams to reach his full potential. He redshirted his first year at NC State and steadily improved his times enough to contribute to veteran head coach Rollie Geiger's nationally recognized program.
In 2018, he was named both All-ACC and All South Region in cross country. The next spring, he ran well at both the ACC indoor and outdoor meets. Last year's track and cross country seasons were put on hold, but when the COVID-delayed 2020 NCAA Cross Country Championships were held in Oklahoma, Rutto was injured in his final collegiate race.
Huge Accomplishment
As a student, Rutto spent his first year in the exploratory studies program, thinking about enrolling in engineering or accounting because those were pathways to careers back home. He admittedly struggled in school at times, especially in chemistry. Learning in his British-taught English, Rutto's third language after Kalenjin and Swahili, was always a challenge, especially since most of the classes for his major required labs that were only available during the fall and spring semesters and often conflicted with his running workouts.
"To earn his degree is a huge accomplishment," Crouse says. "It was obvious when he got here that he did not have the same level of educational preparation that most students have when they arrive, but dang he was dedicated to get there. I could open my door and look down the hall and there was this brick ledge overlooking the Free Expression Tunnel where I would always see him doing his work."
Rutto also made liberal use of NC State's Academic Support for Student-Athletes, which helped him improve his English skills. And he made friends of staff members as well as American and international athletes.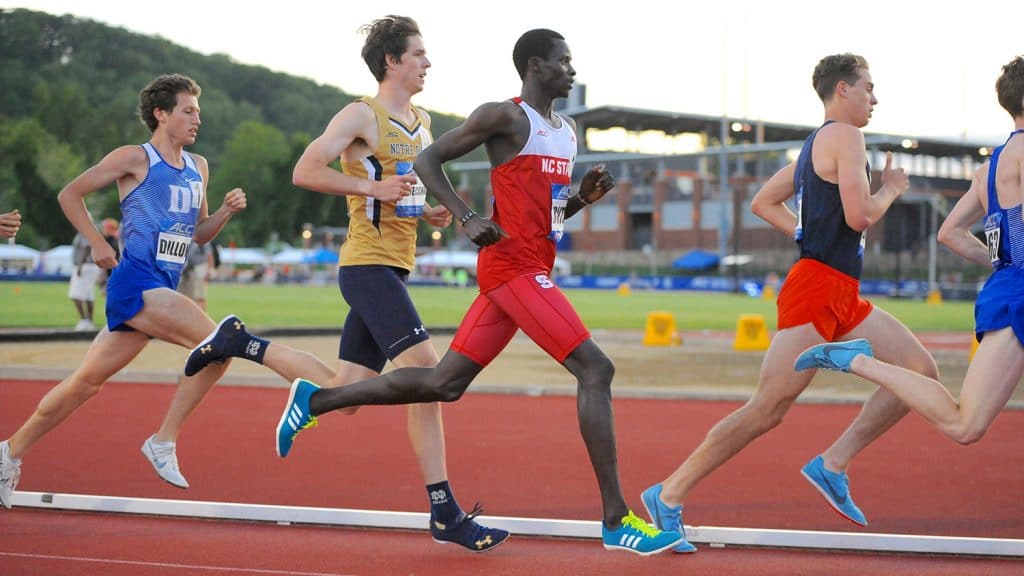 "Edwin always had a smile on his face and a positive outlook despite anything he was going through," says Academic Coordinator Jody Moylon. "On some of my hardest days personally and professionally, after meeting with him, I was reminded of why I do this job, because he has the ability to put things in perspective.
"I have no doubt that Edwin will have the same positive impact on others after graduation."
Geiger, his coach, also appreciated Rutto's positive outlook, knowing that the first Kenyan native to compete for the Wolfpack grew up running on dirt paths and walking on political tightropes, just to fulfill his dream of competing in college.
"His infectious smile and laugh transcended the whole team," Geiger says.
A Time of Uncertainty
It wasn't always easy, especially trying to learn during a global pandemic and under the distant stress of political upheaval at home, as Kenya fights to overcome corruption at all levels of its government. There was a summer that saw stark reminders of racial injustice in America and complete uncertainty about continued participation in college athletics, the very thing that delivered Rutto from that small village in the Rift Valley.
It would have been so easy to give up.
Rutto, like many other international students and athletes, kept most of his negative emotions internalized.
"It is hard, being so far from home," he says. "We have a wonderful opportunity for education here, but sometimes being a student without a great grasp of the language, it is hard."
He didn't want to appear ungrateful. So he smiled and kept it all in.
One day in 2019, talking with his 90-year-old grandmother back home, he heard the words that have inspired him throughout the rest of his time at NC State, the words that he will carry with him later this month as he graduates with his degree in plant and soil sciences with a concentration in soil science.
"I don't know how long I will live, Edwin, but what I am telling you is this," she told him the day before she died. "Keep supporting your family. Keep doing what you are doing. Keep getting your education."
Throughout it all, Rutto kept running, like so many Kenyans before him on the international track and field stage. He kept running, not from the difficulties, but to a solution.
"In Kenya, we don't have the technologies we need to improve our crops and production," Rutto says. "We still struggle to produce enough food. So I hope I can use the knowledge I have gained at NC State to help do that."
While he hopes to continue to train for a professional running career, he is also motivated to work as a soil scientist in fertility, land management, water quality, nature conservation and climate-change mitigation.
And maybe one day another young runner from his tribal village will be able to answer the question about what he or she wants to do with even bigger aspirations.