The Abstract
Changing Tides: Reimagining Tourism in the Outer Banks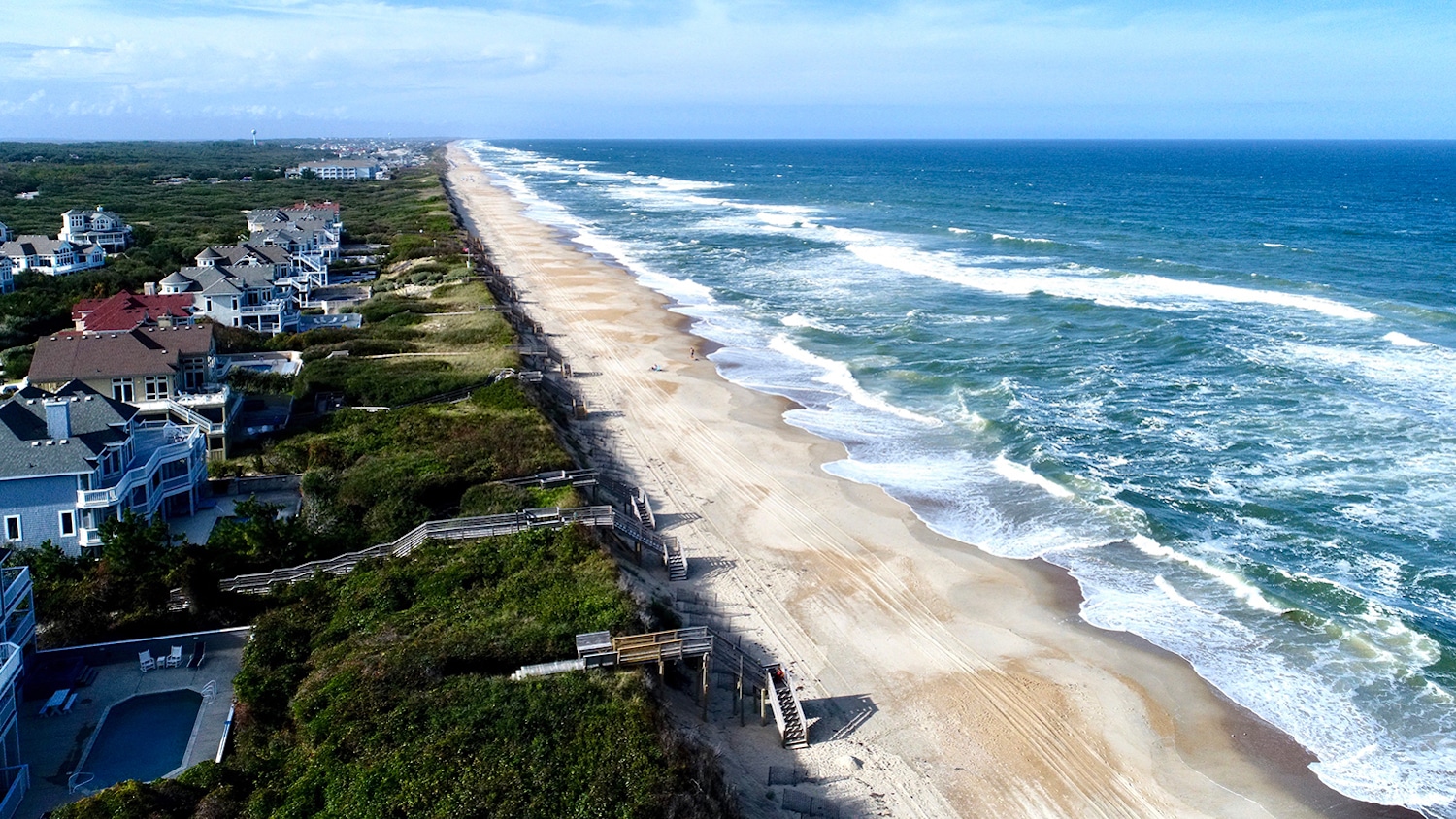 Danny was clearly injured. The horse, though wild, was only a year old and rarely strayed from his mother's side as they roamed the beaches of North Carolina's Outer Banks. But on a quiet June morning last year, Meg Puckett received a series of text messages with photos and videos showing the young horse alone and thrashing around in the shadow of a rental home just off Swan Beach near the town of Corolla.
"It was obvious that something was very wrong with Danny," Puckett said. "I just knew that I needed to get to him."
Puckett, who is herd manager for the Corolla Wild Horse Fund, arrived at Swan Beach an hour later to find Danny with swollen eyes, bloodied abrasions across his head, and a baseball-sized lump protruding from within his neck — the result of an apple lodged in the horse's esophagus.
With guidance from a veterinarian, Puckett administered a sedative to relax Danny's esophagus and then transported him to the Corolla Wild Horse Fund's rescue farm for further medical treatment. Unfortunately, despite the effort to save him, Danny died later that day due to a traumatic head injury and internal bleeding.
According to Puckett, it's likely that tourists fed the apple to Danny, or that he found it in a garbage can near the rental home where his injuries were initially discovered by a pool maintenance worker.
"Danny was killed by humans who had no regard for the safety of the horses. No regard for the health of the horses. No regard for the laws put in place to protect the horses," Puckett wrote on the Corolla Wild Horse Fund's Facebook page.
Currituck County, which encompasses Corolla and other nearby communities, has laws prohibiting people from coming within 50 feet of the horses. There's also signs posted along the beaches warning people to not feed or pet the horses. However, many visitors continue to disregard these measures, according to Puckett.
Explainer: Why You Shouldn't Feed or Pet Wild Horses
Human food is not healthy for wild animals, especially Corolla's population of wild horses. The horses can not only choke on apples, bananas and other human foods, but they can also experience painful colic as their digestive systems are adapted to sea oats, coastal grasses, acorns, persimmons, and other vegetation found naturally in their habitat. In addition, petting and other interactions with the horses can habituate them to humans, jeopardizing their ability to stay in the wild.
In late June, nearly a year after Danny's death, Puckett received a report of a horse thrashing around at Penny's Hill near Corolla. The horse, named Junior, was choking on food. Fortunately, the horse made a full recovery and now resides at the fund's rescue farm.
The Toll of Tourism
The incidents involving Danny and Junior come at a time when Puckett and other locals across the Outer Banks say a pandemic-fueled tourism boom is negatively impacting the region's economy, quality of life, and natural, cultural and historical resources.
Did you know? Corolla's wild horses are believed to be descendants of mustangs brought by Spanish settlers 500 years ago.
"We appreciate tourism, and we want to share the horses with people. I truly believe that's what is going to save them. But at the same time, it's a double-edged sword because people don't follow the rules. It's become especially challenging with the increase in tourism these past two years," Puckett said.
A 200-mile chain of barrier islands located off the North Carolina coast, the Outer Banks region — which includes Currituck, Dare, Hyde and Carteret counties — has long been a popular vacation destination, attracting millions of tourists to its beaches, lighthouses, historic sites, wildlife refuges and other amenities every year.
But since Dare, Hyde and Currituck counties reopened to non-residents in May 2020, the Outer Banks has experienced record visitation. Currituck County, for example, collected $16 million in occupancy tax in 2020 compared with $13 million in 2019, according to Tameron Kugler, the county's travel and tourism director.
"When we welcomed visitors back to the Outer Banks, it was like a flood gate opening," Kugler said. "We've just been inundated since then."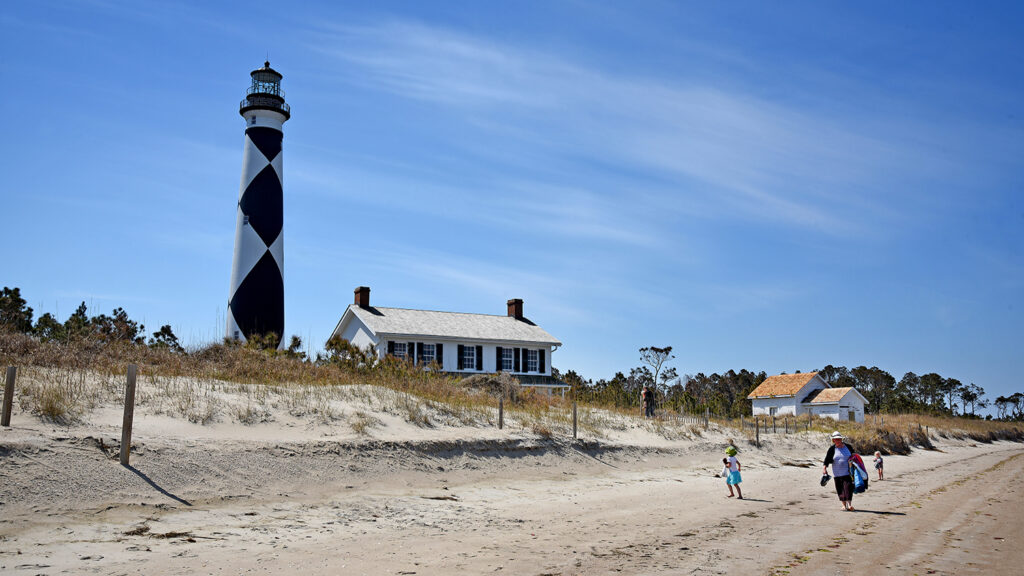 The uncertainty brought on by the pandemic led those who did feel safe leaving home to seek destinations where they could socially-distance and spend time outdoors, according to Whitney Knollenberg, an assistant professor in the Department of Parks, Recreation and Tourism Management at NC State's College of Natural Resources.
"The Outer Banks, with its large number of stand-alone vacation homes and wide beaches, was seen as an ideal place to safely visit," Knollenberg said.
Outer Banks tourism has historically been driven by repeat visitation from large family groups, with multiple generations returning to the same rental home year after year, according to Knollenberg. The pandemic, however, has attracted visitors from large urban areas, creating an opportunity for the Outer Banks to expand its market share and increase its number of repeat visitors.
In Currituck County, the recent surge in visitation is benefitting tourism marketing and projects, which are funded by a 6% occupancy tax, according to Kugler. However, it's also straining the county's natural and cultural resources, as evidenced by Danny's death and continued reports of illegal visitor interactions with Corolla's wild horses.
When we welcomed visitors back to the Outer Banks, it was like a flood gate opening.
The increase in visitation has especially impacted the four-wheel drive beach near Corolla, according to Kugler. Though the county requires people to purchase a $50 permit to operate a four-wheel drive vehicle on the beach, tourists continue to attempt to drive sports cars through the area, with their vehicles ultimately becoming stuck and leaving deep ruts in the sand that could injure other visitors and the horses.
"Although we realize that our visitors have been sequestered during the pandemic and are just happy to finally be in wide-open spaces, some have shown a lack of responsibility and accountability for their actions in our destination that has been troubling," Kugler said. "It's created real concerns about the long-term sustainability of tourism in the Outer Banks, as well as conversations about the need to balance the economy with the environment."
A Partnership for Sustainable Tourism
Outer Banks tourism is essential to the North Carolina economy, generating billions of dollars in state and local tax revenue annually. In fact, according to Visit NC, the state's tourism office, visitor spending in Dare, Hyde, and Currituck counties amounted to more than $1.5 billion in 2019, the last year data is available.
However, if the Outer Banks is to thrive amid increasing visitation, its communities must address the negative impacts of tourism. That's why Twiddy & Company, a hospitality firm based in Corolla, recently partnered with NC State's College of Natural Resources to launch the Lighthouse Fund for Sustainable Tourism, a research and outreach initiative led by Knollenberg.
"We are thrilled to partner with North Carolina State University to better understand how as a community we can find short and long-term sustainable solutions to the challenges we are experiencing as one of the country's most popular vacation destinations," said Clark Twiddy, president of Twiddy & Company.
With support from the fund, Knollenberg lived in the Outer Banks for two months this summer and spoke with 40 stakeholders, including Kugler and the Corolla Wild Horse Fund, in order to gain a better understanding of their tourism-related challenges and to identify future research opportunities that could lead to solutions.
"One of the most valuable things about working in the Outer Banks this summer was the deep appreciation I gained for the challenges that residents live with every day. I love the Outer Banks and visit as much as I can, but usually during the off-season. Being there during peak visitation completely changes the experience," Knollenberg said.
Knollenberg added that her residency in the Outer Banks allowed her to not only gain a better understanding of how tourism is impacting the region's natural and cultural resources, but also its social resources. For example, she learned that increased traffic has made it challenging for residents to leave their homes on weekends — the turnover period when vacationers arrive at and depart from their rental homes.
In addition, Knollenberg learned that tourism is negatively impacting the Outer Banks economy as many of the region's businesses, from retailers to restaurants, are struggling to keep up with increasing demand amid a workforce shortage.
Many Outer Banks businesses rely on a seasonal workforce of international and college students who need summer jobs. However, because of processing complications and a pandemic-related travel ban on certain countries, much of that workforce is unavailable for the region's businesses over the past two summers.
Some people are also avoiding leisure and hospitality jobs out of fear of the potential health risks of working in crowded settings during the pandemic, while others are quitting due to the stress of their working conditions, according to Knollenberg. As a result, some businesses are reducing their hours of operation or closing permanently.
Kitty Hawk Kites, which provides hang gliding instruction and other outdoor recreational activities to Outer Banks tourists, has been forced to reduce the number of classes it offers to tourists due to its seasonal workforce falling from 450 to 375 employees over the past two years, according to John Harris, the company's owner and founder.
"We're a seasonal business that has to make enough money in the summer to survive the winter, so the increase in tourism has been good from a revenue standpoint," Harris said. "But we've struggled to keep our doors open since the beginning of the pandemic, because we just haven't been able to hire enough people."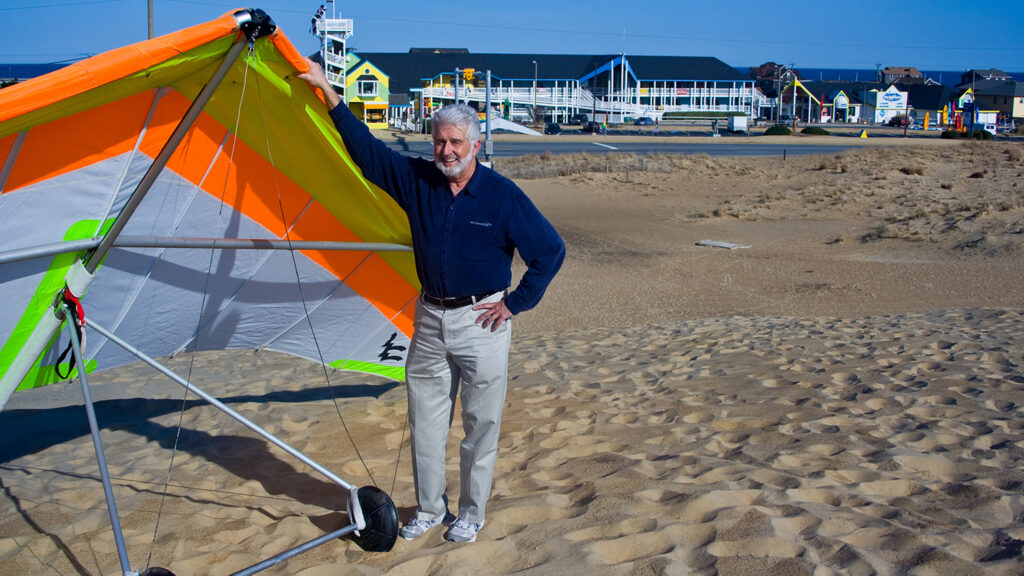 Harris added that Knollenberg, who he spoke with during the summer, "affirmed what businesses are feeling" as a result of the pandemic and that her work has "established a strong foundation" for the region to address tourism-related challenges.
"Our region is very fortunate to have tourism as an industry," Harris said. "But we need to do what we can to make it an enjoyable experience for visitors and residents alike."
As for Puckett, she said she looks forward to working with Knollenberg and others in the Outer Banks to find solutions to the region's tourism-related challenges. Her organization is currently working to distribute additional signage from its Community Wild Horse Toolkit and to increase its social media messaging in hopes of preventing further incidents between Corolla's wild horses and tourists.
"The entire Outer Banks community has recognized a need to address these challenges. But we can't work in a vacuum," Puckett said. "It's going to take a collaborative, community-wide effort to make sure there's a balance between the need to preserve the tourism industry's benefits and the need to address its negative impacts. I believe we can accomplish that by working together."
Through the Lighthouse Fund for Sustainable Tourism, Knollenberg identified and recommended a number of actions that Outer Banks stakeholders should consider implementing in the coming years to promote sustainable tourism.
One of the first actions that the Outer Banks can implement as it pursues sustainable tourism development is networking with other communities, according to Knollenberg.
Tourism destinations around the world are facing some of the same challenges that are impacting the Outer Banks. In Hawaii, for example, tens of thousands of tourists continue to flood the island chain despite restaurants and other businesses operating at limited capacity as they struggle with a labor shortage.
"Connecting with tourism workforce members, business owners, and policy makers in these communities could help their peers in the Outer Banks learn what pitfalls to avoid and what opportunities they should take advantage of," Knollenberg said.
Knollenberg also recommended that the Outer Banks prioritize resources for workforce housing as the region is currently experiencing a critical shortage of affordable housing for seasonal workers, an issue that's contributing to the workforce shortage.
Many of the region's seasonal workers can't find affordable housing options due to an increase in home sales that occurred during the summer, according to Knollenberg. In addition, a lot of residents converted long-term rental properties into short-term vacation rentals to benefit financially from increased visitation to the region.
"Without access to basic necessities like housing, members of the tourism workforce can't live where they work," Knollenberg said. "This has forced many tourism businesses across the Outer Banks to seek employees from much farther away, even across state lines, to fill their workforce needs."
Knollenberg added that while there is widespread recognition among the Outer Banks communities that tourism-related challenges need to be addressed, "there just needs to be a catalyst to bring stakeholders together to make that action happen."
Sustainable tourism development requires buy-in and support from all stakeholders in a community, according to Knollenberg. And because tourism impacts stakeholders in different ways, the Outer Banks should formalize communication channels for decision makers to engage with each stakeholder group to determine which positive impacts they want to maximize and which negative impacts they want to minimize.
"Listening to and engaging as many stakeholders as possible is going to be vital to the success of any initiatives to support tourism's future in the Outer Banks," Knollenberg said. "Tourism workforce members, property owners, elected officials – they all have a unique perspective, and if we don't equitably engage all of them, we won't be able to find viable solutions to these major challenges."
Ultimately, the Outer Banks will need to experience a paradigm shift in the way it promotes tourism, according to Knollenberg. Instead of focusing on maximizing the number of visitors, for example, communities should focus on using tourism to maximize the benefits it brings to residents, businesses, and the community as a whole.
Knollenberg said she plans to continue working with Outer Banks communities in the years to come, with the goal of becoming a go-to resource for businesses and other stakeholders as they address tourism-related challenges.
"I hope to be a strong partner for those in the Outer Banks who want to help ensure that it is a great place to live and a great place to visit," she said.
This post was originally published in College of Natural Resources News.