Faculty and Staff
5 Faculty Win Holladay Medal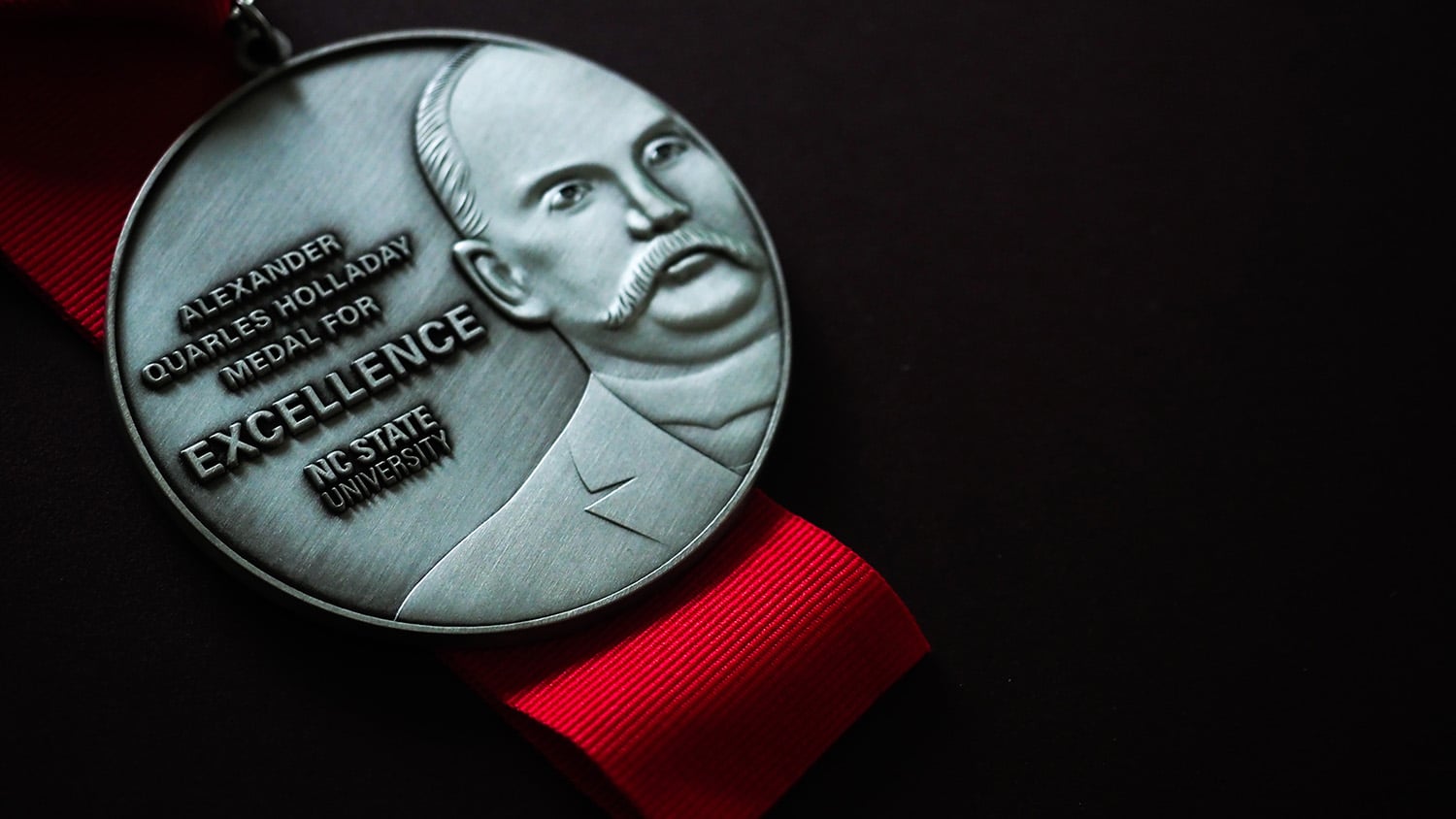 Five faculty members received the Alexander Quarles Holladay Medal for Excellence, the highest honor bestowed by NC State and the university's Board of Trustees. Chancellor Randy Woodson will recognize the awardees during an in-person Celebration of Faculty Excellence on May 4.
The 2022 honorees are:
The award was named in honor of Alexander Quarles Holladay, NC State's first professor of history and its first president. This year's award winners have made outstanding and sustained contributions to the university through achievements in research, teaching, or extension and engagement. Honorees receive an engraved medal and framed certificate, and will be honored at NC State's spring commencement ceremony on May 7.
Jaeger received her Ph.D. from New York University. Her research examines relationships and experiences among faculty and students that illuminate issues of transition, access, climate, agency, language, and civic and community engagement. Additionally, her research explores how various aspects of the environment, from labor market conditions to institutional policies, affect faculty and students. Jaeger has taught courses in organizational theory, governance of higher education, and student affairs.
At NC State, Jaeger is also the executive director of the Belk Center for Community College Leadership and Research and directs the National Initiative for Leadership and Institutional Effectiveness, an organization focusing on climate assessments for the purpose of enhancing institutional effectiveness and student success. She secured $11 million from the John M. Belk Endowment to support North Carolina's community colleges. Jaeger is an associate editor for Research in Higher Education and on the editorial boards of the Journal of Higher Education and Journal of Higher Education Outreach and Engagement. Her own work has been published in journals such as the Journal of Higher Education, Research in Higher Education, Educational Policy, Community College Review, Journal of College Student Development, Journal of Higher Education Outreach and Engagement, and others.
She is a member of the Academy of Outstanding Teachers and Academy of Outstanding Faculty Engaged in Extension and Engagement at NC State as well as one of the Community Engaged Faculty Fellows. Dr. Jaeger was inducted into The Academy of Community Engaged Scholarship in 2017, as well as received the 2016 Association for the Study of Higher Education Mentor Award, 2015 NASPA Robert H. Shaffer Award for Academic Excellence as a Graduate Faculty Member, 2015 Council of Southern Graduate Schools Outstanding Mentor Award, and the 2013 Women in Higher Education Achievement Award from The National Panhellenic Conference.
Kiwanuka-Tondo received his Ph.D. in communication sciences at the University of Connecticut. His main area of research is health communication campaigns with particular emphasis on HIV/AIDS. He integrates community-engaged research into his teaching of communication campaigns, in which students collaborate with local nonprofit partners to create strategic communication plans for their key audiences. Kiwanuka-Tondo is also known internationally for his work on HIV/AIDS communication campaigns. His research with black female college students has helped improve communication about HIV/AIDS prevention to black female college students in the U.S.
At NC State, Kiwanuka-Tondo teaches courses in Communication Research Methods, Communication Campaigns, International Health Issues; and International/Intercultural Communication. He has also been actively involved in study abroad and has taken undergraduate and graduate students (as well as faculty) to East and Southern Africa while teaching a course in international and intercultural communication. Using a community-engaged research model, Kiwanuka-Tondo in collaboration with colleague Dr. Fredrick Semazzi, a professor in the Department of Marine, Earth and Atmospheric Sciences worked with local fishermen to design and implement a survey about the challenges they experienced and weather patterns on Lake Victoria, Africa's largest lake by area and the world's largest tropical lake. The goal was to strengthen meteorological services on Lake Victoria which serves millions of people to enhance safety and navigation and make recommendations for the efficient exploitation of natural resources. Their technical report led directly to the creation of early warning systems and the creation of several plans related to global energy and water exchanges (GEWEX) as well as hydroclimate initiatives.
Kiwanuka-Tondo has been honored for his work on behalf of African American students at NC State with an Advocacy Award for Promoting the Presence of African Americans at NC State from the Association for the Concerns of African American Graduate Students (2008) and the inaugural Lawrence Clark Faculty Excellence Award, from NC State's African American Cultural Center (2013).
Lester received a Bachelor of Arts in history from Baylor University, and a Bachelor of Arts, Master of Science and Ph.D. in computer science from the University of Texas at Austin. He is also director of the Center for Educational Informatics at NC State. His research centers on transforming education with artificial intelligence. His current work ranges from AI-driven narrative learning environments and virtual agents for learning to multimodal learning analytics and sketch-based learning environments. Lester is the author of more than two hundred publications, primarily in the area of AI technologies for education. The AI-driven learning environments he and his team create have been used by thousands of K-12 students around the globe.
Lester's foundational work on pedagogical agents has been recognized with the IFAAMAS Influential Paper Award by the International Federation for Autonomous Agents and Multiagent Systems. He is the recipient of a National Science Foundation (NSF) CAREER Award and Best Paper Awards at the International Conference on Artificial Intelligence in Education, the ACM International Conference on Intelligent User Interfaces, the AAAI International Conference on Artificial Intelligence and Interactive Digital Entertainment, and the International Conference on User Modeling, Adaptation, and Personalization. He has been recognized with the North Carolina State University Outstanding Teacher Award.
Lester has served as Editor-in-Chief of the International Journal of Artificial Intelligence in Education. He served on the 2020 National Educational Technology Plan Technical Working Group. His research program is supported by the NSF, the US Department of Education's Institute of Education Sciences, the National Institutes of Health, the National Institute of Standards and Technologies, and the Army Futures Command. He is a Fellow of the Association for the Advancement of Artificial Intelligence.
Misra received her bachelor's degree, master's degree and Ph.D. in electrical engineering from NC State. She is also director of NC State's ASSIST (Advanced Self-powered Systems of Integrated Sensors and Technologies) Center. Her research focuses on physical electronics, photonics and magnetics; power electronics and power systems; electronic energy systems packaging; and power semiconductor devices.
Under her leadership, NC State won an NSF Engineering Research Center on ASSIST. Through her role as director of the ERC on ASSIST, Misra is highly effective in building a community of faculties from many universities who work together with common research, education, and technical goals and are supported by a partnership with leaders in industry. Her most important contributions to engineering education come from the culture she has established through ASSIST and her other work.
She has enabled students to gain a rich interdisciplinary research experience, capped off by experience in designing and building innovative technology. In this capacity, Misra has provided students a pathway to fulfilling engineering careers in academia and industry. She has also made significant advances in the area of wide bandgap devices, metal electrodes and high-K dielectrics for CMOS applications for which she also received the IEEE Fellow citation in 2012. Misra's work in hybrid molecular-silicon memories is also noteworthy since she demonstrated fundamentally new directions with the convergence of solid-state devices and organic chemistry. The total funding with Misra either as a PI or a mission-critical Co-PI exceeds $59 million.
Spontak received his Bachelor of Science in chemical engineering from Penn State and his Ph.D. in chemical engineering from the University of California at Berkeley. Although active in a diverse range of disciplines, his primary research interests relate to the phase behavior and morphology/property development of nanostructured polymers, polymer nanocomposites and coatings, electron microscopy, and stimuli-responsive soft materials.
Over the course of his 29-year career, Spontak has demonstrated a consistent track record of delivering outstanding original, not derivative, research in an incredibly broad area of soft materials, especially elastomers. His discoveries have helped to advance the field of elastomers technology and have resulted in many innovations with real-world impact. Spontak develops advanced soft materials that impact contemporary technologies and also provides a fundamental understanding of scientific phenomena. Most recently, he developed broad-spectrum antimicrobial polymers capable of inactivating bacteria, viruses (e.g., SARS-CoV-2) and black mold to >99.9999% in most cases in five minutes or less, and these innovations are being licensed (they received emergency EPA approval for use by Delta Airlines in U.S. airports).
To mitigate global climate change, he is developing polymer membranes that are CO2 ultrapermeable AND ultraselective for inexpensive, scalable and effective carbon capture. Spontak has cultivated a vast collaboration network with researchers across different fields and across different continents, initiating a truly multidisciplinary and multicultural approach to his research. In addition to his prolific research, Spontak continues to invest a significant amount of his energy in developing his graduate students to prepare them to be world-class researchers and mentoring his undergraduate students for successful careers in a broad range of disciplines.
An elected fellow of the American Physical Society, IOM3, and the Royal Society of Chemistry, he is or has been on the editorial advisory board of more than 20 international journals and holds editorial positions on three of them. He has received college- and alumni-level Outstanding Teaching Awards, as well as the system-level Board of Governor's Award for Excellence in Teaching, the highest institutional honor bestowed by the University of North Carolina system. He has also received the 2006 International Network for Engineering Education & Research Recognition Award and the 2009 American Society for Engineering Education Southeast Region Outstanding Mid-Career Teaching Award, and he has served as a Fulbright Senior Specialist and an Erasmus Fellow.