Applications for Admission Soar as NC State Grows to Meet Workforce Needs
Demand for an NC State degree is at an all-time high as the university prepares to welcome its largest and most diverse first-year class.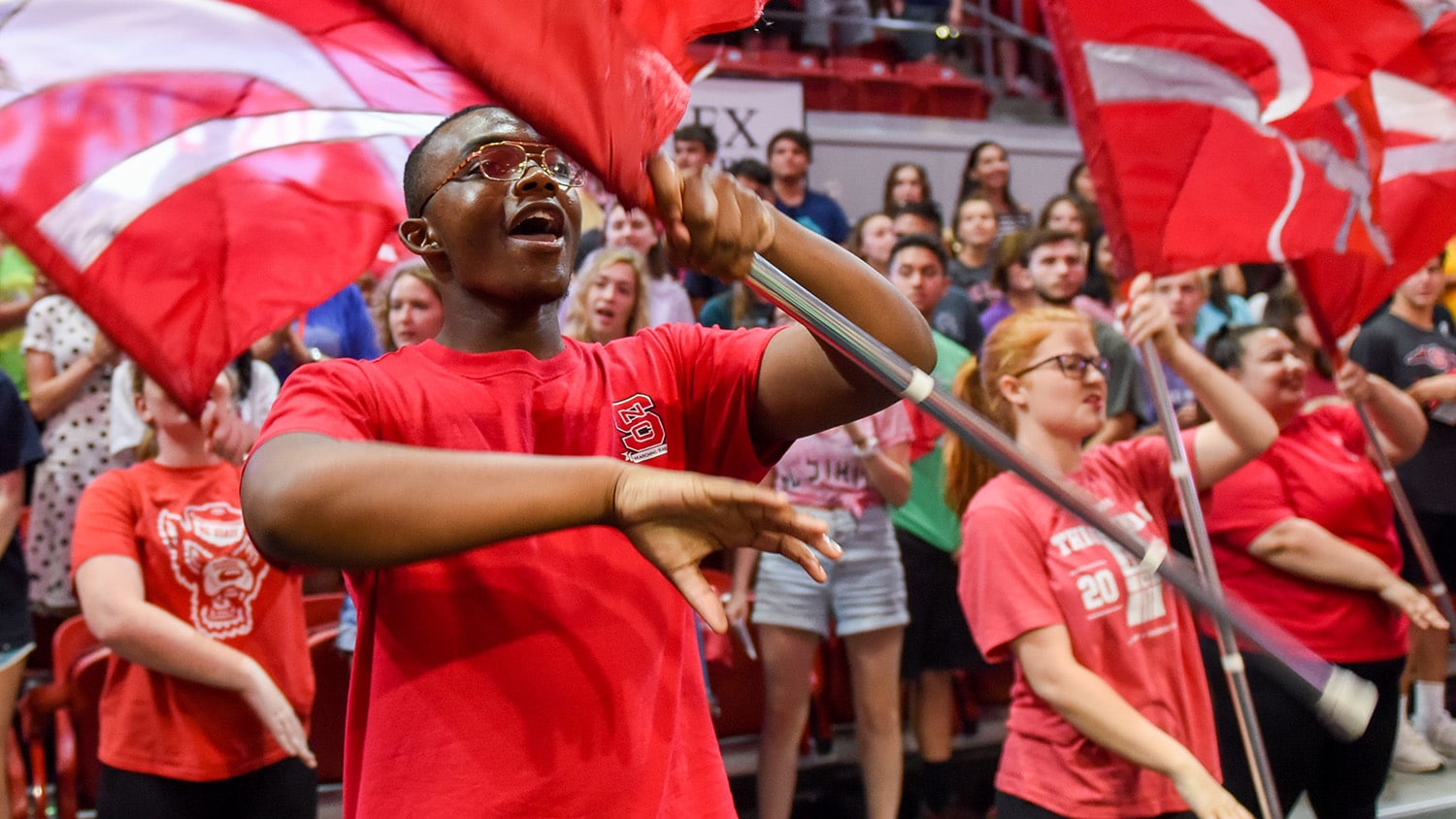 Applications from students who want to "Think and Do" have seen dramatic increases over the last several years, and demand for an NC State degree is now at an all-time high.
NC State's popularity is soaring among students pursuing careers in engineering, the sciences and business — fields in which NC State ranks among the best in the nation — as the university expands to meet the state's critical workforce needs in these areas.
This demand has driven another record-high year in applications for admission, and in the fall NC State will welcome the largest first-year class in university history. Approximately 5,500 first-year students are expected to begin classes in August. The university will also welcome an additional 1,300 transfer students; about 51% of those coming from the state's community colleges as part of NC State's ongoing effort to provide alternative pathways to admission.
The latest admissions statistics tell the story in detail:
NC State received 35,430 applications for admission for the 2022-23 academic year, an 8% increase over last year and a 75% increase over 10 years ago.
The College of Engineering received 9,712 applications for the 2022-23 academic year, an 11% increase over last year and an 83% increase over 10 years ago.
The Poole College of Management received 5,357 applications for the 2022-23 academic year, a 16% increase over last year and a 137% increase over 10 years ago.
The university's surge in applications and enrollment is driven in part by Engineering North Carolina's Future, a state-funded initiative to enroll about 4,000 more students in engineering and computer science at NC State over the next five years. That growth will bring the student population of the university's world-renowned College of Engineering to around 14,000 and total enrollment at NC State to more than 40,000.
"Enrollment growth enabled by the legislature's tremendous support of the Engineering North Carolina's Future initiative will fuel NC State's ability to continue educating tomorrow's workforce and driving our state's economy forward," said Chancellor Randy Woodson. "Our enrollment growth is also helping to keep more of our state's best and brightest close to home, which means a stronger state of North Carolina for everyone."
Most Diverse Freshman Class
Applications and enrollments by students from historically underrepresented groups also continue to increase. Overall, applications from underrepresented student populations have grown 117% over the past 10 years. Based on current enrollment projections, NC State expects to again enroll its most diverse freshman class in university history this fall. The university anticipates an approximate 19% increase in enrollment by first-year underrepresented students compared to the previous class. NC State is also likely to continue another trend of the last few years by enrolling slightly more women than men.
In addition, NC State has witnessed significant gains in the number of applications and enrollments by students from economically distressed counties across North Carolina. The North Carolina Department of Commerce annually ranks the state's 100 counties in three tiers based on economic well-being, with the 40 most distressed counties designated as Tier 1, the next 40 as Tier 2 and the 20 least distressed as Tier 3. Since 2017, when the UNC System began placing an emphasis on enrolling more Tier 1 and Tier 2 students, NC State has seen a 13% increase in Tier 1 applications and a 19% increase in Tier 2 applications. The university expects to enroll more than 1,700 new students from these counties in the fall.