Designing Healthy and Resilient Societies
Researchers Examine How Environmental Contaminants Affect Diverse Populations
An NC State epidemiologist is leading a wide-ranging study to learn how environmental contaminants affect liver health in diverse populations.
Cathrine Hoyo, a Goodnight Innovation Distinguished Chair, first began examining these connections to test a suspicion: When she worked at Duke University, she found a high level of cadmium in pregnant women who lived in a neighborhood of northeast central Durham. When she looked at National Cancer Institute data, she found that those North Carolina ZIP codes with the highest incidents of liver disease overlapped with those with the highest levels of cadmium. Those rates have been increasing since 1995, when the state's cancer registry was started.
"Incidents of liver cancer have been increasing in ways we haven't seen before," Hoyo said. "We knew about 10% of the population had fatty liver and fibrosis, and the highest levels were in Hispanics and whites. It was unheard of for African Americans to have fatty liver, so no one had ever screened for them. Very rapidly in the last decade, we're seeing increases of fatty liver in these populations."
Today, 25% of people have fatty liver. It's now the most common reason for liver transplant.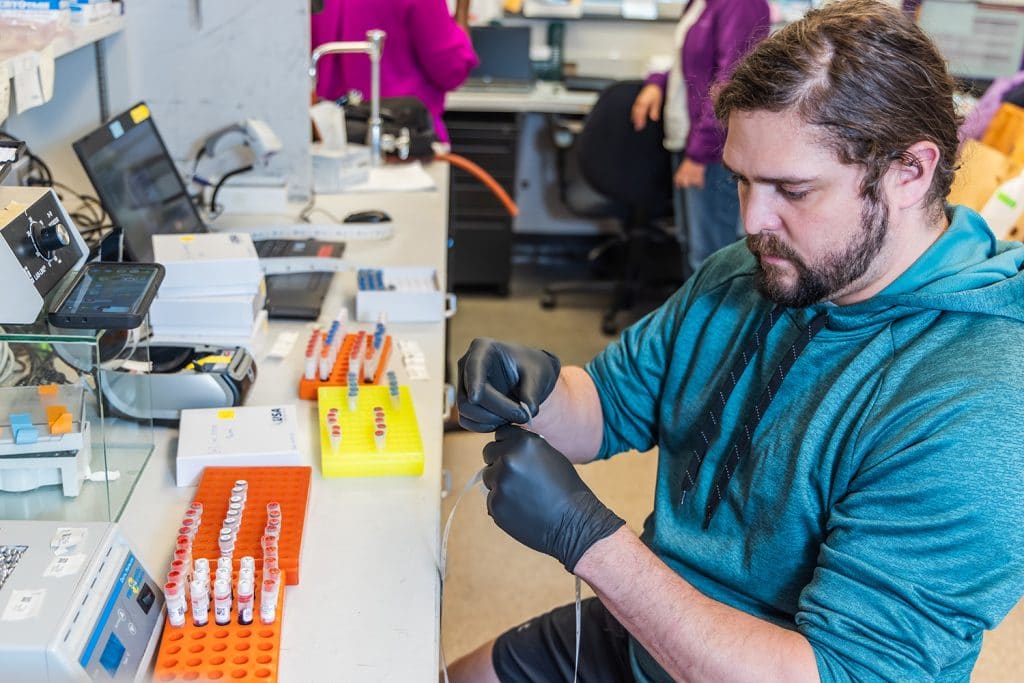 The Environmental Protection Agency used to test the toxicity of chemicals before they were released in products or disposed of, but the production of new chemicals had ramped up since the 1980s. An estimated 3,000 new chemicals are released into the environment every year, and they're not always tested.
"A lot of chemicals have made our lives easier and haven't been bad," Hoyo said. "But from time to time, a bad actor comes along, and we don't realize it right away."
Hoyo and Scott Belcher, a research professor within the College of Sciences and the Center for Environmental and Health Effects of PFAS, found that mice exposed to moderate levels of cadmium not only developed fatty liver themselves: Their offspring developed it, too. The non-alcoholic liver disease progressed to liver cancer. Especially in ethnic minorities, it's becoming one of the fastest increasing cancers.
That study took Hoyo's research to the next level. She's now working to determine how certain chemicals and environmental contaminants affect human health.
"It's not just poverty or eating fast food," Hoyo said. "Poor people tend to live in places that have some of these exposures. And something biological is going on."
A $50,000 grant from the Center for Human Health and Environment and the UNC Center of Environmental Health Susceptibility three years ago allowed Hoyo to collect data and see whether she and her team could do a full study on the link between liver cancer and environmental contaminants, like cadmium. That pilot project paved the way for Hoyo to receive a $17 million grant from the National Institutes of Health to begin the Southeastern Liver Health Study, which will ultimately follow 16,000 people in North Carolina and Georgia for up to five years.
NC State is the lead institution on the grant, partnering with the University of North Carolina at Chapel Hill, Duke University and Emory University. Together, the four institutions plan to recruit 16,000 subjects.
"In order for the study to work, we really need to understand why we have these ethnic differences," Hoyo said. "If you want to look at that, you need to reach enough people of each ethnicity. When recruiting, we want all ethnicities, rural and urban residents, both men and women — we don't want to leave anybody out."
Researchers are recruiting from Duke Health and from different communities. Recruiting from federally qualified shelters and health centers, congregations and other cultural cornerstones ensures their subject population is diverse.
Blood and urine tests will show which chemicals subjects have taken in. Researchers will also collect dust and water samples from subjects' homes, and subjects will wear silicone wristbands that attract certain compounds. Hoyo hopes to analyze and share the data with subjects as the study is happening.
"We'd like to share the data in real time, not five years later," Hoyo said. "We'd need to find ways to tell people, here are your levels and how they compare to your neighbors and to the rest of society. This is what's in your blood, your water, your house dust. That will help people make a difference and limit their exposures."
The study examines liver health because it's a resilient organ, Hoyo said. Reducing exposure to chemicals can reverse liver damage.
"We're not doing this to win anything," Hoyo said. "We're doing this to understand what we're doing to the environment and what, in turn, this is doing to our health and how we can prevent it."