Enriching the Human Experience
Research Through an Equitable Lens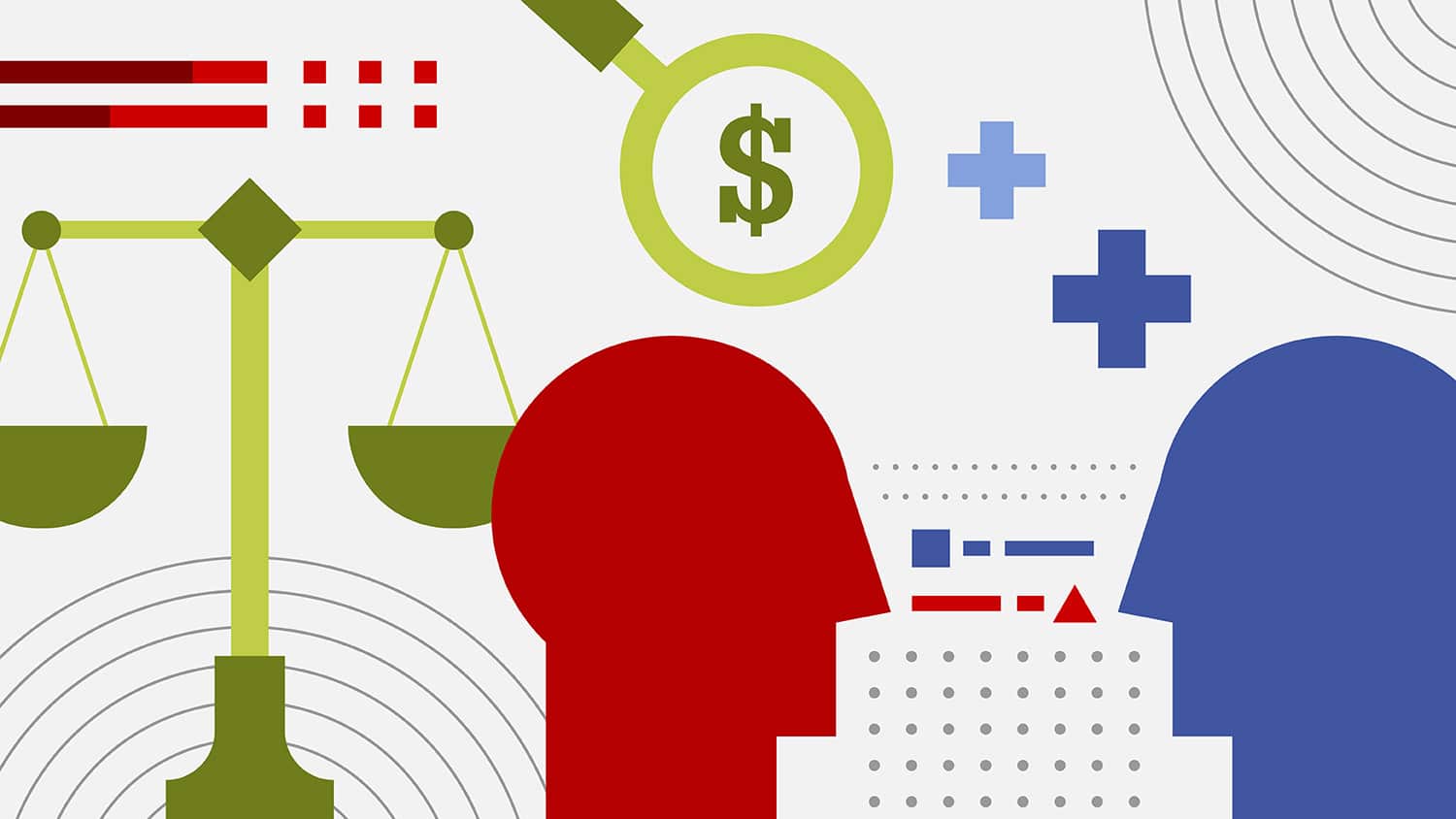 As a public, land-grant institution, NC State University prizes equity and inclusivity; in order to serve the people of North Carolina, the university must understand the people of North Carolina. As such, equity is woven into each enterprise within the university.
"As a leading public university, it is our duty not only to serve North Carolinians through education and research but also to help society solve real challenges that impact all people, especially those who are often overlooked and vulnerable. By centering equity and inclusion in our research enterprise, we create solutions that benefit everyone," said Mladen Vouk, NC State's vice chancellor for research and innovation.
By centering equity and inclusion in our research enterprise, we create solutions that benefit everyone.
Equity acknowledges life's inequalities and the barriers to success that many populations face within the United States and across the world. Recognizing the importance of a fair and just society, researchers at NC State prioritize equity in their diverse fields: These researchers empower marginalized people, analyze data that includes minority populations and study the human experience related to cultural systems.
By incorporating equity into their work, these researchers are hoping to ensure societal systems and communities benefit all people — not just those in the majority demographics. And the impact of this research isn't limited to North Carolina. Below, learn how our work will benefit society as a whole.
Honoring Culture Through Landscape Architecture
Landscape architecture is far more than city design and outdoor aesthetics. It involves environmental protection, sustainability and even racial equity. Kofi Boone, the Joseph D. Moore Distinguished Professor of Landscape Architecture and Environmental Planning, brings together social justice, cultural integrity and environmental quality in his research.
In 2016, flooding from Hurricane Matthew devastated Princeville, North Carolina — the oldest community founded by freed African Americans.The status quo federal response to previous episodes involved buying out properties and relocating residents. But Boone heard from Princeville residents about the community's historical significance. He worked alongside residents and fellow researchers to work with residents, plan adapting-in-place strategies, and preserve Princeville's culture.
"Princeville's recovery was being treated in a more typical way by resiliency agencies, which favored relocating residents," Boone said. "That's the one-size-fits all approach that was being used across the country. Would we say that about Colonial Williamsburg? Amsterdam? Venice? No. There's cultural value that encourages different ways of thinking about resilience."
After World War II, rational planning dominated urban and environmental planning. Decisions were made based on data rather than community input, so things like freeway construction made sense for an auto-dependent society but harmed communities, especially those where a majority-Black population resided. Princeville is one of many Black communities in low-lying areas that are at increasing risk of flooding. In some ways, post-war resilience planning similarly prioritized top-down approaches that lacked authentic engagement with communities.
Ultimately, Boone wants to make community input the status quo in landscape architecture.
"Research has the power to provide evidence of impacts that can support positive interventions in situations that are inequitable and to provide concrete solutions to inequitable challenges," Boone said. A range of high-impact collaborative projects are occurring in Princeville thanks to the work of the Coastal Dynamics Design Lab, The Design+Build Studio, and The Princeville Collaborative.
Research has the power to provide evidence of impacts that can support positive interventions in situations that are inequitable.
Now, Boone is creating a lab that focuses on landscape strategies to advance social equity and environmental justice in communities. The Just Communities Lab will address equity both in the work it takes on and the researchers and students it recruits. Boone's background is in democratic design, which involves working with stakeholders in design and planning projects while amplifying the voices of those that are the most vulnerable. Boone wants to increase access to studio work and other classes for students of color and indigenous students studying landscape architecture.
The lab is currently working with Urban Community Agronomics and supporting their work at Catawba Trail Farm in Durham, North Carolina. This former plantation, where enslaved people once worked the land, is now a community garden. Black people there are now teaching best practices in organic farming as well as developing service and tourism opportunities.
Just Communities Lab will hone in on what's most important to the community. Landscape architecture can bring together different elements — like maximizing food production, building infrastructure and promoting tourism — and show possible trade-offs and results before committing resources. This allows community members and researchers alike to make the best choices on the future uses of the land.
Collaborating with community members maximizes the benefits of landscape architecture and outcomes within the field.
"As someone not from the communities we serve, I have certain technical knowledge, but people in the community often have that but also really specific local knowledge. In many cases, you need both to effect positive change," Boone said. "We can co-create solutions."
Data-Driven Solutions
As an engineer, Maria Mayorga creates mathematical and computer models to study health systems. Mayorga, a professor of personalized medicine in the College of Engineering, has studied barriers to care, like ambulance response times in rural areas and racial inequity in vaccine access, as well as the impact of interventions, like masking in classrooms during the COVID-19 pandemic. These mathematical and computer models can quantify real-world issues.
"Using mathematical models, we abstract the real world and turn it into something that's a mathematical formula or computer simulation that we can then analyze," Mayorga said.
During the COVID-19 pandemic, Black and Hispanic Americans had a higher death rate despite being an overall younger population. Data sets showed that these populations were more likely to be essential workers and live in intergenerational residences, meaning they were more vulnerable to catching and spreading the disease at work and at home. When vaccines against the virus became available, uptake was low among those same populations. But the issue is multifaceted: Often, people needed a mobile device to schedule an appointment, or they needed to check websites frequently to find available vaccines. Essential workers couldn't always take time off to get a vaccine. Often, initial communications about the vaccines were offered in Spanish but follow-up communications weren't.
"A lot of these problems are hard because there's no one reason," Mayorga said. "There are so many reasons why people might be at a disadvantage, so there are a lot of correlations."
When making sense of data, Mayorga turns to subject matter experts — in health, equity, diversity, community leadership — to ensure she has a holistic view of the issues.
"At the end of the day, I'm still an engineer and mathematician," Mayorga said. "I'm not a social scientist or psychologist. It's super important that we work in interdisciplinary teams. No problem addressing equity can be done without input either from the community you're studying or people in the social, behavioral or medical sciences. Engineers who want to understand these problems need to find good partnerships or you can end up doing more harm."
No problem addressing equity can be done without input either from the community you're studying or people in the social, behavioral or medical sciences.
Currently, Mayorga is studying diabetic retinopathy, which can lead to blindness in patients with diabetes. The disease progresses slowly and is preventable when caught early. The best way to detect it is through regular eye exams, but with several possible complications of diabetes, patients often believe their regular physicals are enough.
Mayorga's study is working specifically with a Native American tribe, whose population shows a different progression of retinopathy than clinical trials of majority-white populations. Many clinical recommendations are based on trials that don't have sufficient minority representation. She's looking at different barriers to care, like access and communication, and using data to determine risk scores for patients.
"We have a sort of moral obligation to do this kind of research," Mayorga said. "In engineering, we're trying to address societal issues using engineering techniques. When you talk about solving societal issues, you have to take care of all of society, not just some people."
Improving the Student Experience in Higher Education
Joy Gaston Gayles studies higher education both as a researcher and as a university leader. Within the College of Education, she is an alumni distinguished graduate professor of higher education and senior advisor for Advancing Diversity, Equity, and Inclusion. She's also president of the Association of the Study of Higher Education, the professional organization for research and scholarship on postsecondary education.
Her research focuses on college athletes and policies and practices that benefit or harm their experience and wellbeing. She's studied how participating in sports affects athletes' sense of belonging on campuses, how athletics affects their mental health and how services designed for student-athletes succeed or fall short.
"We need to look at how policies and practices impact human experiences. Understanding problems from the needs of people experiencing the problem can be a pathway to help us solve complex issues closer to the root," Gayles said.
A frequent debate among colleges is whether to pay student-athletes. Gayles said not paying college athletes for their name, image and likeness contradicts equity and justice principles while perpetuating systemic oppression and anti-Blackness — particularly considering that the majority of revenue-generating collegiate athletes are Black.
"If institutions make large sums of money off of athletes, off of other people's labor, and athletes are the only constituent group not benefitting from their own labor, that would be an issue in any other context," Gayles said. "The NCAA operates under the guise of student-athletes being amateurs, but there's nothing amateur about the level of commercialization in college sports."
We need to look at how policies and practices impact human experiences.
Gayles uses large-scale data and listens to the stories of student-athletes; encapsulating the lived experiences of people provides important context to make better sense of data.
"You can't always quantify the experience of humans," Gayles said.
In addition to the challenges student-athletes face, Gayles has also studied barriers to access and retention of underrepresented populations in STEM fields. She's working on several grant proposals with university partners to further her research into how the industry's culture affects women's and minorities' decisions to enter or leave the field. Surface-level diversity training at organizations can only go so far, she said.
"If you do programming without changing the environment, the programming isn't going to work," Gayles said. "We need to be focused on shifting the culture."
For Gayles, researching equity paves the way for more people accessing higher education and thriving in such institutions. After barriers are identified, deconstructed and eliminated, the values ingrained in higher education can shift to reflect humanizing values to alleviate toxic and unwelcoming cultures.
"I want all people to be able to see themselves in the academy in a way that's healthy and inviting for them," Gayles said. "A lot of systems and structures currently in place need to be reimagined because they just don't work for a lot of people. They are dehumanizing and don't uphold values important to people."
Working Towards an Equitable Future
Research has the power to both preserve cultures and transform society. At NC State, researchers tackle local and global challenges by putting equity at the forefront of their work. In doing so, they hope to create fairer and more just communities.
"We know that diversity of thought and representation leads to better ideas and better, more inclusive research that speaks to the array of people we're trying to help," said said Sheri Schwab, vice provost for Institutional Equity and Diversity.
When you talk about solving societal issues, you have to take care of all of society, not just some people.
As NC State continues to foster an inclusive culture on campus, its researchers will carry on examining barriers, amplifying vulnerable voices and supporting marginalized populations. In doing so, they'll work toward ensuring a more equitable future for all.