We Are the Wolfpack
Creating Community
NC State staffer Janice Sitzes helps lead the Staff Women's Network, which offers opportunities for networking, professional development and community service.
"Greetings, fabulous female staffers!"
This is how every email from the NC State Staff Women's Network begins. The cheerful voice behind the messages belongs to longtime member Janice Sitzes, who helps lead the organization.
Sitzes, director of continuing and professional education for the College of Natural Resources, helps plan and promote Staff Women's Network activities, from campus tours to coffee meetups. She also spreads the word about professional development opportunities and other events of interest to female staffers.
Started in 2012 as WINGS (Women in Networking, Giving back and Service), the Staff Women's Network has 165 members and three main areas of focus: networking, personal and professional development, and community service.
"The organization started because there was a need for female staffers to have some forum," Sitzes says. "At the time there were groups exclusively for faculty, so our founders wanted to create something similar for female staff.
"We're here for women to come together to network, to learn more about the university and to have opportunities to give back."
Sitzes works with a planning committee to organize at least one activity every month.
In February, for instance, they met for breakfast at Case Dining Hall. There were two meetup times because the group aims for its activities to be inclusive and accessible.
"The university is so big physically, and diverse in terms of people's roles and backgrounds, so it's nice to have a way for female staff members to connect," she says. "We try to host events at different times of the day and on different days of the month so as many people as possible can participate."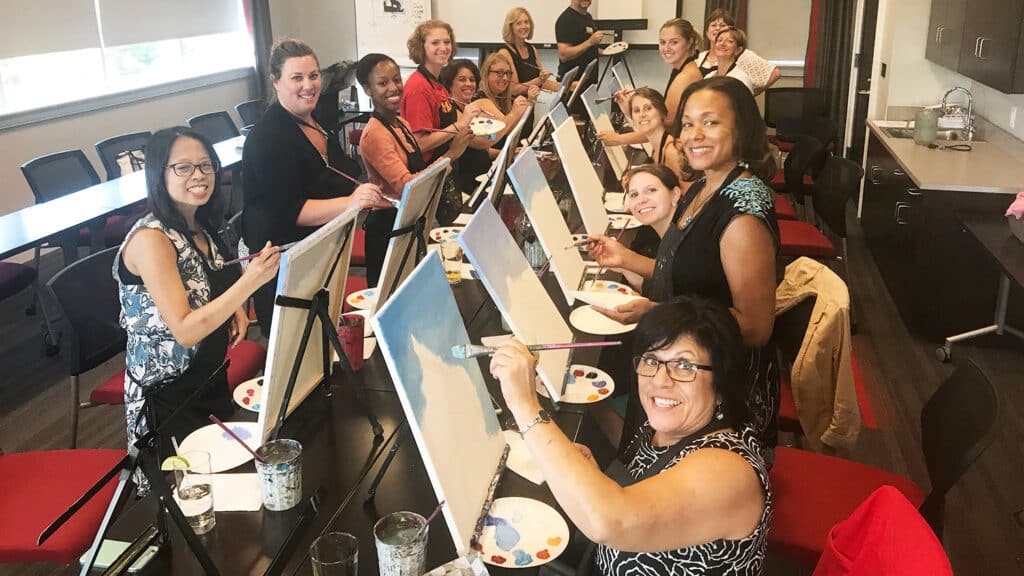 The group also tries to capture the diverse interests of its members by scheduling everything from athletics event outings to Howling Cow Creamery tours. And, in keeping with its commitment to inclusivity, every activity is either free or low-cost.
Past outings include a campus tour with a member of the university's Office of the University Architect — who revealed all sorts of interesting facts about its different features — as well as tours of Hallowed Places like Reynolds Coliseum, the JC Raulston Arboretum and the Gregg Museum of Art + Design. Later this spring, they plan to attend a Wolfpack softball game and visit the Agroecology Education Farm.
One of Sitzes' most memorable experiences with the Staff Women's Network came during a Thompson Hall tour that revealed an interesting surprise.
"We looked down at the floor in the Crafts Center wood shop and saw tiles from the swimming pool from back when the building was a gymnasium," she says. "Then we went downstairs underground and got to stand in what had been the bottom of the pool. It was really neat."
Ice cream socials at Talley Student Union are always popular among members.
"Simply giving people a chance to meet each other is so important," Sitzes says. "We spend so much time here at work, and I think it helps to have a point of connection with other female staffers."
Service activities are also a big part of the organization's mission.
Each year, the Staff Women's Network helps install American flags on the Court of North Carolina for Veterans Day. During the holidays, they assemble and deliver mugs filled with treats to Wolfline bus drivers.
"We work with NC State Transportation to get the drivers' schedules," Sitzes says. "We usually work in pairs at different bus stops to hand them the goodies when they pull up. It always seems to make them so happy."
Whether through service projects, campus tours or social events, the Staff Women's Network is all about building community.
"Feeling that connection to your employer — that feeling of belonging — instills a sense of pride in where you work," she says. "It can also bring joy, which is just as important."
Are you a "fabulous female staffer" who'd like to get involved? Just drop Sitzes a line at jdsitzes@ncsu.edu.