Campus Life
'We're Headed for the Moon'
Three-time NC State graduate Christina Koch has been selected as one of four crew members for NASA's Artemis II and will become the first woman to fly to and around the moon.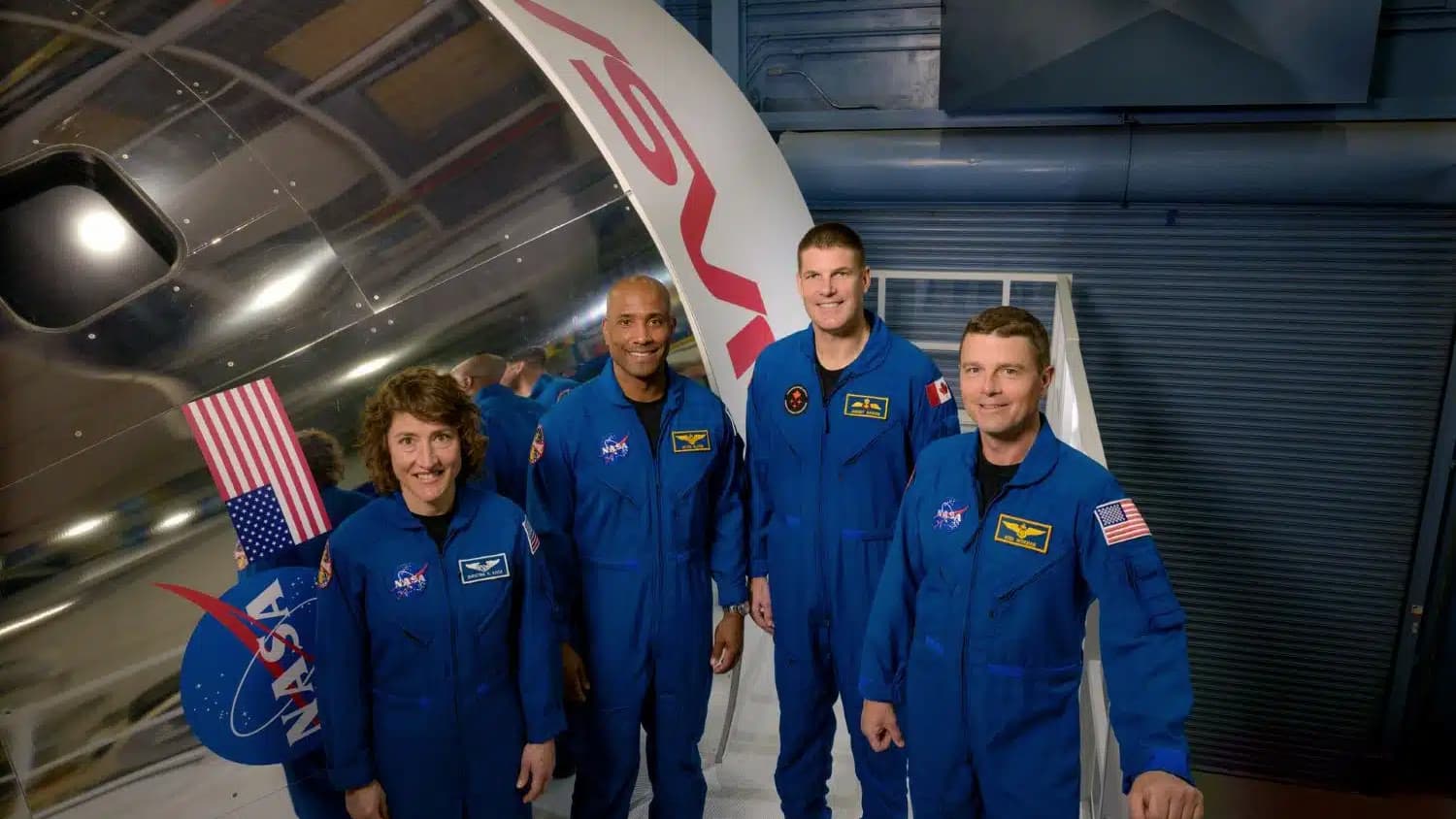 Just after Christina Koch learned last month that she had been selected for NASA's Artemis II project — becoming the first woman to travel around the moon and back as part of a four-member crew — the pioneering NASA astronaut and three-time NC State graduate was told to limit sharing the news to only a few family and friends.
She informed just one person: her husband, Robert. She told him later that night, as they were walking along Galveston Beach in Texas, with the intention of sharing the news underneath the blanket of stars and moon that she had dreamed of visiting her whole life.
Unfortunately, it was too cloudy to see deeply into the night sky, but that didn't dampen the excitement for the world's most accomplished female space traveler.
The longtime Jacksonville, North Carolina, resident did not tell her family here until late Sunday, the night before NASA's highly coordinated reveal party in Houston, which included all 18 Artemis astronauts in training, administrators from both the U.S. and Canadian space agencies and an auditorium full of Houston-area schoolkids.
That's when NASA Administrator Bill Nelson announced that Koch and fellow NASA astronauts Reid Wiseman and Victor Glover, along with Canadian Space Agency astronaut Jeremy Hansen, would be aboard NASA's first crewed flight into space since the December 1972 Apollo 17 lunar landing. Koch and Hansen are designated as mission specialists, Glover is the pilot and Wiseman is the commander.
"To me, the significance of the last 24 hours is that the mission that we are privileged to be a part of has crystallized for us, and it crystallized in the form of support of the people around us, our fellow astronauts and our loved ones," Koch said early Tuesday morning. "Seeing people learn of this news of who is going, but that the mission itself is happening, that humans are going back to the moon and then going to Mars — that was the significance to me: not who the individuals are, but the mission itself and what we are now exploring."
Artemis II will blast off from Cape Canaveral in November 2024, spend 10 days checking all mechanical and electronic systems of the newly initiated Orion Multipurpose Crew Vehicle spacecraft, conduct a lunar flyby and return to Earth with the information needed to conduct the Artemis III mission to land on the surface of the moon in 2025. After that, NASA will begin its plans for the first human trip to Mars.
The past 48 hours have been a whirlwind for Koch and her crewmates. They attended Monday night's NCAA championship game in Houston, conducted dozens of nine-minute Zoom interviews for media organizations around the world and prepared an all-out media blitz for NASA's most diverse flight crew.
In Person or Virtual?
Koch learned of her selection last month in the most postpandemic way possible.
She saw an unannounced meeting on her calendar one morning and prepared herself for a Zoom call. When she opened the meeting request, she found out it was supposed to be at the Johnson Space Center in Houston. She texted her boss and asked if they could just meet virtually.
"We need to meet in person," he said.
When she arrived, about 15 minutes after the scheduled appointment, he said the words she'll never forget: "Would you like to fly on Artemis II?"
Immediately, she was speechless, hearing that the dream she'd first had as a child in rural eastern North Carolina was about to come true.
Then she realized he needed an answer.
"My answer was, 'Sir, it will be an honor,'" she said.
A Prepared Inspiration
As she did when she spent a record-breaking 328 days on the International Space Station in 2019-2020, Koch will carry with her a lifetime of preparation for the historic mission, from her birthplace in Michigan to her childhood home in Jacksonville, her high school days at the North Carolina School of Science and Math and her time at NC State, where she earned undergraduate degrees in physics and electrical engineering and a Master of Science degree in electrical engineering.
"I'm happy to go to the moon carrying the banner of NC State electrical engineering and physics," she says. "Those two things — theoretical understanding and a hands-on approach to problem-solving — came together for me while I was there.
"I'm proud of that background. I love tinkering, working with tools and taking things apart. I've been told, though, not to mess with the spacecraft — unless asked."
Her selection is an inspiration for the NC State community, says Chancellor Randy Woodson, leader of the state's largest university, known for its innovation in a broad range of STEM-based disciplines.
"Christina is a phenomenal story, for our university and for the state of North Carolina," Woodson says. "A young woman, growing up in Jacksonville, dreaming of going to the moon. By going to North Carolina School of Science and Math and then to NC State, she is able to make that dream a reality.
"What an inspiration to young women in particular and all young people in general."
For those who knew her during her student days, Koch's selection is an affirmation of her education and training while pursuing highly technical degrees.
"We know from experience that she will make the best use of such an opportunity," says Stephen Reynolds, a retired professor of physics at NC State, and Koch's undergraduate advisor. "She will bring her experiences back to share with us earthbound spectators and inspire the next group of scientists and explorers.
"NC State should be proud for its part in launching Christina on a memorable and pioneering career."
Another Banner To Carry
The full stated intention of NASA's return to lunar exploration is to launch a much more diverse group of astronauts to the moon, and the Artemis II crew includes the first woman, first person of color and first Canadian on a lunar flight.
Koch is proud of that achievement, not necessarily for herself but for those whom she inspires and represents.
"This is not an achievement of any individual; it is an achievement of our agency, our country, our world," she says. "We decided a while back that we were going to go for all and by all, and that if we aren't fully representing all of humanity, we can't truly be answering humanity's call to explore.
"This mission will be a representation of all humanity."