We Are the Wolfpack
'Delivering Great Customer Service Every Time'
Mail Services employee Ebony Leggett takes her department's motto to heart — and her work hasn't gone unnoticed. 
During the spring 2023 semester, Rebecca Coleman posted a frustrated plea for help on the NC State Parents and Family Services Facebook page. Her son, a first-year student at NC State, had broken his iPhone and ordered a new one to be delivered via UPS; but they mailed it to the wrong address, and it was returned to Apple. From her home in Maine, Coleman felt helpless to do more for her son.
Fortunately, Ebony Leggett, an interim administrative support associate within Mail Services, saw Coleman's message and promptly responded. Leggett helped her track down the package, then advised her to reorder the phone, have it shipped to her house, repackage it and send it to campus via USPS Express. Leggett stayed in constant contact with Coleman until the moment the phone was personally delivered to her son.
Following the ordeal, Coleman contacted the Facilities Division, which houses Mail Services, to express her gratitude.
"I just wanted to let you know how much she helped me as I am so far away and didn't really have much contact with my son," Coleman wrote. "It's people like Ebony who make a worried mom in Maine feel better when we can't be there to help our kids out."
When asked her side of the story, Leggett simply smiles and shrugs.
"In my eyes it was just a small act of kindness," Leggett said. "I'm a parent and have had kids in college, and I would hope that someone would've extended that type of kindness to me in that situation. Mine went to college here in the state, so I could've easily just driven and gotten to them, but I couldn't imagine being several states away and having an issue like that."
Coleman's message was one of several that Facilities received this spring praising Leggett for her superior work ethic, empathy and compassion. Another parent touted Leggett's customer service skills when assisting her in getting a package to her son at NC State's European Center in Prague. Page Marsh, head coach of women's golf, called Leggett a "true gem" after helping ensure she received a package at home when she was out with COVID-19 in January.
"I was so taken by her spirit, her determination, her initiative and her desire to get her job done well for a fellow member of the Pack," Marsh wrote. "I thought to myself, what a great team member."
Unbeknownst to Leggett, Marsh was also mourning the death of her father when Leggett helped her track down another package this spring. Marsh appreciated the kindness Leggett showed her during all of their interactions, without even knowing her circumstances.
"Honestly, I was just doing my job and not looking for recognition," Leggett said. "I love people and customer service, and I just do my work as I would any day — just doing what I would hope someone would do for my kids or for me if I was in need."
Recognizing Exceptional Service
Leggett's colleagues are also well acquainted with her caring nature and dedication to customer service.
"Ebony enjoys the challenging side of work — the things that require her to dig deeper to get the answer needed to solve a problem," said Ron Clark, Mail Services supervisor. "It is a joy having her on our team."
In May, Clark nominated Leggett for the Facilities Coin for Exceptional Service, a divisionwide honor that recognizes employees who go above and beyond the standard of service and exemplify communication, collaboration and coordination in their work. Doug Morton, associate vice chancellor for the Facilities Division, started awarding the coin to Facilities staff in 2018. It was inspired by the challenge coin tradition in the U.S. Navy, in which he served for more than 30 years prior to his role at NC State. So far, he has given more than 150 coins to Facilities employees at NC State.
"It may seem like a simple gesture, but it has a lot of significance to the people who receive it," Morton said. "As the messages came in about Ebony this spring, we knew she was highly deserving of recognition."
Morton presented the coin to Leggett in front of all of her colleagues at a Facilities staff meeting in May.
"I was in shock," Leggett said. "As I always say, I'm just doing my job. Maybe I do a bit more than some people would, but my thing is to do your best and give 110% to help, especially if it's a student. These kids are coming straight from home and are out here on their own, so if I can call and help with a package delivery, then let me be that ray of sunshine at that moment when they need it."
Following the Red Route
Leggett celebrated her one-year anniversary as an NC State employee earlier this month. She was originally hired as a mail carrier for the "Red" route, which includes most of the academic buildings, the Park Alumni Center and the Lonnie Poole Golf Course on Centennial Campus as well as Reynolds Coliseum, the University Honors Program and the surplus center on Central Campus.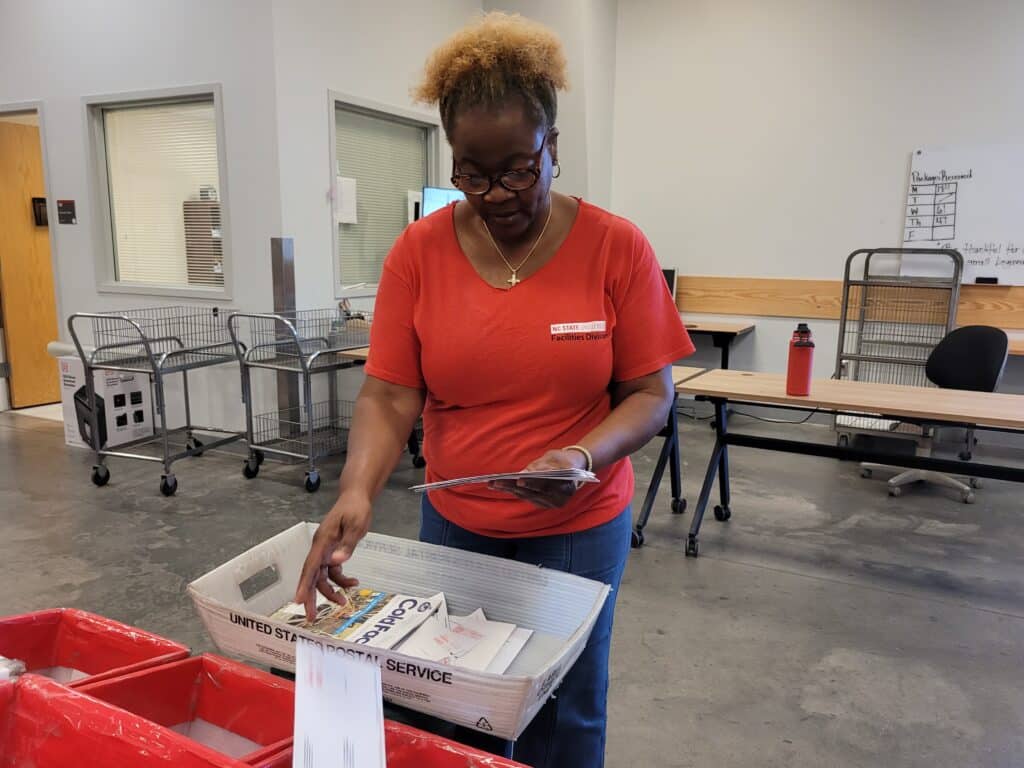 "The campus is beautiful, and I met a lot of wonderful people on those stops," Leggett said. "That's the part that I miss about not being on the route anymore, but I do still get the opportunity to fill in for people and go out when I'm needed."
Prior to her hiring at NC State, Leggett was an educator for 20 years and worked part time for the U.S. Postal Service. She grew up rooting for the Wolfpack in sports and is happy to be on staff here.
"I love everything about NC State — it's just a wonderful place to be," Leggett said. "There are amazing people and different opportunities every day to engage with them. I have no regrets at all."
With a new academic year on the horizon, Leggett looks forward to even more opportunities to make connections and help people.
"I just love people, solving problems and customer service," Leggett said. "I'm excited for the school year to start and to see what opportunities it brings. I'm especially looking forward to helping the freshmen find their way around campus or track down their packages, and to be there for them and the faculty and staff."