Athletics
Sheridan Remembered as 'Football Father-Figure'
Dick Sheridan, a 2020 College Football Hall of Fame inductee and one of NC State's winningest coaches, has passed at 81.
Dick Sheridan, the small-town football coach who turned NC State into a perennial Atlantic Coast Conference contender and postseason bowl participant, was remembered by his former players and colleagues for his unwavering commitment to integrity and the impact he had on generations during his successful coaching career.
Sheridan, who retired to Garden City Beach, South Carolina, following his retirement from NC State in 1993, died Thursday, July 6, at the Grand Strand Medical Center in Myrtle Beach. The 1986 Bobby Dodd College Football Coach of the Year and 2020 inductee into the College Football Hall of Fame inductee was 81.
Sheridan coached the Wolfpack from 1986-92, compiling a .637 winning percentage with a 52-29-3 overall record. Significantly, Sheridan's team posted a 23-5-1 record against in-state opponents.
"I have such great respect for Coach Sheridan and am saddened to hear this news," NC State football coach Dave Doeren said. "He did so much to build the football program at NC State and impacted many players, coaches and staff during his time as coach. I enjoyed getting to know him during my time here."
Sheridan, who never played college football, began his coaching career as an assistant football coach and head basketball coach at Eau Claire High School in Columbia shortly after graduating from the University of South Carolina. In three seasons, he took his hoops squad to the state semifinals and finals.
He moved on to Orangeburg High School to become a head football coach in 1969 and, in his third season, led the team a perfect 13-0 record and the state AAAA championship, thanks in part to the play of quarterback Mike O'Cain.
"He was just a remarkable coach," said O'Cain, who succeeded Sheridan as head coach just weeks before the start of the 1993 season. "He believed in his role as a strict disciplinarian and he was a perfectionist. We would practice a play 150 times a week."
Sheridan didn't abide cursing, rule-breaking or embarrassing the program, a dogmatic devotion that often seemed unreasonable to his players during their playing days, but was the reason many of them remained devoted to him long after their careers were over.
"He didn't always win with the best players, but he always got the players that he thought would be successful in his system," O'Cain said. "He always tried to do things the right way. He would never bend a rule, much less break it. He recruited by the book. He was a fine person and that is something all the folks who followed him took with them.
"To me, he was a football father-figure."
From 1978-85, Sheridan led tiny Furman in Greenville, South Carolina, to eight Southern Conference Championships and an overall 69-23-1 record. He was named the 1985 NCAA Division I-AA National Coach of the Year.
He drew the attention of several prominent programs, including two job offers from NC State athletics director Willis Casey in 1982 and '85.
On Dec. 30, 1985 – shortly after Furman beat NC State for the second year in a row at Carter-Finley Stadium – Sheridan accepted the head coaching position for a Wolfpack program that had posted three consecutive 3-8 seasons.
Quiet, unassuming and private, Sheridan was the personality foil of Wolfpack men's basketball coach and eventual athletics director Jim Valvano, who once said: "Coach Sheridan and his staff make Gomer Pyle look like he's from Manhattan . . . but they know how to win."
Sheridan's inaugural team beat both Clemson and his alma mater South Carolina, posted an 8-3-1 overall record and qualified for a spot in the New Peach Bowl in Atlanta. Postseason bids became the norm for the Wolfpack, which played in six bowls during his seven seasons.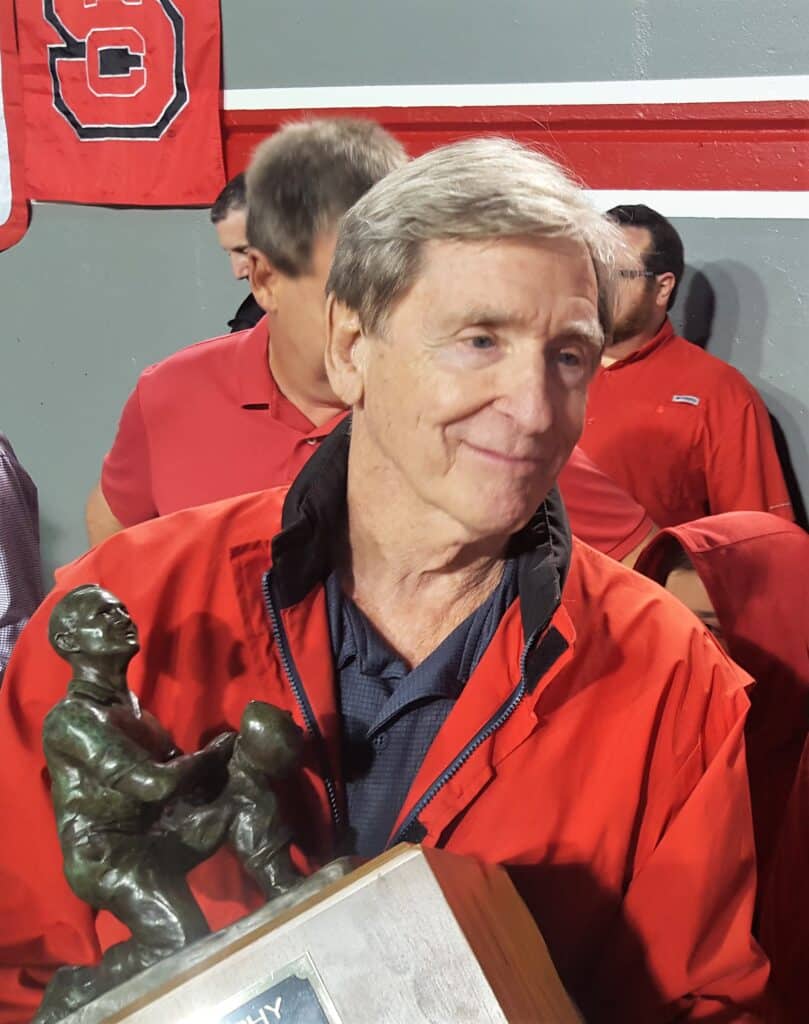 During Sheridan's tenure, his teams finished second or tied for second three times in the ACC and third twice. Sheridan, however, resigned in the summer of 1993, citing health reasons. He retired to the Myrtle Beach area, where he owned several sporting goods stores and worked in real estate during a beach buying boom.
He never coached again, but maintained close ties to his former high school and college players. He returned to Raleigh in 2020 to be honored for his induction into the College Football Hall of Fame.
Sheridan was remembered at a memorial service on July 15 at Legion Field, where he played high school football in his of North Augusta, South Carolina,Among the players and former staff members who spoke were NC State athletics special assistant and former Wolfpack Club executive director Bobby Purcell, former assistants Ted Cain and Mike O'Cain and former Wolfpack players Pat Teague and Anthony Barbour.
By the coach's request, all memorials should be made to a charity or athletic organization of personal choice or affection.