Research and Innovation
The Beauty of Research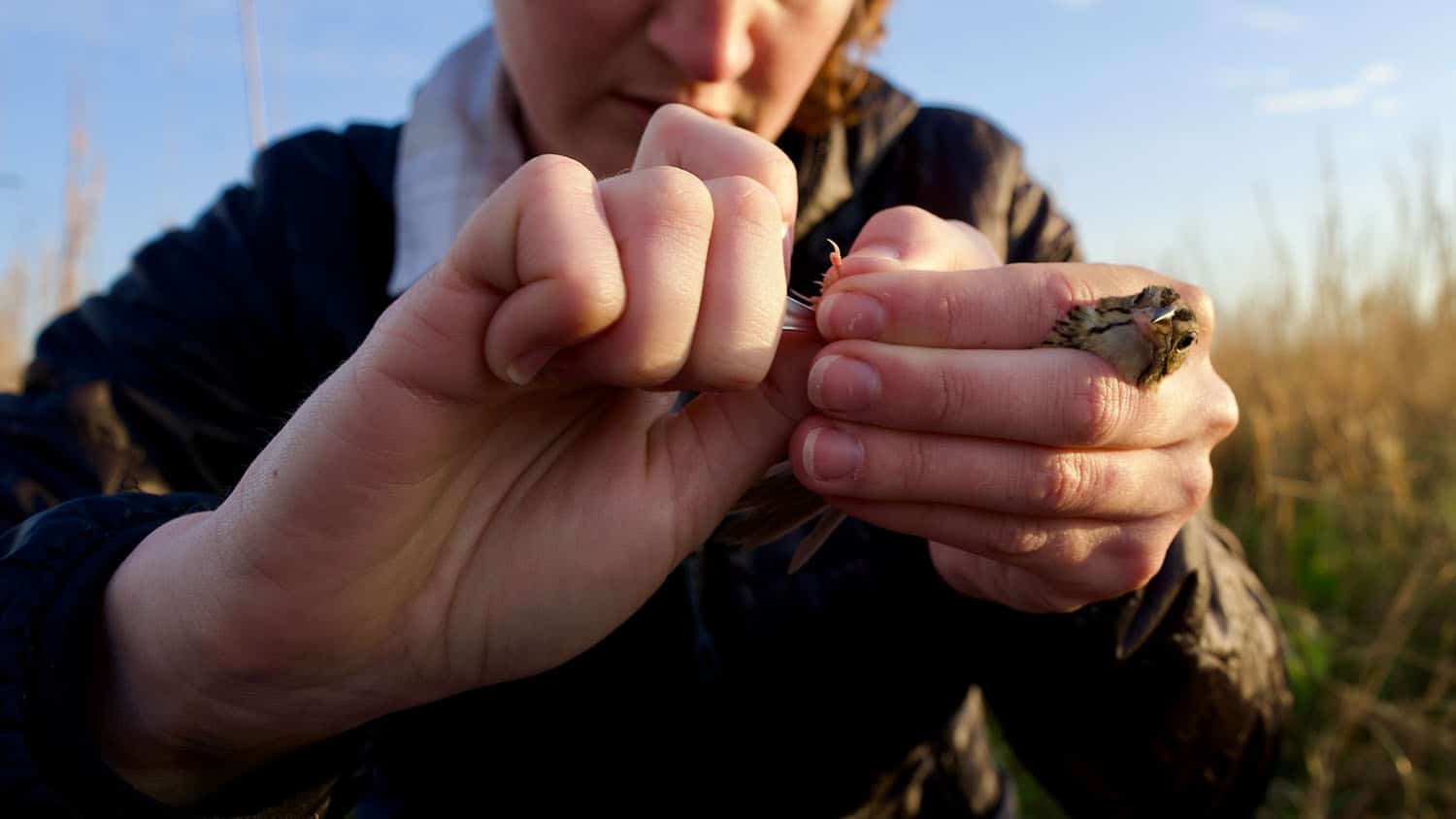 Whether photographing scientists at work in the field or offering insights into the microscopic structure of living things, research images convey aspects of the world we struggle to describe with words alone. The winners of the 2023 Envisioning Research contest showcase the scope of research being done at NC State.
The contest is a collaborative effort involving NC State's Office of Research and Innovation, the Graduate School, the NC State University Libraries, the Office of Undergraduate Research and University Communications and Marketing. The Envisioning Research contest was open to faculty, staff, graduate students, postdoctoral researchers and undergraduates.
A complete list of winners, runners-up and honorable mentions is below. You can see high-res versions of each entry, as well as captions about each image, by clicking on a winning entry's name. You can find a gallery of all this year's winners here.
Photography
First Place, Faculty and Staff: Michelle Jewell, a staff member in the College of Agriculture and Life Sciences, for "Tagging a Henslow Sparrow."
Second Place, Faculty and Staff: Dusten Jolly, a staff member in the College of Agriculture and Life Sciences, for "Ornamental Sweetpotatoes in Clinton, NC."
First Place, Graduate Students and Postdocs: Enrique Pena Martinez, a graduate student in the College of Engineering, for "A Sweet Harvest."
Second Place, Graduate Students and Postdocs: Matt Snider, a graduate student in the College of Natural Resources, for "Zambian Camera Trap Skill Building."
Honorable Mention, Graduate Students and Postdocs: Ana Sapp, a graduate student in the College of Natural Resources, for "Juvenile Pseudemys gorzugi."
Honorable Mention, Graduate Students and Postdocs: Alejandro Valdes, a graduate student in the College of Sciences, for "Crystalline Pyrrol."
Honorable Mention, Graduate Students and Postdocs: Ankita Gupta, a graduate student in the College of Veterinary Medicine, for "Life Below Zero."
First Place, Undergraduate Students: Robert O'Connell for "Anolis smaragdinus."
Graphics and Data Visualization
First Place, Faculty and Staff: Radmila Sazdanovic, a faculty member in the College of Sciences, for "Alexander Galaxy 9755329: an Ethereal Dance of Complex Roots."
First Place, Graduate Students and Postdocs: Shuang Wu, a postdoctoral researcher in the College of Engineering, for "Caterpillar Inspired Soft Crawling Robot."
Second Place, Graduate Students and Postdocs: Joshua Morsell, a graduate student in the College of Engineering, for "Plasma Surface Wave Butterflies in Dielectric Channels."
Honorable Mention, Graduate Students and Postdocs: Xiaojie Gao, a graduate student in the College of Natural Resources, for "Seeing Green Leaves From Space."
Honorable Mention, Graduate Students and Postdocs: Raja Manikam Bandari, a graduate student in the College of Design, for "The Spread of Cotton and Slavery."
Microscopy
First Place, Faculty and Staff: Elisabeth Wheeler, a faculty member in the College of Natural Resources, for "Inside Wood."
First Place, Graduate Students and Postdocs: Ross Lampe, a graduate student in the College of Veterinary Medicine, for "Lung Airway Epithelium and LGR5-GFP Mesenchymal Stem Cells."
Second Place, Graduate Students and Postdocs: Kaiying Chen, a postdoctoral researcher in the College of Agriculture and Life Sciences, for "Free-Living Chigger Collected in North Carolina."
Honorable Mention, Graduate Students and Postdocs: Dhruv Dineshbhai Ghevariya, a graduate student in the College of Agriculture and Life Sciences, for "Protein Deposits Inside Stainless Steel Pipe."
Honorable Mention, Graduate Students and Postdocs: Eric Gabilondo, a graduate student in the College of Sciences, for "The Hidden Internal Structure of a 2D Layered Crystal."
Honorable Mention, Graduate Students and Postdocs: Aoi Nakanishi-Hester, a graduate student in the College of Veterinary Medicine, for "FV 3000 Confocal Microscope Picture of Primary Neuron Culture Treated with TNF."
Honorable Mention, Graduate Students and Postdocs: Mohammad Fozlay Rabbani, a graduate student in the College of Engineering, for "Rose Petals on a Chip."
First Place, Undergraduate Students: Savannah Balogh for "MADM-labeled Glial and Neuronal Cells in a Developing Mouse Brain."
Second Place, Undergraduate Students: Nora Hicks for "Fluorescence Microscope Image of Carbon Nanotubes in Polymethyl-methacrylate."
Honorable Mention, Undergraduate Students: Anne J. Lindbergh for "Comparison of Mutant and Wild Type Corn Planthoppers."
Video and Interactive
First Place, Graduate Students and Postdocs: Sergei Rigin, a graduate student in the College of Engineering, for "Molecular Dynamics Simulations of a Polymer Brush in Liquid Environment."
Second Place, Graduate Students and Postdocs: Nidhi Diwakar, a graduate student in the College of Engineering, for "Rapid Superdiffusion of Therapeutic Paste."
Honorable Mention, Graduate Students and Postdocs: Jiahui Chen, a graduate student in the Wilson College of Textiles, for "Three-Dimensional Human Mesothelial Cell and Microcarrier Beads Assay."
First Place, Undergraduate Students: Elliott Schultz and Jayden Sansom for "'Aquarium': A Demonstration for the Cyma Rubin Visualization Gallery."