Campus Life
Starting Off Strong With the Symposium for Multicultural Scholars
For more than 20 years, students from a variety of backgrounds have been welcomed to NC State through the Symposium for Multicultural Scholars — a three-day program consisting of events, resource fairs and connections.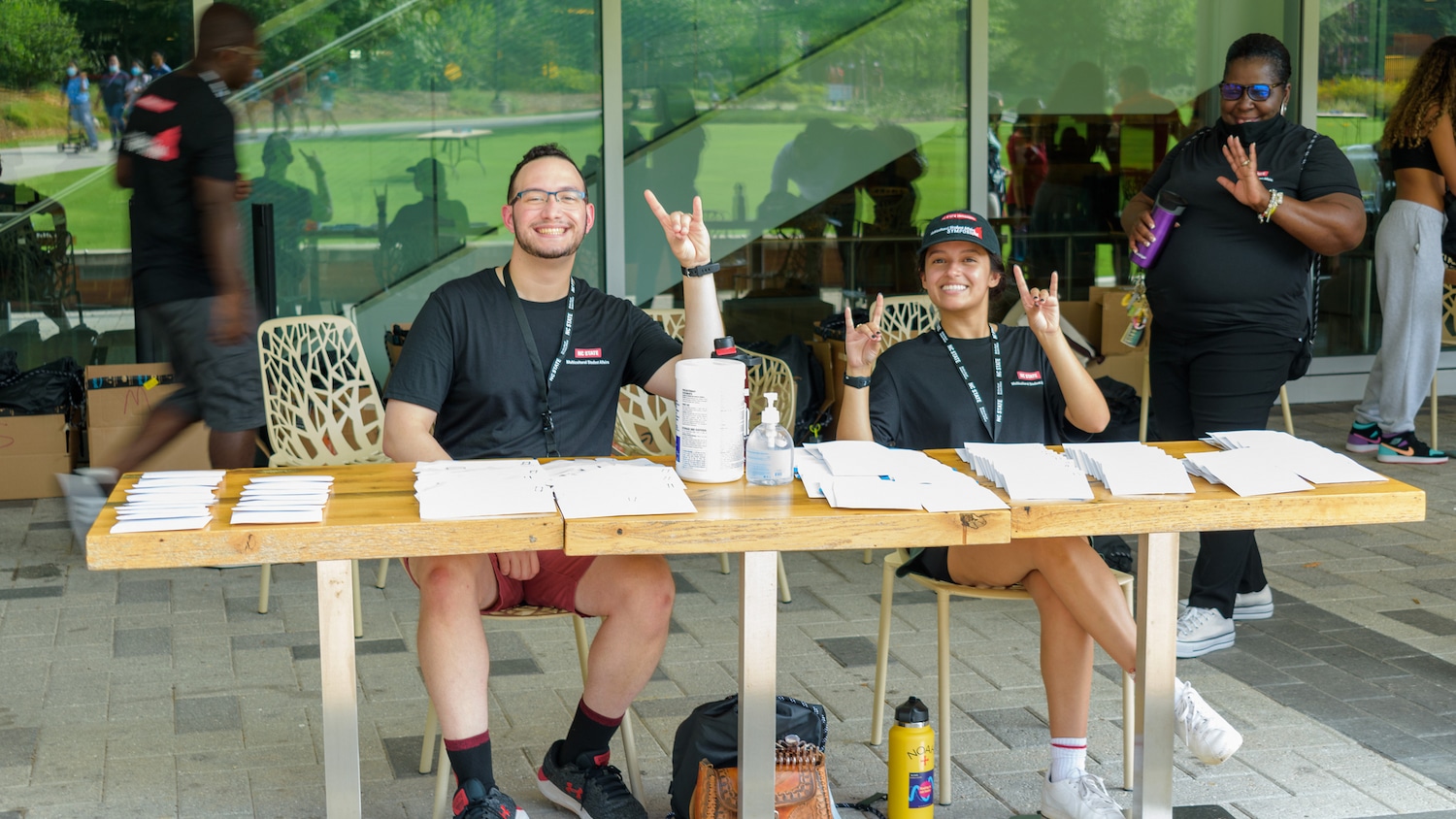 There is comfort in knowing everyone in the room is looking for the same thing. During the Symposium for Multicultural Scholars, students recall, "everyone was looking for a friend."
Held three days before move-in begins at NC State, the annual symposium offers new students from a variety of backgrounds the opportunity to meet each other and adjust to campus early. The symposium started more than 20 years ago as a means to better connect African American students with their peers and the university's resources.
Following the creation of separate symposiums for Native, Latinx and Hispanic students, the programs naturally evolved to encompass students' intersecting identities, becoming the Symposium for Multicultural Scholars. First-year and transfer students of color, first-generation college students and members of historically underserved populations are welcome.
"We want to make sure no one feels left out of the conversation or feels like they have to choose between one identity or the other."
"All of these individual symposiums were amalgamated into one larger symposium to really think about students that may come from intersecting identities," said Jameco McKenzie, director of NC State's Multicultural Student Affairs (MSA).
"We want to make sure no one feels left out of the conversation or feels like they have to choose between one identity or the other."
Starting Off on the Right Foot
The symposium is often a student's first time on a college campus. It's intentionally scheduled before move-in so participants can explore campus with a more personalized experience. During the three-day program, current students serve as peer mentors to the incoming ones, offering insights and advice about campus life, classes, clubs and more.
With so many opportunities for connection, the symposium fosters close friendships. Dre Jordan first attended the symposium two years ago. He participated in an ice-breaker activity in which students put together their group's puzzle pieces to solve one cohesive puzzle. Now a third-year Teaching Fellow within the College of Education, he's still friends with the people he met during that ice-breaker.
"That puzzle piece really was symbolic of how I met people," Jordan said.
Giving students the space to mingle and connect without the academic pressure has helped cultivate longlasting networks and friendships.
"I think the most important and valuable part of the symposium is the peer-to-peer conversations," McKenzie said. "They really provide space for the incoming students, who may not feel comfortable or confident in asking certain questions. They can hear it first-hand from folks who went through this last year or two years ago. There are parts of the symposium where there are only students in the room."
This year, Jordan will be back at the symposium as a peer mentor. He wants to give incoming students the welcome and support he felt two years ago.
"I think about when I participated in Symposium and how much of a help it was for me — how much of an impact that had on my entire college experience, and how important my mentors were," Jordan said.
"I want to give that experience to other incoming students, incoming students of color specifically, for them to know that they have resources available, to know that they have people on campus who are willing to help them and be friends with them."
"What we want to do is create a space that makes the unknown things known so people can be successful."
In addition to connecting with peers, incoming students also meet with faculty and staff to learn more about how the university works — how to sign up for classes and contact their academic advisers, for instance.
First-generation students can have many blindspots about college life that other students may learn from their family members. "What we want to do is create a space that makes the unknown things known so people can be successful," McKenzie said.
Ensuring students leave the symposium with a strong support system is one of the program's main goals. This year will also include a cookout to give incoming students a warm welcome — and for any out-of-state students, the cookout will serve as an introduction to North Carolina cuisine. At the end of the week, Pride Symposium will begin, for students searching for connection and support within the LGBTQ+ community on campus.
The Student Impact
MSA staff, in collaboration with the African American Cultural Center, adapt the symposium as needed to ensure its continuity. During the height of the COVID-19 pandemic, the symposium was held remotely with day-long Zoom sessions being the main offerings for incoming students.
"I think we did the best we could to put on a program of this kind," says Sol Johnson, a fifth-year senior in the College of Humanities and Social Sciences. "I do think that to build the connections I was able to in my freshman year, you do need to be in person. In 2020, we had maybe 70 students regularly showing up. Over the next two years though, our numbers kept going up."
Since first attending the symposium 2019, Johnson has remained involved with the program and MSA every year. They recall the challenges students and staff faced in 2021 and 2022 to ensure the program continued, and improved, amidst leadership changes within the Campus Community Centers.
"It was up to us, the student mentors, to share what Symposium was and what worked in the past, while working with the new staff," Johnson said.
"Last year, of all the years I've mentored, was the best symposium yet. We had a lot of students participate, and our retention rate was much better. Symposium has grown, seen and done so much, even just from what I've seen during my years here."
MSA works with campus partners and current students to invite incoming students to the symposium via email and word-of-mouth. Despite the staff's efforts, some students don't hear about the symposium until after the opportunity has passed. Getting incoming first-years connected with support resources early can be the difference in finding a space they can belong and struggling to adjust to campus life.
"I didn't even know Symposium was a thing until I applied to be a student mentor in 2021," said Nathan Campbell, a senior from the College of Engineering. "Halfway through my first year on campus, I found MSA to be home for me. I could be on campus and feel at home at the same time. If I can give back in any way to create that for others — even if it's just one student — I'd be happy to."
The impact the Symposium for Multicultural Scholars, and programs like it, has on students is clear. Past participants can't imagine their time on campus without the introduction the symposium gave them, or the campus partners who make it run, like MSA and other Campus Community Centers.
"The symposium is invaluable," Campbell said. "It's a way of getting a foothold on campus. We can supply new students with the tools that they need to succeed even a little bit — those relationships, that information."
Campbell has been a peer mentor two years in a row, and he'll serve as a mentor again as he heads into his final year at NC State. One of the more rewarding aspects to mentoring is seeing students come back to the symposium to help guide new students through their first-year transition.
"It shows we're doing something right."