Alumni
Do What Scares You, Says Astronaut Alumna
NASA Artemis II mission specialist Christina Koch, a three-time NC State graduate, joined Chancellor Randy Woodson for the first-ever live Red Chair Chat to kick off Red and White Week.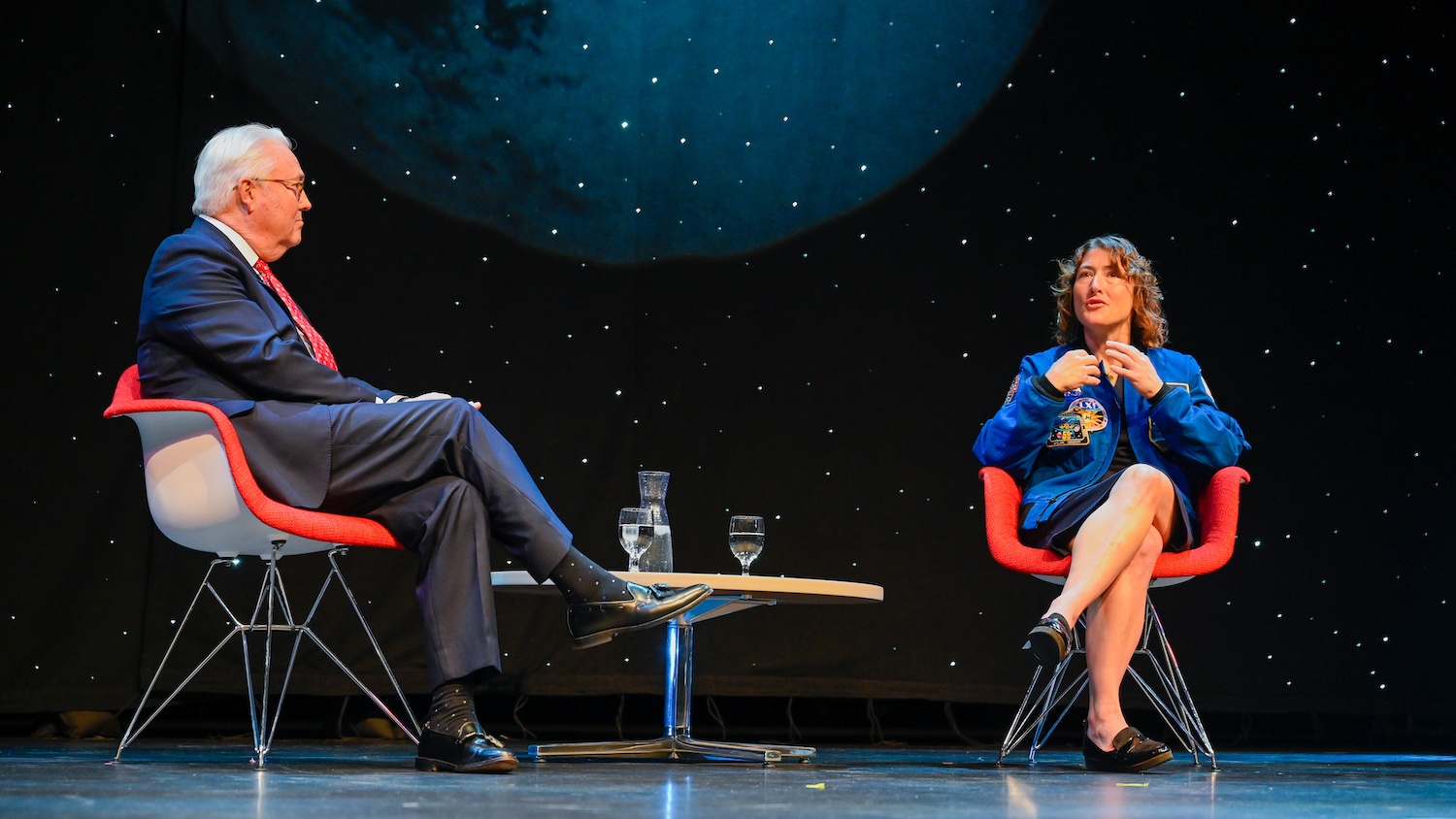 Kierra Shook, a rising senior from Bryson City, North Carolina, wasn't scared to walk up to NASA astronaut Christina Koch and introduce her fellow aerospace engineering students to NC State's featured guest at Chancellor Randy Woodson's 14th annual fall address.
She wasn't intimidated the first time she ever met Koch, either, while spending a co-op year as a Department of State Pathways intern at Johnson Space Center, NASA's headquarters in Houston. Like Koch, Shook has wanted to be an astronaut since childhood and has taken as many steps as possible to reach that goal — which included meeting one of her heroes in person.
"I've truly been inspired by her, and when I was lucky enough to get an internship at NASA, I took the chance to introduce myself," Shook said. "We grabbed coffee, and I got to ask her questions and hear her story."
And that's why Koch gave Shook an old-friend hug while taking selfies with a long line of students following Woodson's first livestreamed Red Chair Chat Monday afternoon at Talley Student Union's Stewart Theatre.
The central message Koch shared in her 45-minute on-stage interview with the chancellor was about doing what scares you.
Shooting for the Moon
"I don't mean recklessly take risks, but instead of bending away from the things that are intimidating, think about [the possibility that] those things are your beacon," said Koch, the three-time NC State graduate and honorary doctorate recipient who was selected as one of four members of NASA's Artemis II mission that is slated to orbit the moon next fall. "Maybe that's what you are meant to do.
"Things that scare us are also the things that intrigue us."
Koch shared her message with about 400 students, faculty members, administrators and staffers who attended the event. It clearly was absorbed by the more than 100 people who waited in line afterward to take selfies with the astronaut who, if all goes right, will become the first woman to circumnavigate the moon. Artemis is NASA's first crewed lunar mission since the Apollo program ended in 1972.
Mikey Miller, a nursing student at James Sprunt Hill Community College in Kenansville, skipped class Monday on the off chance he might meet Koch. He graduated from the same White Oak High School that Koch attended in Jacksonville before she spent her final two years at the North Carolina School of Science and Mathematics.
Rachel Whitaker, a textiles, fashion and textiles marketing major from Cherryville, was the first person at the front of the long line, alongside Magali Tucker of Boone.
Also in line were Andrew Delbene of Waynesville and Brynna Glover of Forest City, who both came from small western North Carolina towns but have big dreams related to the Artemis project's ultimate goal of preparing to go to Mars.
"We'll keep an eye out for you up there," Delbene told Koch.
Koch was, as always, thoughtful and polished when talking about her experiences at NC State and serving as one of NASA's top space ambassadors. She also wanted current students to understand the importance of fulfillment and meaning.
"Chasing your passion is important, but so is finding fulfillment," she said. "Sometimes we think of passion as something that is burning in the moment, but that can be what burns you out. Finding meaning in what you are doing is what is important."
She gave a few behind-the-scenes glimpses of what it was like during her 328-day stay in 2019 and 2020 on the International Space Station — the longest continuous spaceflight by a woman — and to be a member of the first all-female spacewalk.
Among her secrets? Drinking coffee from a pouch every morning wasn't exactly satisfying, but eating space food, preparation-wise, was a joy.
"It kind of ruined cooking for me," she said.
In the end, Koch's message was not just about pursuing dreams like going to space, which she accomplished after earning undergraduate degrees in physics and electrical engineering and a master's degree in electrical engineering, and after spending three isolated years doing research in remote locations including Greenland, Alaska, American Samoa and the South Pole.
Many times, she said, she faced her fears during those experiences and while preparing for her trip to the space station, but she never let them hold her back.
Above all, that's what she wanted to share with the next generation of NC State students preparing to pursue their own dreams.