Thank God for Darwin
Senior John Coggin explores the intersection of faith and science with a custom-built degree program spanning several university colleges and departments.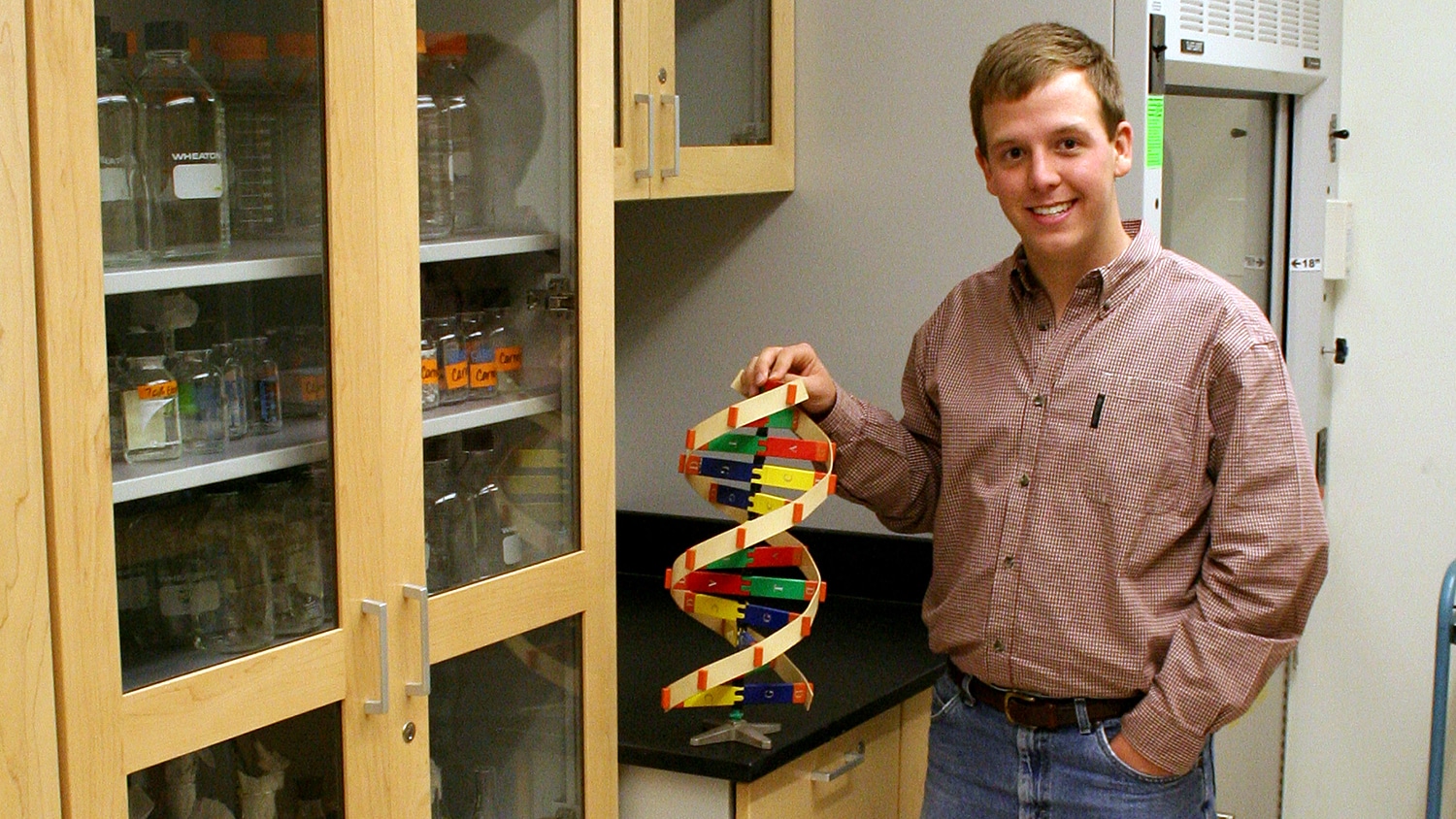 Can eternal truth exist in a changing universe?
It's one of the bigger questions people have struggled with since naturalist Charles Darwin posited the idea that life is the product of almost numberless changes occurring over a sweeping span of time. For NC State senior John Coggin, it's more than an academic question.
"I could not be a Christian without evolutionary theory," he said. "My faith makes so much more sense within the context of modern science."
The journey that has led him to an intersection of faith and science began at NC State four years ago when he was accepted into the Park Scholars program, a program that not only provides tuition and related expenses, but matches students with a faculty mentor and provides a wide range of enrichment activities.
Since then – thanks largely to opportunities available through the university – he's spent one summer at Oxford University studying Shakespeare and British history and another in Delhi, studying Hindi language and literature. Over spring break in 2007, Coggin journeyed to the Galapagos Islands, in the footsteps of Darwin, to study plant pathology.
That summer, he picked up a video camera and traveled to New York, where he spent three months shooting footage for Time Warner's news channel in the heart of the city. Another spring break found him in the Amazon, studying how native shaman healers combine herbal remedies and spiritual rituals to treat disease.
And he's grown, intellectually and socially, from a shy, soft-spoken youngster into an enthusiastic, confident adult.
Harvard Bound
"[John] was just a little kid from Sanford when he came to NC State in 2005," said Edward Funkhouser, a communication professor who has mentored Coggin in the Park Scholars program. "But he has great intellectual capacity and he's worked hard. He's used what he's learned to help himself and help others."
When Funkhouser sat down in his office in January to pen a letter of recommendation for Coggin, he called him, "the most exceptional student I have encountered in my 31 years at NC State University." The recipient of the letter – Harvard Divinity School – agreed, and offered Coggin a full scholarship to pursue a master's degree there.
When he leaves for Boston in the fall, Coggin will begin another leg of his journey to reconcile the faith that gives meaning to his life with his evolving understanding of the world he inhabits, and all of its complexity.
"There is a lot of hurting and violence and suffering out there," he said. "I'd like to work with the world and use its capacity for change in a positive way."
At NC State, Coggin found his passion in communication. But he wanted to broaden his studies to encompass both the spiritual and the practical.
"I met with my adviser, Sandy Stallings, and said I wanted to add three minors: biology, history and religious studies," he said. "Sandy works a lot with the interdisciplinary studies program. She said, 'Why not put all your interests together in one major?'"
Coggin took her advice and registered for a major in interdisciplinary studies, which allows students to custom-build their own undergraduate degree programs across university colleges and departments. He named his concentration, "Darwinism and American Christianity."
Coupled with his degree in communication, the interdisciplinary studies degree gave Coggin the education of his dreams.
"Universities tend to be so compartmentalized," he said. "This gave me a way to bridge the gaps between different colleges. I took courses in religious studies, philosophy, genetics, biology, ecology, physical anthropology – which is the study of human evolution – and history."
For his capstone course, Coggin developed a service learning project to engage high school Bible study groups at several Raleigh Baptist churches in an examination of God and evolution. Coggin explained the scientific basis of natural selection and led discussions on creationism, intelligent design, the Genesis story and the role of Christianity in the context of evolution.
"They were very knowledgeable about evolutionary theory," he said of the participants. "But when we started talking about it in context of Christianity, there was some resistance."
Still, he senses a willingness by young people to find common ground.
"I see in my generation, across the spectrum of religious belief, a great desire to serve," he said. "I think we're getting to point where we're willing to put aside our differences and work together."
For his part, Coggin finds no conflict between science and faith.
"All truth is God's truth," he said.
Coggin's reading of scripture leaves room for God and Darwin.
"I'm amazed by the Hebrew creation story. They were one of first to say there was this process, over six days, and that life became increasingly complex. Things were happening, things were changing," he said. "I think a great truth lies within that. For them to conceptualize this grand truth that we have now found in great detail through modern science; I think that says something about the people and their relationship with God."
Weighty Decisions
Despite his plans to earn a master's in religion, ethics, and politics at Harvard, Coggin is not inclined to pursue a career in either academia or religion.
"I might either do communication for political campaigns related to issues of concern to religious communities," he said. "Or I may work in interfaith settings – areas of conflict resolution and social justice.
"The sort of issues I'm interested in; well, I'll probably get to the end of my life without seeing a huge difference in the world," Coggin said. "I won't create the best solar panel or bring peace to the Middle East."
Others are not so sure. In February former President Bill Clinton presented Coggin with the President William Jefferson Clinton Hunger Leadership Award for his work with NC State's Presbyterian Campus Ministry and the international hunger relief organization, Stop Hunger Now.
And the former president invited Coggin to a student leadership conference in Austin, Texas, later that month.
Coggin's faculty mentor says it's not just Clinton who see promise in the student.
"I don't know anyone who knows John who doesn't think he's special," Funkhouser said. "How many kids graduating from this university live in the two worlds that he lives in? He's at home in the philosophical world, in religious philosophy and theoretical concepts, but he also is great in the practical application of knowledge.
"There are these two extreme poles of human inquiry, and he's excellent in both of them. That's why he's special."
Coggin feels the weigh of high expectations, but seems to handle the pressure well.
"I don't know if I can deliver the kind of results people expect," he said. "But I hope to bring a little more peace, a little more prosperity and less suffering to the world."
"And," he added, "I'm still thinking about everything really hard."