Letters Home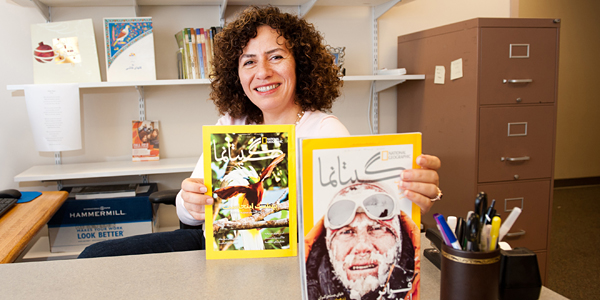 Growing up in Iran, Maryam Mohaghegh spent hours in her father's home library, which brimmed with English literature, academic journals and glossy magazines. It was blissful distraction to the political turmoil outside.
"Reading English was a relief—something soothing and familiar," says Mohaghegh, now Persian lecturer in the Department of Foreign Languages and Literatures.
So last fall, when the editors of the new Farsi edition of National Geographic invited Mohaghegh to review the translations of the magazine from English into her first language, she couldn't believe her luck.
"Growing up in Iran I'd always adored reading National Geographic in English," she says. "Being invited to review the Farsi translation was an honor."
An Admirable Career
Mohaghegh's career and upbringing nicely prepared her for the job. Her father's work as an English professor gave her insight into academia and an introduction to Western culture.
When Mohaghegh was 12 her dad landed a sabbatical with San Francisco State University. She adored the place, made new friends and learned more English. On returning to Iran after the 1979 Islamic revolution she found politics and social norms had changed.
"I still loved my country but couldn't relate. People seemed happy giving their life over their beliefs," she says. "Reading English became even more blissful, a greater escape."
While studying molecular biology at Tehran University she also took classes in English at a popular language institute, completing the entire four-year program in one year. The instructors were impressed and invited her to teach there.
Her growing linguistic talents led to other impressive work—oral examiner for the Cambridge University English language proficiency exams in Tehran, translator and communicator at the World Health Organization National Laboratory, then country program coordinator for a cultural exchange project between Iran and the Netherlands.
As Mohaghegh became sought out for her elegant translations, especially by children's book writers and illustrators, her reputation steadily grew.
Translating the Magazine
It was this reputation and now her work at NC State, teaching Farsi to undergraduates, that attracted and impressed Babak Nikkhah Bahrami at National Geographic. The editor of the Farsi edition sought a translator immersed in America's culture to ensure that the intention and integrity of the English quotes and phrases remained. National Geographic is published in 35 languages and it is essential that translation reviewers carefully compare the new language version to English.
Mohaghegh is proud to contribute to the project. Sanctions against Iran have never been tougher, making this publication even more important, she says. Sending a simple letter from the United States to Iran by express mail, for example, is impossible due to sanctions.
"Having National Geographic in Iran is a positive symbol," she says. "Simply being part of this precious piece of work feels incredible. This is what we are supposed to do as educators—provide resources for those seeking it."